And They're Off: Republicans descend on Iowa summit, with 2016 in the air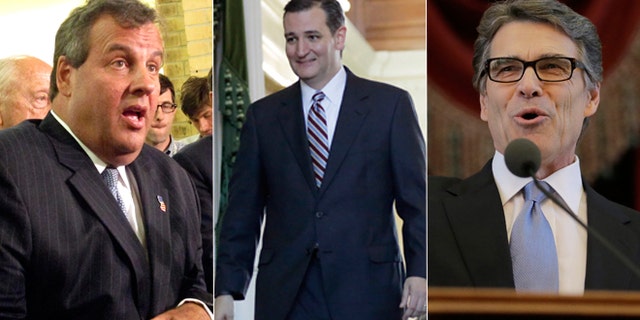 NEWYou can now listen to Fox News articles!
WASHINGTON – Call it the unofficial kick-off of the 2016 Republican presidential race.
Two-dozen Republican politicians -- nearly half of them at least considering a run for the White House -- descended on downtown Des Moines on Saturday for the Iowa Freedom Summit, where they'll test their conservative chops before a sold-out crowd.
The summit, which was held in New Hampshire last time around, is only in its second year but is drawing an impressive amount of GOP star power. The heavy-hitting lineup, in the first-in-the-nation caucus state, effectively makes it the first major candidate forum of the cycle.
"Odds are, the next president of the United States will be there," said Rep. Steve King, R-Iowa, who is sponsoring the event along with Citizens United.
The Saturday event is being held as the field of potential 2016 candidates grows ever-larger, with 2012 nominee Mitt Romney and former Florida Gov. Jeb Bush making moves toward a run.
The two former governors will not be in Iowa, but here's who will: New Jersey Gov. Chris Christie, former Texas Gov. Rick Perry, Texas Sen. Ted Cruz, former Arkansas Gov. Mike Huckabee, and former Pennsylvania Sen. Rick Santorum.
Others slated to speak include neurosurgeon and conservative firebrand Ben Carson, Wisconsin Gov. Scott Walker, former vice presidential candidate Sarah Palin and businessman Donald Trump, as well as former Hewlett-Packard head Carly Fiorina and former U.N. ambassador John Bolton.
All at least carry with them presidential speculation; most are openly flirting with a bid.
The Iowa summit, which lasts all day Saturday, will be their biggest chance so far to test-run their messages with Iowa voters.
For some -- particularly those with appeal to social conservatives, a powerful bloc in the Hawkeye State -- it's a chance to stand out in a crowded field. Potential candidates like Santorum, who have been out of the game since the last race, could use some heartland buzz.
At the same time, the setting could test the reach of more moderate GOP figures.
"A lot will depend on exactly what they will say," said Lara Brown, director of the political management program at George Washington University. "At some level, people have to decide what are the issues that bring them together, and what are the issues that will turn them off."
But she noted, "For every Republican nominee, they have to have support from the Republican right and the evangelical community."
Christie -- known more for his record battling the unions and his Jersey-style put-downs than his work on issues that drive caucus-goers -- is one to watch. Brown believes the New Jersey governor will spend his time hammering home the message he's pro-life.
"He may also feel that he should address his stance on immigration and what he experienced as a governor in a state that has a lot of immigrants," she said.
Also generating some buzz is Walker, who unlike many other potential candidates has been busy running for reelection.
His spokesman Tom Everson said in a statement the governor is looking forward to "sharing the story of Wisconsin's successful reforms."
Despite the big turnout, a number of major GOP players are not joining the summit. Aside from Romney and Bush, Kentucky Sen. Rand Paul and Florida Sen. Marco Rubio also aren't attending.
"What they are likely calculating is how they would be associated with a high-profile event that could be used against them if they were in a general election," Brown said, as a possible reason for the no-shows.
King, a staunch conservative, recently ruffled Republican feathers after he voted against re-electing Rep. John Boehner as speaker of the House.
King's controversial comments on illegal immigrants -- he has compared them to drug mules, and most recently described an undocumented immigrant invited to sit with Michelle Obama at the State of the Union as a "deportable" -- have also alienated him from some in his party.
"Guilt by association is a pretty effective tool," Brown said. "When you have trackers and people tweeting selfies, it makes it more difficult for politicians to talk to people, whether they agree with people or not."