Amnesty threat looms over Obama lawsuit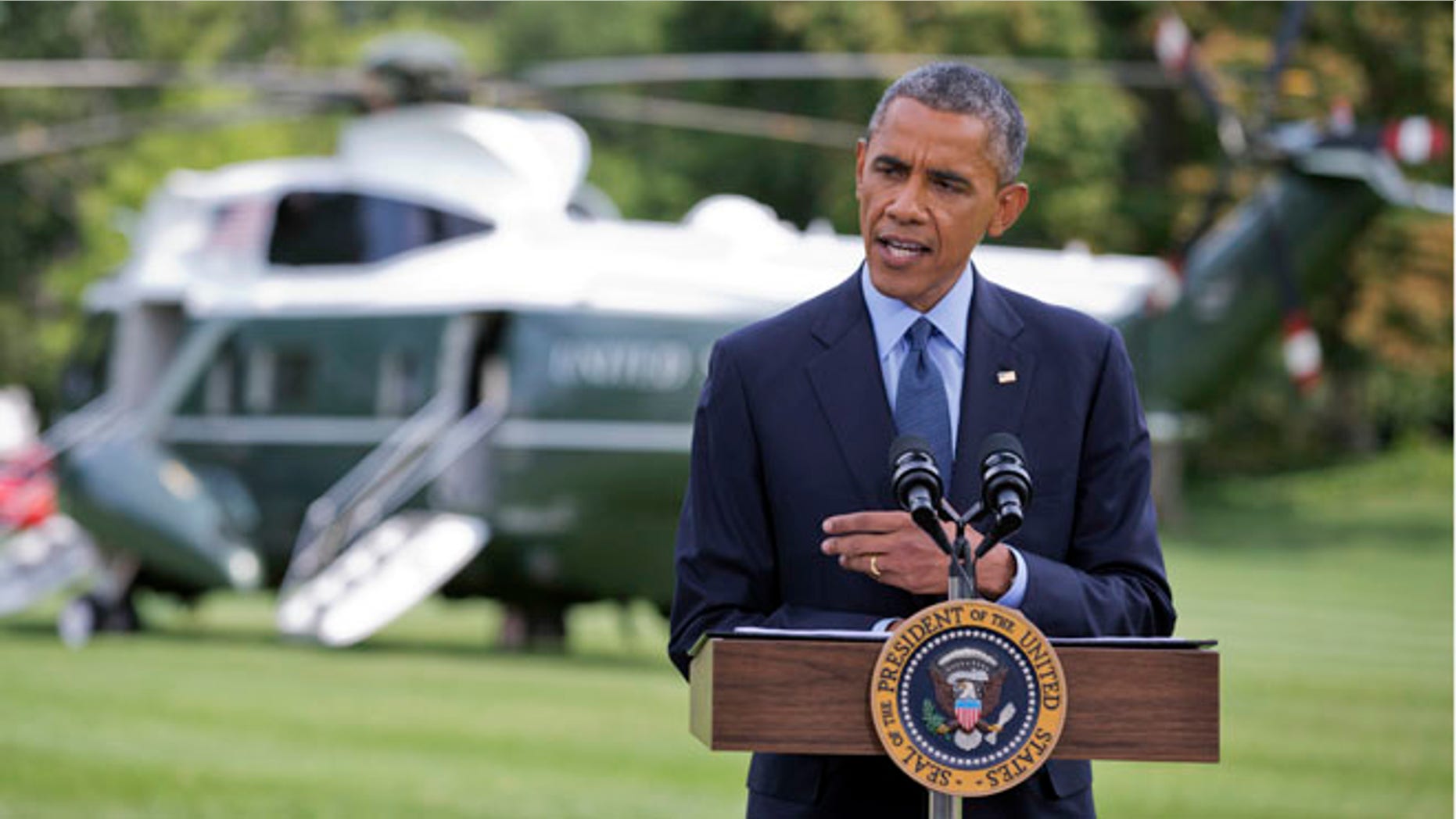 Buzz Cut:
Amnesty threat looms over Obama lawsuit
Hillary: 'Dead broke' comments 'accurate' but 'inartful'
Capito points to Tennant's anti-coal connection in new ad
Power Play: Peach state race turns tart for Nunn
'Preciate y'all dropping that class

AMNESTY THREAT LOOMS OVER OBAMA LAWSUIT 
No doubt President Obama will be trumpeting today the fact that the economy snapped back from a shrunken second quarter when he delivers a campaign speech today in Kansas City. But the speech, which will also push the president's proposed plan to outlaw U.S. companies moving their headquarters to tax havens overseas, is likely to really be about the lawsuit against him expected to come from the House of Representatives today. The White House has promised that the president will go "head on" against the lawsuit, which charges that the president's selective enforcement of ObamaCare has violated the constitutional separation of powers. But what the president is really talking about is impeachment.

[Watch Fox: Chief Congressional Correspondent Mike Emanuel will follow the lawsuit and the possible implications.]

Stuntmen and fall guys – Democrats talk a lot about the impeachment of the president these days. A lot. It raises scads of money and helps frighten voters to the polls. But Republican leaders say even the idea of impeachment is a "scam" being perpetrated by Democrats. Democrats, in turn, deride today's House lawsuit of being "a stunt" designed to whip up the Republican base and extract donations while simultaneously delaying the inevitable impeachment… which Democrats use to fundraise. And so, folks, we have now reach the point of politics as an infinite feedback loop – behold the birth of the self-perpetuating automatic umbrage machine. But aside from who can raise more huffing umbrage gas, there are some very consequential things going on here.

[Does the lawsuit have a ghost of a chance? Yes or no, depending on whom you ask.]

Back to the border - The backdrop for all of this is the president's pending plan to take executive action to give amnesty to illegal immigrants. While this lawsuit is something of a Hail Mary pass, it represents an effort to get a legal check on the president ahead of this move. Democrats are grinding hard on impeachment but this is Republicans looking to avoid what would almost certainly be a politically disastrous impeachment move. If Obama were to engage in some mass legalization, public attitudes might change, but for now, both sides are feeling their way through the constitutional wormhole that this administration has opened up. How far can the president go in expanding executive power and how far will Congress go to try to stop him?

Ummmm - "The American people are totally opposed to this, we shouldn't be off on those tracks of impeachment, suing the president. We should be legislating." –Senate Majority Leader Harry Reid on the readily available Senate floor.  

[Watch Fox: Sen. John Barrasso, R-Wy., will appear in the 11 a.m. ET hour on Fox Business Network.]

Bi-partisan vote condemns Obama for Taliban deal  - AP: "A House panel has voted to condemn President Barack Obama for the May swap of five Taliban leaders for Army Sgt. Bowe Bergdahl, who was held prisoner in Afghanistan for five years. The Armed Services Committee voted 34-25 on Tuesday for a nonbinding, bipartisan resolution that disapproves of the exchange and faults Obama for failing to notify Congress 30 days in advance, as required by law."

Bone to pick - The president arrived in Kansas City Tuesday night, where he met with individuals the White House deemed "everyday Americans" over a Bud Light and a half slab of K.C.'s famous Arthur Bryant's ribs.

[Ed. note: As opposed to whom? "Weekend Americans?" "Seasonal Americans?"]

OBAMACARE DELIVERS BIG PROFITS FOR BIG INSURANCE
Daily Caller: "Top health insurer Aetna reported boosted profits in the second quarter since Obamacare has been in effect as large insurance companies continue to win big from the health-care law.  Aetna's earnings rose 2 percent to $548.8 million this quarter, compared to just $536 million this time last year, before the health-care law forced more Americans to purchase coverage… The company raised its earnings projection for all of 2014 to $6.45 to $6.60 per share, up from $6.35 to $6.55 per share. … Large insurance companies are one of the biggest beneficiaries from the health-care law. While they continue to lobby against certain provisions — especially a hefty tax placed on each insurance policy a company sells — the individual mandate's requirement that all Americans purchase coverage rapidly expands their customer base. And insurers have been working closely with the Obama administration to make sure the law's implemented in a way that's friendly to them, if not to taxpayers."

[Watch Fox: Sen. Bernie Sanders, I-Vt., will appear on "O'Reilly Factor" at 8 p.m. ET.]

WITH YOUR SECOND CUP OF COFFEE...
Wired explains how World War I's signature vehicle was instrumental in developing modern cars: "The Vauxhall D-Type, or '25hp,' which first rolled off the production line in 1915, crossed battlefields on the Western Front (modern Germany, Luxembourg, and Belgium), Egypt, and Russian Empire. It had a 4-cylinder 3,969cc engine that could take five passengers to just over 60 mph…. Back in the day when comparing engine power to horse power was really relevant, 25 hp was a big deal. The animals were likely even more excited: About 8 million horses died in the four years of fighting, and it's safe to assume the 1,500 D-Types produced for the military kept that number from going a bit higher. How the car's bicycle tires made it over roads that barely earned that name, we're still flummoxed, but its solid chassis and durable engine proved a winning combination. At the insistence of the British war offices, Vauxhall produced up to seven of these vehicles a week."

Got a TIP from the RIGHT or LEFT? Email FoxNewsFirst@FOXNEWS.COM

POLL CHECK
Real Clear Politics Averages
Obama Job Approval: Approve – 41.8 percent//Disapprove – 54.5 percent
Direction of Country: Right Direction – 26 percent//Wrong Track – 64.3 percent 
Generic Congressional Ballot:  Democrats – 43.7 percent// Republicans 41.2 percent

CONSERVATIVE JUDICIAL GROUP BASHES CHRISTIE COURT
Conservative group Judicial Crisis Network will hit Gov. Chris Christie, R-N.J., with a second ad highlighting Christie's failed promise to change New Jersey's liberal Supreme Court. "Over and over he broke his promise. The court remains liberal," the narrator says in the 30 second spot. "Tell Chris Christie to Fight for Judges who respect the rule of the law." The 3-day ad buy will air on New Hampshire's local TV and radio stations. The buy coincides with Christies' trip to the Granite State Thursday.

RAND READIES FOR RELEASE OF CAMPAIGN BOOK 
The (Louisville, Ky.) Courier-Journal: "Kentucky Sen. Rand Paul is working on a new book that will come out early next year - about the same time he will decide whether to run for president. 'Just coincidence, probably just coincidence, yeah,' the Republican said, chuckling in a recent interview with The Courier-Journal. The publisher has not yet announced the upcoming book and Paul was reluctant to share the working title. But he said the possible subtitle was 'Beyond Partisanship.'… Paul told The Courier-Journal he would make a decision about a White House bid 'in the beginning of 2015 sometime or the spring of 2015.'"

[Paul will kick off Young Americans for Liberty national convention tonight with a keynote address to more than 300 students from 200 universities across the U.S.]

HILLARY: 'DEAD BROKE' COMMENTS 'ACCURATE' BUT 'INARTFUL'
Democratic 2016 presidential frontrunner Hillary Clinton regrets saying she and Bill Clinton were "dead broke" after the two left the White House in 2001. "Well, I regret it. It was inartful. It was accurate, but we are so successful and we're so blessed by the success we've had and my husband has worked incredibly hard," Clinton told Fusion TV in an interview aired Tuesday. "What I worry about is not my family. I worry about other families in our country who feel like they're running in place." The comment came from an interview in June with ABC News when Clinton defended her and her husband's high price speeches since leaving their administration jobs. Clinton also waved away questions about her family's actual net worth – estimated at more than $110 million – saying that she did not know the sum but allowed that she and her husband owned two homes.

Hillary denounces Redskins name - In the same interview with Fusion TV, Hillary Clinton denounced the Washington Redskins' name calling it "insensitive." "I think there's no reason for it to continue as the name of a team in our nation's capital," she said. "I would love to see the owners think hard about what they could substitute." But she didn't have a suggestion for a future name.

[Ask the expert - America's most famously corrupt former lobbyist, Jack Abramoff, is accusing presidential political patron Sheldon Adelson of misconduct for his bid to outlaw online gambling.]

--97 DAYS UNTIL NOV. 4--

CAPITO POINTS TO TENNANT'S ANTI-COAL CONNECTION IN NEW AD
West Virginia Republican Senate nominee Rep. Shelly Moore Capito, R-W.Va., fired back with a new TV ad this morning connecting her opponent, Democratic Secretary of State Natalie Tennant, to anti-coal plans supported by President Obama. "When Obama declared his war on coal, Natalie Tennant not only defended him, but endorsed him for President twice," the narrator says in the minute long spot. "Now Tennant's campaign efforts are being heavily financed by some of the most radical anti-coal people in the country." The ad also features Captio speaking to a group of factory workers explaining that the president doesn't understand how West Virginians work or want to be "independent and self-reliant." "He doesn't understand that way of life," Capito concludes. "And I want to go to the Senate and show him. This is the West Virginia way."

Mountaineers are 'smarter than that' - Capito appeared this morning on "Fox & Friends" discussing her new ad. "West Virginians, we're smarter than that. It's not what you say, it's when you do. That's what people are watching. I think a this just rings on hollow ears. It's electioneering at its worse because it's not truthful." Capito leads Tennent in a recent poll in hopes to succeed retiring Sen. Jay Rockefeller, D-W.Va., in November.

TESTIMONIAL: SULLIVAN IS MAN OF 'HIGHEST PERSONAL INTEGRITY' 
Alaska Senate hopeful Dan Sullivan debuted a new TV ad across the state this morning featuring the story of a fellow Alaskan serviceman. The ad opens to a picture of Shane Woods, a soldier who was killed in Iraq in 2006. "I take refuge in how proud my son was to serve. It gives me a deeper appreciation for the price of freedom, and what it means to be an American," says father Wayne Woods of Palmer, Alaska, who says he volunteered to help the Sullivan campaign by appearing in the spot. Wood says Sullivan, who has been deployed several times with the Marine Corps, is "ready to fight for Alaska." "I know [Sullivan] shares the same values my son had. This is a man of the highest personal integrity that will not compromise his principles for political gain." Sullivan is in a tight GOP primary race against Alaska Lt. Gov. Mead Treadwell and Joe Miller. The winner of the Aug. 26 primary will go on to face incumbent Sen. Mark Begich, D-Alaska.

Begich touts teamwork with Murkowski - AP: "U.S. Sen. Mark Begich is out with a new ad touting the level of cooperation between him and Alaska's senior senator, Republican Lisa Murkowski. Murkowski pushed back against a similar radio ad from the Democrat, saying that while they agree on many issues specific to Alaska, they differ on a number of national issues. A Murkowski spokesman referred a reporter to comments Murkowski made to the Wall Street Journal, that Begich should run on his own record."

CONSERVATIVE GROUP HITS PRYOR ON OBAMACARE 'DECIDING VOTE' 
Americans for Prosperity, a conservative non-profit group, launched a new ad today featuring Arkansas residents Wanda and Jerry Buckley telling how ObamaCare has hurt their lives. "We got a letter telling us that our current policy was going to be cancelled," Jerry says in ad, which the group says is backed by $285,000 ad buy. Wanda said she trusted President Obama when he said she could keep her plan, but that it wasn't true in this case. "In this matter, he either didn't know or didn't care," Jerry concludes. "When Jerry and Wanda shared their story of how ObamaCare is wreaking havoc in their lives, Sen. Mark Pryor's[, D-Ark.] response was to dismiss them with a wave of his hand," Tim Phillips, president of AFP, said in a statement. "Unfortunately, the problems caused by his vote for ObamaCare are real, and are negatively impacting Arkansans – young and old- every single day. It's time for Pryor to stop playing politics with our healthcare, and admit that ObamaCare isn't working."

[Rep. Tom Cotton, R-Ark., has a slight lead over Sen. Mark Pryor, D-Ark., according to a new poll. The non-partisan Talk Business & Politics-Hendrix College poll found Cotton leading Pryor 44 percent to 42 percent. Three months ago, the survey showed the incumbent senator had a three point lead over his challenger.]

HAGAN: 'YOU DON'T HAVE TO PICK A TEAM'
The (N.C.) News & Observer: "U. S. Sen. Kay Hagan[, D-N.C.,] makes a direct pitch to voters in her campaign's new TV ad, describing herself as a moderate who fits with North Carolina's split political loyalties. 'One of the things I love about North Carolina is that unless you're talking basketball, you don't have to pick a team,' the Democratic incumbent says in the 30-second spot that began airing Tuesday. …In the kicker, Hagan says she's 'not too far left, not too far right. Just like North Carolina.' Hagan's campaign refused to offer details on the ad buy except to say it is spending at least a $1 million to air the spot for a few days in various markets in the state."

JOHN BOLTON PAC GIVES NOD TO BROWN
Former U.N. Ambassador John Bolton endorsed New Hampshire Senate hopeful Scott Brown Tuesday. Brown faces a tough race against incumbent Sen. Jeanne Shaheen, D-N.H. and currently is down in the poll. Bolton's PAC also donated $10,000 to his election campaign. "Formerly a colonel in the Army National Guard with a distinguished record, Scott Brown knows how to lead and he believes in an America that is respected at home and abroad," Bolton said in a statement. "He is the type of public servant who isn't afraid to be independent and make bold decisions for the state of New Hampshire." Bolton already has a hand in another New Hampshire race. His super PAC is already running ads against Rep. Ann Kuster, D-N.H.

SMALL BUSINESSES OWNERS QUESTION BRALEY ON MINIMUM WAGE INCREASE 
The Des Moines Register: "A group that represents about 10,000 small business owners in Iowa is calling on U.S. Senate candidate Bruce Braley to clarify his position on raising the minimum wage, which it says would increase the costs of hourly labor for those workers by 40 percent. 'We'd like Congressman Braley to explain his theory on how Iowa small businesses and family farms can absorb such an increase without having to make difficult cuts elsewhere,' National Federation of Independent Business Vice President Lisa Goeas said in a statement [Tuesday]. Braley's newest TV ad criticizes his Republican rival, Joni Ernst, for saying during a NFIB forum that she thinks a minimum wage of $7.25 an hour is appropriate for Iowa and that she opposes the idea of a federal bill to increase the wage to $10.10 per hour."

DOCTORS BACK ROBERTS AFTER WOLF'S X-RAY FACEBOOK POST
AP: "Kansas Sen. Pat Roberts is getting help in his Republican primary race from a political action committee representing tea party challenger Milton Wolf's fellow radiologists, and the group's director said Tuesday that it would be "hard to rally around" Wolf because of his past postings of graphic X-ray images on Facebook. The American College of Radiology Association PAC disclosed to federal regulators that it spent nearly $43,000 last week on mailings supporting Roberts in his bid for a fourth six-year term. PAC Director Ted Burnes said the mailings, praising Roberts, started this week and are going to prospective voters statewide ahead of the Aug. 5 election."

ALEXANDER DEFENDS 'STONE AGE' ENDORSEMENTS
While on his 40-stop bus tour, Sen. Lamar Alexander, R-Tenn., disputed GOP primary opponent state Rep. Joe Carr's claim that the senator is not conservative enough. (Murfreesboro, Tenn.) Daily News Journal: "[T]he incumbent, who has an 'A' rating from the National Rifle Association, Tuesday defended his record during a tour of the Barrett Firearms plant outside Murfreesboro. Alexander came under fire last week after state Rep. Joe Carr, a GOP primary opponent, reportedly said all the senator's recent endorsements are from the Stone Age after Carr received a nod from former Alaskan Gov. Sarah Palin. Alexander, who has been backed by former presidential candidates Mike Huckabee and Newt Gingrich and two former chairmen of the American Conservative Union, said he is pleased with his supporters. 'I'm proud of the endorsements I have,' Alexander said during an interview with The Daily News Journal after the tour of the Barrett facility in Christiana. 'As far as to whether I have support from the 'Right,' it's pretty strange to suggest I don't.'"

Late Howard Baker continues to influence Volunteer politics- The Washington Post's Dan Balz delves into the Volunteer State's political field exploring the political influence of the late Howard H. Baker, Jr., former Senate majority leader and "godfather of the Tennessee Republican Party." Balz touts Tennessee's senator selection saying, "For half a century, Tennessee voters have elected a succession of Republicans to statewide office who are more problem-solvers than ideologues, consensus-seekers rather than rabble-rousers. The current trio — Alexander, Sen. Bob Corker and Gov. Bill Haslam — all embody in one way or another the Baker tradition."

POWER PLAY: PEACH STATE RACE TURNS TART FOR NUNN
Georgia's race between Democrat Michelle Nunn and businessman David Perdue is the best chance for Democrats to flip a red Senate seat to blue this fall. In this week's edition of "Power Play," host Chris Stirewalt gives an update to hotly contested race. Will daughter of former Sen. Sam Nunn or cousin of former Gov. Sonny Perdue use their famous names to inch ahead in the race? How will the leaked 144-page memo from Nunn's camp which highlighted their internal woes affect the outcome in November? Watch "Race in 90 seconds" here.

Pick Six - The GOP hopes to flip six seats from red to blue to win back control of the Senate from Democrats this fall. Fox News First readers think the most likely states to switch are: Arkansas (13.6%), Louisiana (11.8%), Montana (11.8%), West Virginia (11.1%), South Dakota (10.4%) and North Carolina (10.1%). Fox News First Reader Ray Hansen from California doesn't see Sen. Mary Landrieu, D-La., losing her seat but sees Sen. Mark Udall, D-Colo in trouble. Hansen's six, in order of likelihood are Montana, West Virginia, South Dakota, Colorado, North Carolina and Arkansas.

Share your top six picks. Email them – just your top six, please – to FOXNEWSFIRST@FOXNEWS.COM or tweet @cstirewalt

THIS PAC HAS DADDY ISSUES
Watchdog.org: "A congressional candidate in Florida is getting a boost from a super political action committee with one donor, which happens to be his dad. But there's a twist. Gabriel Rothblatt's father, Martine, used to be Martin Rothblatt before undergoing gender reassignment surgery. She – Martine –founded Sirius Satellite Radio and a Maryland-based biotech company that paid her $38 million in compensation last year, according to Forbes….The 8th Congressional District, in which Rothblatt is running, includes Kennedy Space Center… Interestingly, Rothblatt's super PAC is called SpacePAC…Records show Martine Rothblatt contributed $225,000 to SpacePAC last quarter. …Federal election laws prohibit super PACs from coordinating with candidates, but the close familial ties in this case could easily complicate those restrictions — and already may have."

SANDRA FLUKE IS HER OWN BIGGEST SUPPORTER
Washington Examiner: "Liberal darling and free-birth-control advocate Sandra Fluke is her own biggest donor in her state Senate race, according to official California campaign finance reports. Fluke donated $12,000 to her campaign and $4,826.27 in non-monetary contributions. While $16,826.27 may not sound like a lot, Fluke also loaned her campaign $100,000."

'PRECIATE Y'ALL DROPPING THAT CLASS
Knoxville (Tenn.) News Sentential: "It's OK to talk Southern and work at a national lab — after all. Oak Ridge National Laboratory has canceled plans for a 'Southern Accent Reduction' class because of objections from lab staff members, some of whom said they were offended by the training opportunity. ORNL's human resources department early last week distributed a registration notice for the six-week course to be taught by Lisa Scott, 'a nationally certified speech pathologist and accent reduction trainer.' Here was the pitch to get employees to sign up for the speech rehab program: 'Feel confident in a meeting when you need to speak with a more neutral American accent, and be remembered for what you say and not how you say it.'… ORNL spokesman David Keim said managers quickly cancelled the class after staff members complained… 'We've offered accent reduction training to foreign nationals for years,' Keim said. 'But this one obviously surprised some folks.'"

AND NOW A WORD FROM CHARLES…
"If [President Obama] were to do something like legalize 5 million … illegal immigrants, to do it by executive order, which would be clearly lawless, and would be the biggest domestic overreach of a president in memory, it would be an impeachable offense. I would be 100 percent against impeachment, because its political suicide, but it really would be the basis for that. That's what I think the White House may actually be softening people up for, an executive order that, that reaches impeachable offense, but it's a way of, it's like a pre-emptive strike." –Charles Krauthammer on "Special Report with Bret Baier" Watch here.

Chris Stirewalt is digital politics editor for Fox News. Want FOX News First in your inbox every day? Sign up here.