Amid Protests, Mexico's New President Pena Nieto Signs Accord With Opposition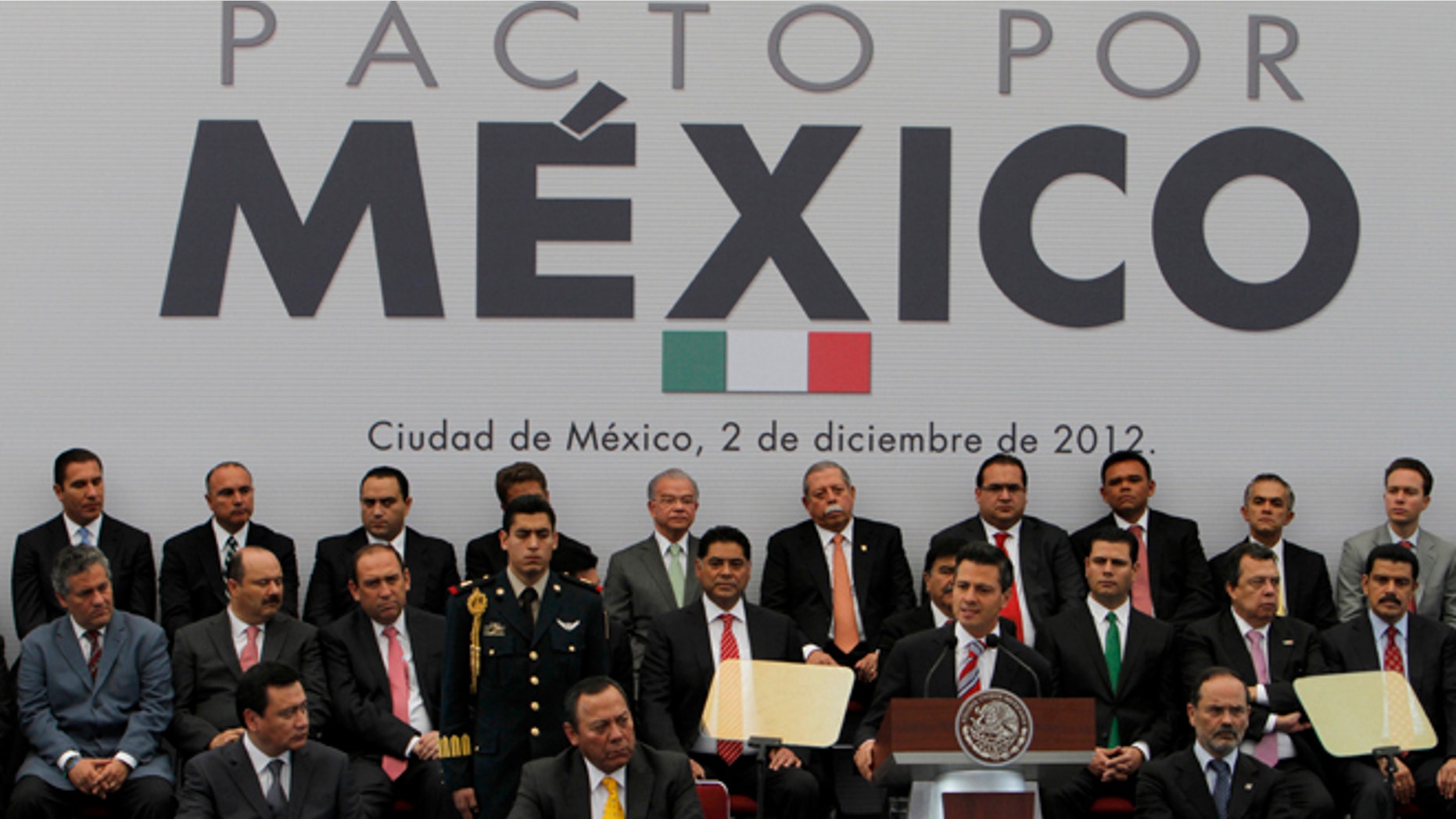 While both violent and peaceful protests raged Saturday as he was being being inaugurated, the newly elected President Enrique Peña Nieto signed an agreement Sunday with opposition leaders to increase Mexico's economic growth, employment and competitiveness.
The leaders of the conservative National Action Party and the leftist Democratic Revolution Party joined Peña Nieto in signing the "Pact for Mexico." It includes measures Peña Nieto announced during his inauguration, like education reform, pensions for people 65 and older and concessions for two new national television stations.
The 46-year-old Peña Nieto, who took office on Saturday, called the pact "historic."
"The country must be transformed without delay," he said.
Peña Nieto's Institutional Revolutionary Party (PRI) ruled México for 71 years before being voted out 12 years ago.
Peña Nieto has presented himself as the new face of the PRI, which ruled before with handouts, graft and rigged elections, promising clean government.
But some opponents say the party's ways haven't change and accuse it of using overspending and buying votes to win the latest election.
At times violent protests marred his inauguration, with protesters throwing stones, bottle rockets and firecrackers at police who responded with tear gas.
México City Mayor, Marcelo Ebrard, said eight people were injured, one gravely, and 92 were detained during inauguration violence.
He blamed anarchist groups for vandalism and other "barbaric acts."
Vandals smashed windows of stores, banks and a hotel and made bonfires of furniture dragged into the streets. One downtown bank office where all the windows were broken had the words "Welcome Peña" painted across the facade in green.
Reporting by The Associated Press.
Follow us on twitter.com/foxnewslatino
Like us at facebook.com/foxnewslatino