Amid Egypt's uprising anniversary, US condemns violence, pledges Middle East support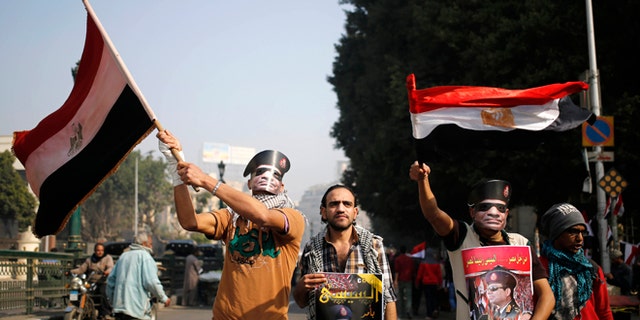 NEWYou can now listen to Fox News articles!
The three-year anniversary of Egypt's political uprising was marked this weekend with government-backed rallies and deadly anti-government protests, as the Obama administration vowed continued support toward stabilizing the Middle East and urged residents to move toward peace -- not violence.
The contrasting scenes Saturday reflect the three years of turmoil in Egypt since the start of the Jan. 25, 2011 revolution, which ultimately replaced leader Hosni Mubarak with a transitional military council.
Clashes have so far killed at least 29 protesters, health officials said.
"The United States again urges all sides to condemn and prevent violence," White House Press Secretary Jay Carney said Friday, following terror attacks in Cairo. "It should be clear to all Egyptians that violence has not and will not move Egypt's political transition forward. Ongoing unrest and cycles of violence surrounding protests hurt Egypt's prospects for political and economic stability."
The demonstrations are being led by Islamist group and some secular activists rival to the transitional government.
Last summer's millions-strong demonstrations against Mubarak's elected successor, Islamist President Mohammed Morsi, led to a military coup removing him.
And as Egypt looks forward to presidential elections later this year, many celebrating Saturday in the famed Tahrir Square demanded army chief Abdel-Fattah el-Sissi run for president.
On Friday, Four bombs targeting police killed six people around the capitol city. And another 15 people were killed elsewhere around the country when Morsi's supporters clashed with security forces. The country's Interior Ministry said that 237 people were arrested during those protests.
"We strongly condemn the terrorist attacks," said State Department spokeswoman Marie Harf. "We urge all Egyptians to exercise calm and restraint … . The Egyptian government and people are navigating their political transition in a challenging security environment, and violence aimed at undermining this transition has no place in Egypt. We continue to support the people of Egypt and urge them to move forward peacefully with the transition."
She also said the administration is aware of an American filmmaker being detained in Egypt and that the State Department will provide support from the U.S. consulate.
On Saturday, military helicopters showered crowds in Tahrir with small flags and gift coupons to buy refrigerators, heaters, blankets and home appliances. State-backed rallies also showcased prancing horses and traditional music for ecstatic crowds.
And Morsi's supporters used Saturday's anniversary to build new momentum in their defiance of the military and its political transition plan, despite being hit by a crippling police crackdown and rising public resentment against his Muslim Brotherhood group.
"The burning of Egypt won't last," a statement issued by a Brotherhood-led coalition said.
On Friday, Secretary of State John Kerry attempted to assure the world that the U.S. is committed to helping countries in the region such as Egypt, Libya, Tunisia, and Yemen that are in transition.
"There is no shortage of places we are engaged in the Middle East," he said in a speech before the World Economic Forum in Switzerland.
"So the question isn't whether we're leaving. The question is how we are leading. Today we believe there are initiatives that, taken together, have the potential to reshape the Middle East and help could even create the foundations of a new order," he said.
The fiercest clashes in Egypt this weekend occurred in an eastern Cairo suburb, where Islamist supporters clashed with security forces in street battles. Security forces fired over the crowd to disperse protesters who threw gasoline bombs and set up a field hospital to aid the wounded.
Violence also was strong in the provinces. A car bomb exploded outside a security camp in the city of Suez, wounding six civilians, authorities said.
Protesters said security personnel and rooftop snipers used live rounds against demonstrators. They also said protesters threw gasoline bombs in the clashes, which wounded hundreds.
The clashes contrasted with scenes of celebration in Tahrir Square and other major squares in provincial capitals. Long queues of demonstrators lined up to enter the tightly secured squares through metal detectors.
Some celebrating wore paper masks with el-Sissi's picture and their rallies showed a ferociously anti-Islamist tone.
Soldiers guarding Tahrir Square joined them in chanting: "The people want the execution of the Brotherhood."
A crowd beat a woman in a conservative headscarf, believing she was a Brotherhood sympathizer. And they turned on journalists.
More than a dozen journalists were beaten by the demonstrators, or detained by police for protection from angry crowds. Demonstrators chased one Egyptian female journalist, mistakenly believing she worked for satellite news broadcaster Al-Jazeera -- seen as pro-Brotherhood.
Five Al-Jazeera journalists are reportedly being detained by the interim government, which has prompted Arizona Republican Sen. John McCain to condemn the violence and question the government.
"Al Jazeera has been chronicling events in Egypt, probably more intensively than any other world network," McCain, who has taken an active interest in trying to bring stability to the region, told Al Jazeera on Friday.
"For the Egyptian government to keep them in prison, I think, is another indicator that this military government, and that's really what it is, is not keeping with the standards of international behavior that we would expect."
Security forces also dispersed rallies by secular youth activists who led the 2011 anti-Mubarak uprising and who are critical of both the Islamists and the military. A number of their most prominent figures have been detained for months or sentenced to prison amid a campaign to silence even secular voices of dissent.
In its statement, the Brotherhood appealed to secular youth groups to unite with it in protests.
However, those groups have shunned the Islamists, whom they equally accuse of undermining the 2011 uprising's goals while in power.
The Al Qaeda-inspired group Ansar Beit al-Maqdis, or the Champions of Jerusalem, claimed responsibility for Friday's bombings, warning of coming attacks and telling citizens to stay away from police stations.
The government has accused the Brotherhood of ultimately being behind the militant violence and declared the group a terrorist organization.
The group says the accusation is baseless. But pro-government media, essentially most Egyptian television stations and newspapers, tout the link, and a broad segment of the public are convinced.
The Associated Press contributed to this report.