Alaska's Murkowski Prepares to Declare Victory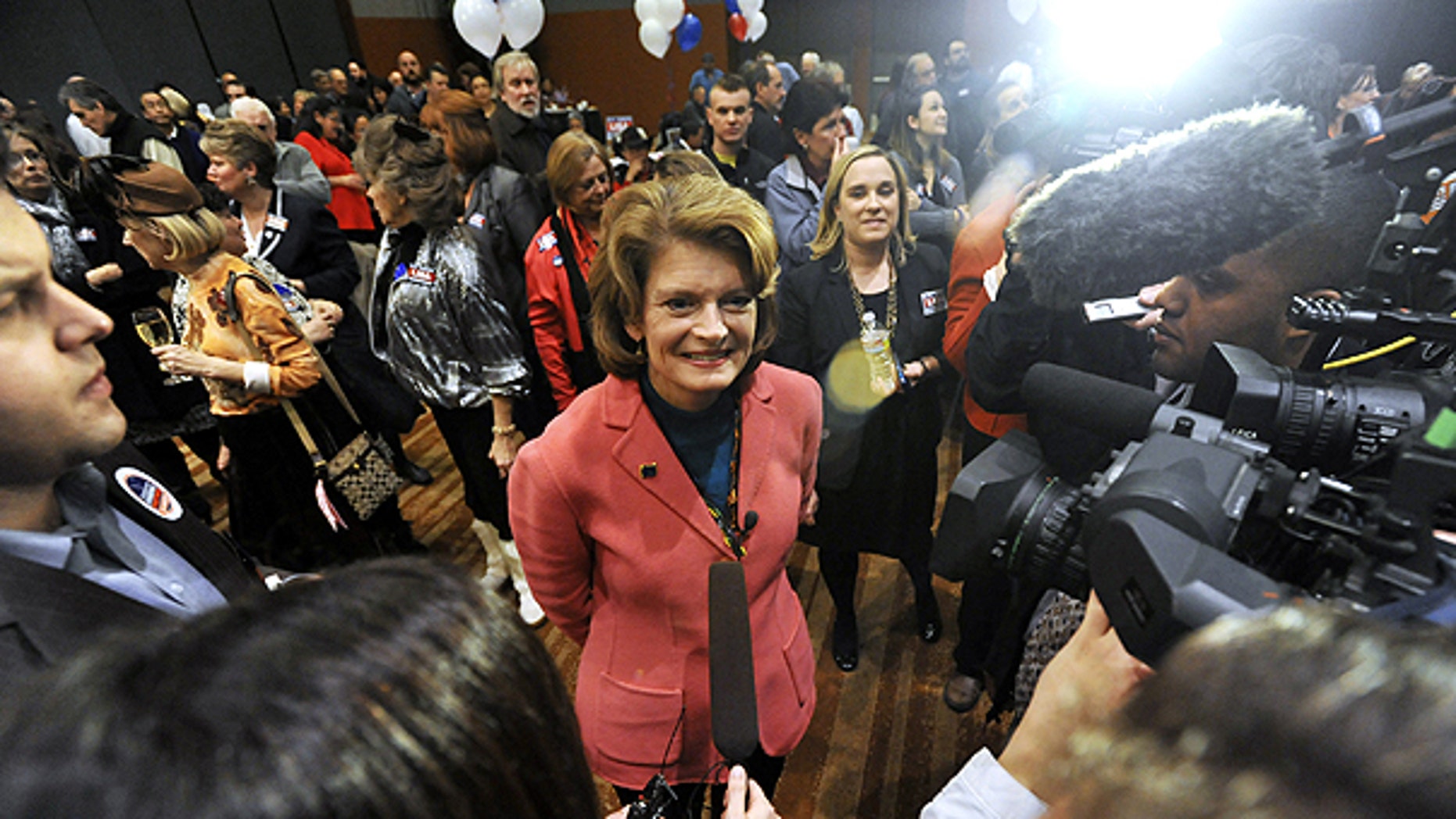 JUNEAU, Alaska -- An optimistic Sen. Lisa Murkowski headed back to her home state Wednesday after widening her lead over bitter rival Joe Miller to more than 10,400 votes.
Murkowski, who is seeking to make history as the first U.S. Senate candidate to win as a write-in since 1954, planned to address supporters in Alaska after the last few hundred uncounted ballots were tabulated.
Her widening lead has put increased pressure on Miller to decide whether to press forward with a federal lawsuit challenging election procedure, demand a re-count or concede.
Miller has maintained he'll stop fighting if the math doesn't work in his favor. Murkowski's campaign manager, Kevin Sweeney, said Tuesday that point has come -- and urged Miller to keep his word.
As of Tuesday night, Murkowski had 100,868 votes, while Miller had 90,468. Murkowski's count includes 8,153 votes that the state counted for her despite challenges from Miller observers for things like misspellings, extra words or legibility issues. Miller's total includes 20 write-in votes for him.
The only way Miller can add to his total is with the tally of those outstanding ballots from overseas and military addresses -- Division of Elections Director Gail Fenumiai estimates there are fewer than 700 of those -- and the stray write-in vote for him.
Miller spokesman Randy DeSoto said Tuesday if the final tally between the two ends up "close," he expects the campaign to seek a recount. He noted Murkowski has received a hand count of her ballots but Miller has not.
The overall number that Miller's campaign is looking at is the undisputed vote tally for Murkowski. Asked if 2,000 votes was close, DeSoto said he believed it was.
DeSoto said the campaign has felt no pressure to concede. Miller has returned home to Fairbanks, after spending time this week in Anchorage, including meeting with his legal team.
Murkowski made her outsider run after losing the primary to Miller, a limited-government candidate backed by Sarah Palin and the tea party crowd.
Miller's federal lawsuit seeks to hold the state to a law that calls for write-in ballots to have the oval filled in and the last name of the candidate or the name as it appears on the declaration of candidacy written. The state did not provide until two days before it began its write-in count the written procedures for how it would be conducted.
The state has been using discretion in determining voter intent, allowing ballots with Murkowski's name misspelled to be counted toward her total so long as the word written is phonetic to Murkowski; it points to prior case law as the basis for this practice.
The deadline to request a recount is Dec. 4; the target date for certifying this race is Nov. 29.
DeSoto said the campaign faces something of a "catch-22" on this count, because it would like to have a court rule on whether the state should adhere strictly to the law in tallying ballots before there would be any recount. It's not yet clear how soon that might happen; the state disputes both the merits of Miller's claim and his seeking to have it settled in a federal court.