Alabama governor reportedly planning to resign over sex scandal
Alabama's embattled governor Robert Bentley reportedly is planning to resign over allegations he abused the powers of his office to facilitate and then cover up an affair with his adviser.
A source, who apparently has spoken to the governor, told The Associated Press he plans to resign and is preparing to announce his decision Monday during a Cabinet meeting.
The developments came as impeachment proceedings started earlier Monday in the state capital. In the afternoon, the Montgomery County Sheriff's Office website posted that Bentley had been booked on two misdemeanor charges: failure to disclose information on statement of economic interest and failure to file campaign finance reports.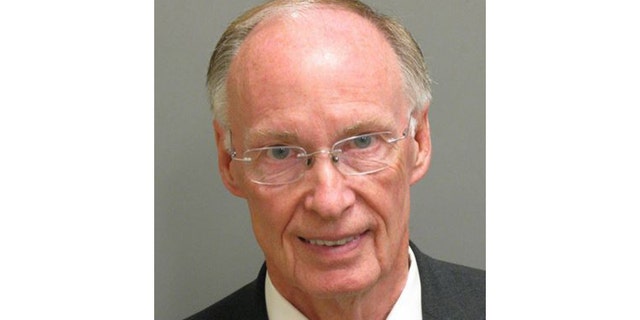 The sheriff's office also posted a mugshot of Bentley, but later removed the information.
The clock started ticking on Bentley's term after the 74-year-old grandfather of six accidentally texted his now ex-wife Dianne a message meant for his mistress, former adviser Rebekah Caldwell Mason.
"I love you Rebekah," he typed – to Dianne, his wife of 50 years. They are now divorced.
Bentley, a conservative Republican and Baptist deacon, repeatedly denied having an affair though he routinely called Mason "baby" during government meetings. There is also a pile of documented correspondence between Mason and Alabama's sexting septuagenarian that seemed to indicate an improper relationship.
Dubbed the "luv gov" by the press, Bentley is also accused to creating a climate of fear and intimidation in the governor's office.
On Friday, the state's House Judiciary Committee released a 130-page report that alleges Bentley abused his power.
Jack Sharman, special counsel to the state's House Judiciary Committee and author of the report, said Bentley "directed law enforcement to advance his personal interests and, in a process characterized by increasing obsession and paranoia, subjected career law enforcement officers to tasks intended to protect his reputation."
He also said Bentley and his office "did not meaningfully cooperate" with the investigation.
Bentley lawyer Ross Garber had argued that impeachment should be reserved for only the "most grave misconduct," noting that only two U.S. governors have been impeached since 1929, and both were indicted for serious felonies.
"It is not unusual for elected officials to have ethics and campaign finance issues. In fact, many governors face these things. It is very rare, though, for legislators to try to leverage those issues to impeach a governor. In fact, it is simply not done," Garber told The Associated Press in an email.
Garber also represented former Illinois Gov. Rod Blagojevich, who in 2009 became the last U.S. governor to be impeached. He was removed from office, and is now serving a prison sentence, for conspiring to sell an appointment to President Barack Obama's vacant U.S. Senate seat.
The investigative report contained text messages that the governor sent to Mason. They were intercepted by Bentley's then-wife, Dianne Bentley, who was able to read the messages because they also showed up on the governor's state-issued iPad, which he had given her.
"I sure miss you. I need you. I want you. You are the only one," one message read.
At one point, according to the 131-page investigative report, the governor sent the head of his security detail to fetch the recording from his son, Paul Bentley, who responded: "You ain't getting it."
The former first lady's chief of staff also charged that Bentley threatened her job because he believed she had helped his wife make the recordings.
The Alabama Ethics Commission last week cited evidence that Bentley broke state ethics and campaign laws. The matter has been referred to prosecutors.
On Friday, the governor made a somber plea for forgiveness from the steps of the Alabama Capitol, acknowledging that he had let people down but promising that he had done nothing illegal or anything to merit his removal from office.
GOP leaders in the House and Senate have called on Bentley to resign, as has the Alabama Republican Party's steering committee.
Two of Bentley's predecessors in the past three decades have been convicted of crimes: Republican Guy Hunt in the 1990s, for misusing funds, and Democrat Don Siegelman, who was convicted of bribery in 2006.
Lt. Gov. Kay Ivey would be expected to step into Bentley's role if he resigns -- making her the state's second female governor.
The Associated Press contributed to this report.