Al Qaeda Rebranding Itself to Improve Image, Arab Diplomat Says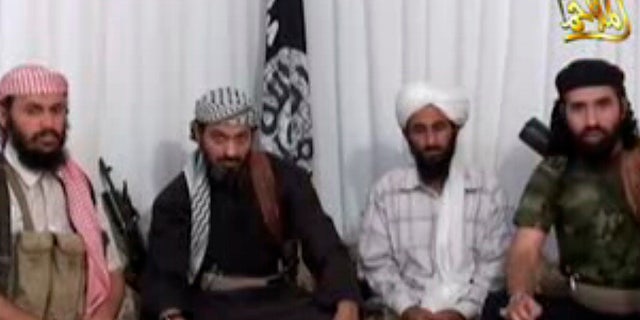 Al Qaeda in the Arabian Peninsula is rebranding itself to try to lose the negative "baggage" associated with the larger terror organization's identity, according to a senior Arab diplomat who says the Yemeni-based group is trying to attract more foreign fighters to its cause.
AQAP is increasingly going by the name "Ansar al Sharia," which means Army of Islamic Law, the diplomat told Fox News.
"After (Usama) bin Laden's death and the Arab Spring, the name (al Qaeda) seems to have negative connotations and baggage," said the diplomat, who would discuss the changes only on condition of anonymity.
The name swap was likened to a similar evolution experienced by al Qaeda in Iraq's military and political wings. The rebranding of AQAP is seen as an effort to create "a big tent" to attract foreign jihadists and give it a greater air of legitimacy as a political movement.
Since al Qaeda leader bin Laden's death in May at the hand of U.S. Navy SEALs, the number of foreign fighters traveling to Pakistan has dropped, but the number heading to Yemen is on an upswing.
A senior Yemeni official with access to the intelligence said the number of foreign fighters in Yemen now exceeds 1,000. If accurate, that is more than four times the number of al Qaeda members believed to be in the tribal areas of Pakistan.
Combined with the al Qaeda affiliate in Somalia, which Kenyan officials is now the base for upwards of 750 foreign fighters now in training, the horn of Africa -- and by extension Yemen -- are now the central threat hubs.
Rick "Ozzie" Nelson, director of homeland security and counterterrorism at the Center for Strategic and International Studies, told Fox News that "moving away from the larger al Qaeda brand is something I think we're starting to see more of."
With the death of bin Laden, it makes sense for groups to become more diffused from centralized leadership so they can focus on regional issues rather than brand-building, he said.
Would-be recruits are "finding that the al Qaeda core is no longer beneficial to be associated with ... because their main leader is gone," Nelson said, noting that Usama bin Laden was a charismatic leader who offered a lot of financial backing and Ayman al-Zawahiri "is not an effective replacement."
Nelson added that there are pros and cons for al Qaeda's tentacles to switch to new names.
"One thing about AQAP is it's got remarkable name recognition, which can serve to help recruiting" and financial development. On the other hand, "it also helps to attract a lot of global counterterror initiatives."
U.S. officials acknowledge that al Qaeda in Yemen, which was behind the last two major plots targeting the U.S. airline industry, including Umar Farouk Abdulmutallab, the underwear bomber in 2009, is "digging in and internally focused" as it tries to establish a safe haven in the Abyan and Shabwa provinces.
"It is like shooting fish in a barrel," the Arab diplomat said without elaborating.
Much of southern Yemen is under control of AQAP, whose leader, Nasir al Wuhayshi, served as bin Laden's personal secretary. Wuhayshi, who reportedly survived an August 2011 counterterror attack, is believed to be the creator of Ansar al Sharia and a top voice contending to lead the global network.
On Tuesday, the Yemeni Embassy in Washington D.C. confirmed the capture of six senior members of al Qaeda in Yemen, including "Musaed Al-Barbari, Emir of AQAP, who allegedly planned and executed the an attack on Sana'a International Airport in 2009."
The Yemeni statement, obtained by Fox News, claimed the group was an active terror cell.
"The terrorism suspects have been carrying out surveillance, and planning missions aimed at targeting government and high ranking security officials. Furthermore, the cell was planning on orchestrating attacks on foreign missions and critical state installations."
In addition, the statement said the 15 prisoners who recently escaped a Yemeni prison in Al-Mansoura district in the southern port city of Aden were not members of al Qaeda as originally reported.
"Ministry of Interior has officially confirmed that the fleeing fugitives are not members of AQAP but were (imprisoned) and convicted for criminal charges. A joint security team is currently interviewing prison officials and staff on the incident. Law enforcement and military units have managed to recapture three of the fleeing fugitives," the statement added.
Fox News chief intelligence correspondent Catherine Herridge's bestselling book "The Next Wave: On the Hunt for al Qaeda's American Recruits," published by Crown, draws on her reporting for Fox News into Al-Shabaab, and the American cleric Al-Awlaki and his new generation of recruits -- Al Qaeda 2.0.