Akin vows to stay in Missouri Senate race, says he's 'here to win'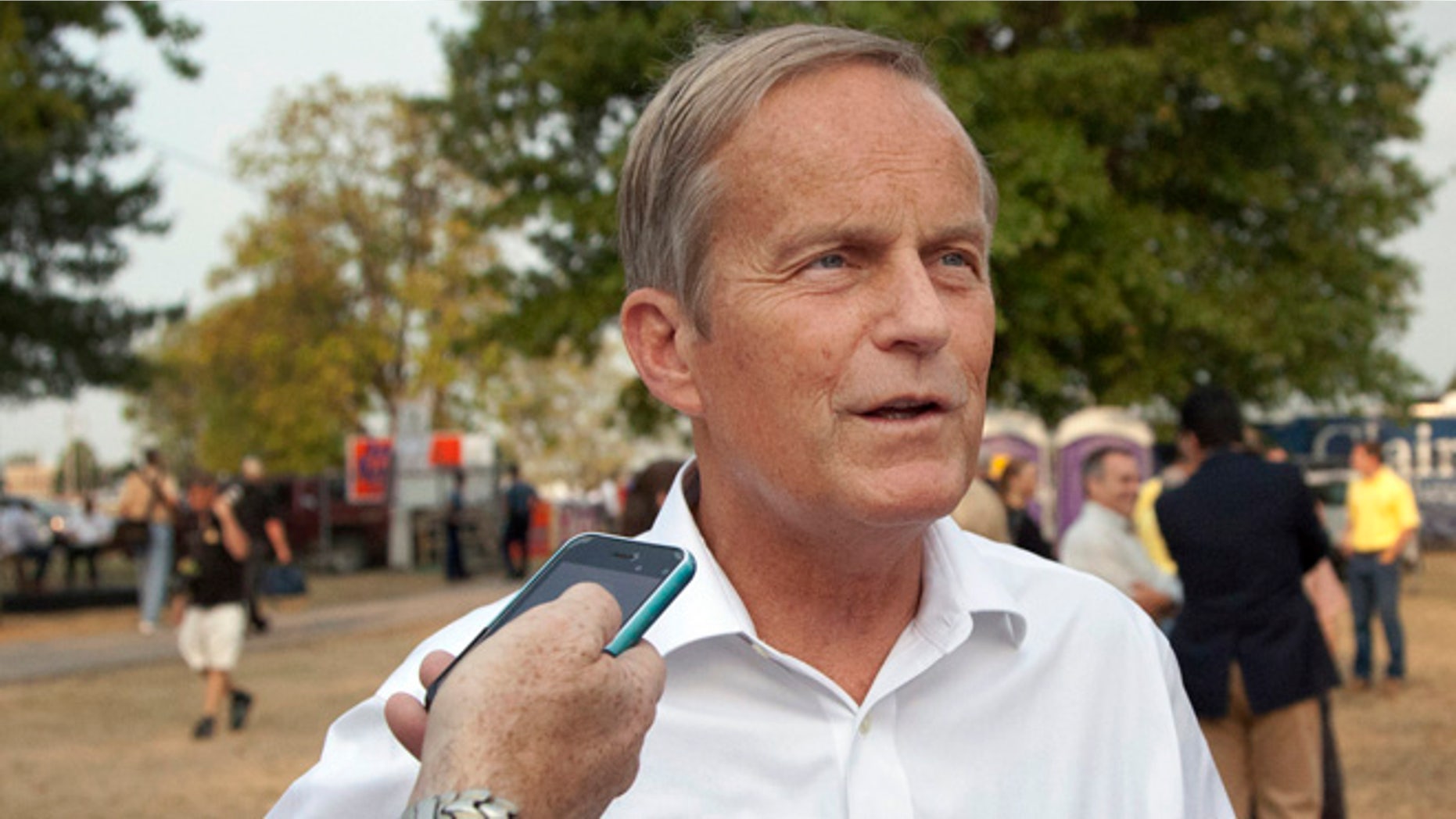 A defiant Rep. Todd Akin vowed Friday to stay in the race for Missouri Senate, reaffirming that he will not bow to pressure from Republican Party leaders to withdraw over his controversial comments on rape and abortion.
The Republican congressman, who had already stated earlier in the week that he was staying in the race, called a press conference late Friday to say it again -- as GOP officials continued to call on him to step aside.
"Apparently, there's some people who are having trouble understanding our message. I'd like to be clear on that today -- that we're going to be here through the November election, and we're going to be here to win," Akin said.
"There may be some negotiations," he added, "but they don't include me."
Akin noted that voters chose him in the primary, and said: "This is an election, not a selection."
GOP officials, worried Akin's vulnerability over his remarks might imperil their chances of taking the Senate, have tried to nudge Akin out of the race by pulling funding and publicly denouncing him. But Akin has appealed to the grassroots in a bid to go it alone.
Before the press conference, Akin's campaign was touting its latest fundraising numbers. Claiming the campaign had hit $150,000, he blasted out a new fundraising appeal setting a goal of increasing his online contributions to $212,000 by the end of the day. Akin is battling to unseat Democratic Sen. Claire McCaskill in the November election.
After winning the GOP primary in August, Akin had gained quick backing from national Republican and conservative groups focused on ousting McCaskill. But that support withered after Akin was asked in an interview that aired Sunday on Fox affiliate KTVI whether his general opposition to abortion extended to women who have been raped.
"From what I understand from doctors, that's really rare," Akin said of a woman becoming pregnant from rape. "If it's a legitimate rape, the female body has ways to try to shut that whole thing down."
The chairman of the Republican National Committee urged Akin to quit the Senate race, as did Mitt Romney, his vice presidential pick Paul Ryan and every living Republican who has represented Missouri in the Senate.
Akin apologized repeatedly on national radio and TV shows while acknowledging his original remarks were wrong. He also has been running a 30-second apology ad on TV stations across the state.
But until Friday, Akin has remained largely out of sight in Missouri. He went to Ohio to film his apology ad at the office of his media strategist. Then he went to Florida, where he met with fellow conservatives who had gathered in advance of the Republican National Convention.
The Associated Press contributed to this report.