Aide to New York governor shot before parade dies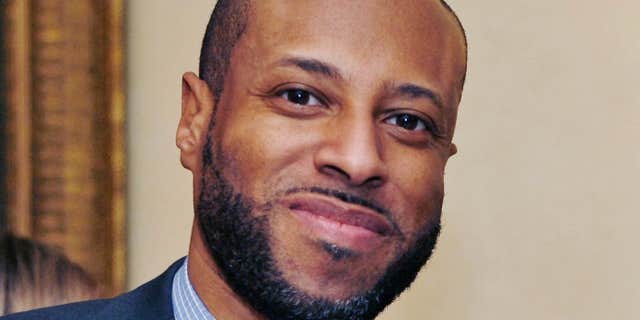 NEWYou can now listen to Fox News articles!
An aide to New York Gov. Andrew Cuomo who was in a coma after being shot in a crossfire between two gangs hours before New York City's West Indian Day parade died on Wednesday, police said.
Carey Gabay, a first deputy counsel at the Empire State Development Corp., was shot in the head during an early morning party celebrating the parade earlier this month. He was hospitalized and placed into a medically induced coma.
Gabay's family had announced earlier Wednesday that he had been declared brain dead.
"Our family is grieving that a man in the prime of his life who has impacted so many lives could be struck down by such a callous act," the family said in a statement. "This is a nightmare that's shaken our resolve and tested our faith."
Gabay, a 43-year-old Harvard University-educated lawyer, was praised by Cuomo, who called him "the epitome of an outstanding public servant."
"He held a tremendous commitment to his community, and he chose to use his many talents to better the lives of others," Cuomo said in a statement. "New York is undeniably a better place today because of his service. He was also a friend and role model to the many people who were blessed to have known him, and he will be greatly missed."
Gabay joined Cuomo's administration in 2011 and had worked as an assistant counsel to Cuomo, a Democrat, before taking his new position in January.
Gabay was walking with his brother near the Brooklyn parade route on Sept. 7 at 3:40 a.m. when he was shot. His family said he was in a coma last week, and Cuomo said at the time that the damage done by the bullet was "extensive."
The New York Daily News reported as the shooting started, Gabay and his brother took cover inside a parking lot, but an errant shot hit Gabay in the top of the head.
No arrests have been made in the shooting. Police Commissioner William Bratton said last week that investigators were focusing on two gangs whose members are well known to the New York Police Department.
The NYPD has posted a $12,500 reward for any information leading to the suspect.
The shooting was one of several outbursts of violence in the neighborhoods surrounding the parade, including the fatal stabbing of a man. Police arrested a suspect in a separate shooting that occurred shortly before Gabay was wounded.
The Associated Press contributed to this report.