After U.N. Investigator Admits Shortcomings, Israel Supporters Push for Recall of Gaza Report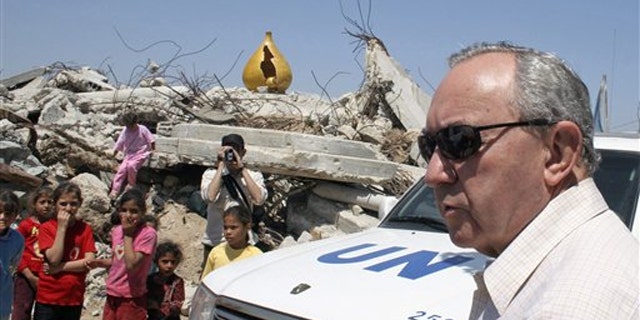 NEWYou can now listen to Fox News articles!
Israel and its supporters in the U.S. are demanding the recall of a scathing report about Israel's actions in Gaza in 2008 after the head of a U.N. investigative group admitted last week that he failed to weigh information that cleared Israel of intentionally killing civilians.
Richard Goldstone, the South African judge who authored the U.N. Fact-Finding Mission on Gaza, or what became known as the Goldstone Report, wrote in an op-ed published in The Washington Post Friday that subsequent investigations "indicate that civilians were not intentionally targeted (by Israel) as a matter of policy."
"If I had known then what I know now, the Goldstone Report would have been a different document," he wrote, still blaming Israel for being uncooperative in the investigation.
Nonetheless, the admission is a startling reversal from the most severe charge that showed up in the 2009 report -- one that was used by Israel's foes to accuse the country of deliberately disregarding Palestinian life. Last month, the Human Rights Council voted for the General Assembly to ask the U.N. Security Council to submit the document to prosecutors at the International Criminal Court so it could bring war crimes charges against Israel.
In his op-ed, Goldstone noted that in contrast to Israel, Hamas' rockets "were purposefully and indiscriminately aimed at civilian targets."
In the wake of the admission, Israeli Prime Minister Benjamin Netanyahu swiftly called on the U.N. to retract the report, and U.S. supporters have echoed that call.
"Time and time again, this body has allowed the world's worst human-rights abusers to recklessly cast blame upon Israel while turning a blind eye to the horrendous actions of its own members," Rep. Ted Deutch, D-Fla., said of the U.N. Human Rights Council, which produced the report.
He urged the council to "act swiftly to retract the discredited Goldstone Report."
The American Center for Law and Justice and the affiliated European Center for Law and Justice, both of which have defended Israel's actions in Gaza in the past, said the "reversal" by Goldstone "underscores the fact that it is time to put this deeply flawed and biased report to rest."
Officials and advocates were split over whether to celebrate Goldstone's comments as vindication or bemoan the damage that had already been done by the original report.
Anti-Defamation League Director Abraham Foxman called Goldstone's column both "gratifying and distressing."
"Whether Goldstone's admission is a case of 'better late than never,' or one of 'too little too late' is a matter of judgment. What is so distressing is the fact that Goldstone rushed to judgment in the first instance as to Israel's alleged intention to target civilians without any convincing evidence," he said in a statement.
Goldstone wrote that Israel's "lack of cooperation" made the investigation more difficult. He said the purpose of the investigation "was never to prove a foregone conclusion against Israel" and was "in no way" a judicial proceeding.
Asked about the column, State Department spokesman Mark Toner said Monday that the United States remains "concerned" about an "anti-Israel bias" on the Human Rights Council but that the administration read with "great interest" Goldstone's article.
"We've made clear from when the Goldstone Report was initially presented, and maintained ever since, that we didn't see any evidence that the Israeli government had intentionally targeted civilians or otherwise engaged in war crimes," Toner said, adding that Goldstone has now reached "the same conclusion."
During Israel's Operation Cast Lead, which lasted from December 2008 to January 2009, 1,400 Palestinian civilians were killed. Israel launched the offensive in response to Palestinian rocket fire that killed 13 Israelis.
The Goldstone Report cited both sides for possible war crimes and "possibly crimes against humanity."
Goldstone wrote in his column that while Israel has sought to investigate the allegations of misconduct, "Hamas has done nothing."