After Harvey and Irma, states grapple with millions of tons of garbage
Three weeks after Hurricane Harvey made landfall, Texans who first endured storm-force winds followed by historic flooding now have another mountainous problem on their hands: millions of tons of garbage.
According to the latest estimates, nearly a half-billion dollars will be spent hauling away the trash – twisted, shattered and waterlogged remains of families' former lives – to landfills.
Local, county and state officials in Texas quickly have mobilized procedures for debris removal, aiming to make President Trump and Gov. Greg Abbott's pledges of revival a reality and not follow the example of New Orleans, where the slow-moving Hurricane Katrina response has resulted in blight that continues to this day.
Texas is hardly alone. Florida and other Gulf states, too, are now tasked with cleaning up not only from Harvey but Irma – and could face more destruction as storms continue to build in the Atlantic.
In one community, trash is not the most pressing problem in the short-term. Officials in the Florida Keys, where up to 15,000 homes were damaged or destroyed, have worked to get power, water and communications restored before any major debris removal can start. No cost or destruction data was available for the Keys or the state of Florida.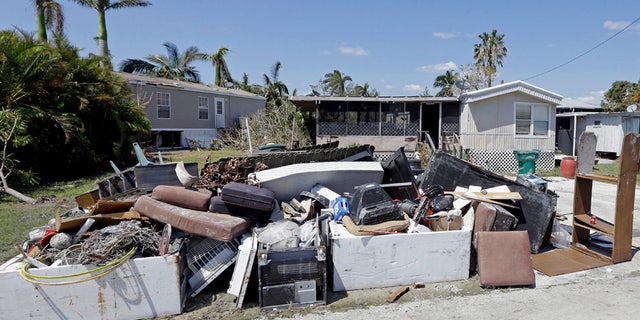 But other areas are moving to deal with the garbage next.
"We have an estimated 126,000 homes damaged by flooding or driving rains or tornados. Debris is all over town, generated by different types of elements," said Harry Hayes, director of the Solid Waste Management Department for the city of Houston. "Our goal is to have 700-1,000 trucks on the road every day picking up debris. They are coming from all over the county, mostly we are looking at construction and demolition companies to come in and aid us."
They will be hauling away an estimated 2 million tons of debris. Crews will traverse 640 square miles picking up drywall, carpeting, appliances, furniture and whatever else Houstonians place at the curb. The completion date goal is Dec. 31, Hayes said.
And the cost? $226 million, of which FEMA will reimburse 90 percent.
The Texas Department of Public Safety maintains an interactive spreadsheet where cities from the disaster zone enter a variety of hurricane-related costs so Abbott knows what he's dealing with. Amounts increase daily. So far, estimates from cities and counties total more than $352 million in trash collection fees for 289,695 damaged or destroyed homes.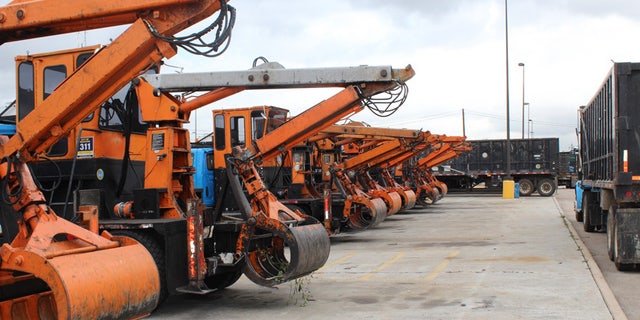 Over in Miami-Dade County, trash trucks and tractor-trailers began traversing the streets the day after Irma subsided to pick up an estimated 3 to 5 million cubic yards of debris. The county is adding more trucks every day and will soon be up to 500.
"We've been going 7 a.m. to 7 p.m. every day," said Frank Calderon, communications manager for the Miami-Dade County Department of Solid Waste Management. "We hope to be done by the end of November."
The debris is mostly trees, fences and outdoor items compared with Texas' household and construction trash. Calderon said Miami-Dade has not received any calls for help from Monroe County, where the Florida Keys are located. A spokesperson for Monroe County said he had no disposal plan as of yet to discuss.
Within the city limits of Miami, the amount of debris was estimated at 1 million cubic yards and will take an estimated four to six months to clean up.
'Debris is all over town.'
"With a couple of months remaining in this year's hurricane season, and another storm already brewing in the Caribbean, for safety and transportation reasons it's very important that clearing debris is a top priority for county, state and federal officials," Florida Sen. Marco Rubio told Fox News in a statement. "We're going to continue working with officials at every level to make sure we address this in a timely manner."
So where does all this trash go? Visions of mattresses, stoves and tree trunks stacked to the sky in some hapless landfill aren't reality, officials say.
An agreement with FEMA requires the municipalities to drop off waste at temporary federal transfer stations scattered throughout the affected states. There, the materials will be sorted to ensure that hazardous waste is not dumped in regulated landfills. Plants are chipped into mulch, appliances and most metals are taken to recycling facilities to be melted down, and the rest of it is divided up between landfills throughout the state that burn solid waste and those that do not.
Construction debris with materials like lead, solvents, asbestos, mercury and adhesives are sent to hazardous waste treatment centers.
With hurricanes Katrina and Sandy, a similar sorting process was undertaken with the Army Corps of Engineers getting involved. New landfills were opened or expanded in Louisiana to handle Katrina's trash and the debris from Sandy went to upstate New York and Pennsylvania.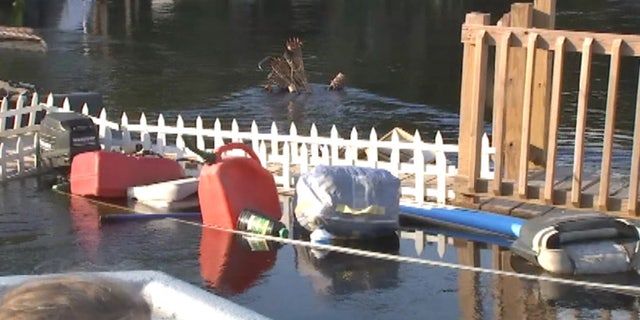 One place where the trash won't be going is Miami-Dade's landfill, as it is reserved for everyday trash from residents. The county "learned the hard way" after absorbing much of the debris from 2005's Hurricane Wilma, a Category 3 storm, Calderon said.
"We only have so much space," he said. "Our focus is collection of residential. We have to make sure we have capacity for that in the future. It's good to plan ahead. We made several contracts a few years back with sites throughout the state with capacity and lo and behold, Irma came."
In contrast, Hayes said the Houston area has "plenty of room" to absorb the city's trash.
Residents have been asked to "get their material out of the house right now," Hayes said.
Houston's relief efforts have been led by a very visible Mayor Sylvester Turner, who was seen on television every night at various shelters and now spends his days touring the city. He is not about to let the city resemble the aftermath of Katrina, Hayes said.
"Not this mayor and certainly not the governor. Our elected officials are working together in a manner that any citizen would be proud," Hayes said. Turner "is adamant, we can't be the engine of the state's economy and the world's energy center and have a long recovery period. He is pushing every sector of the Trump administration to get Houston back to work with the speediest recovery we possibly can."
Turner even lobbied Trump for an advance on his expected $226 million trash bill during one of the president's trips to Texas. Trump ordered the immediate transfer of $100 million to the city's coffers.