After Facing Criticism, Obama to Meet Arizona Gov. Brewer on Thursday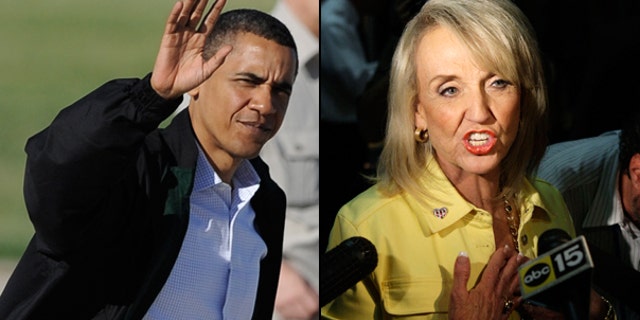 President Obama intends to meet with Arizona Gov. Jan Brewer on Thursday, a White House official told FoxNews.com, after criticism mounted over reports the president wouldn't be able to meet her while she is in Washington this week.
Brewer had requested a face-to-face meeting with Obama and Homeland Security Secretary Janet Napolitano, the former Arizona governor, as tensions rise between his administration and the Grand Canyon State over its controversial law clamping down on illegal immigrants.
The White House denies that Obama snubbed Brewer, saying there initially were some scheduling issues this week that have been resolved.
"This Administration has dedicated unprecedented resources over the past 16 months to fulfill the federal government's responsibility to secure the Southwest Border," a White House official told Fox News. "The President looks forward to discussing those efforts and other matters of mutual interest with Gov. Brewer."
Obama continues to push for a multi-layered approach to immigration. Brewer's arrival will put the president face-to-face with the most visible exponent secure-the-border-first immigration policy.
The meeting comes after Justice Department officials told Arizona's attorney general and aides to the governor Friday that the federal government has serious reservations about the state's new immigration law.
Arizona state Sen. Russell Pearce, a Republican who helped draft Arizona's SB 1070, had called Obama's decision not to meet with Brewer "an insult."
"He's willing to have a beerfest with an officer in Cambridge after he misspoke," Pearce told Fox News on Tuesday, referring to a photo-op the president held last summer after he incited a feud over the bias of a police officer who arrested a black professor at the front door to his home.
"He misspoke on this bill also and he's not willing to meet with the governor of the state of Arizona?" Pearce said.
Obama has blasted Arizona's immigration law, which takes effect July 29, as "misguided" and warned that it could violate civil rights and lead to racial profiling.
The White House has indicated that it's prepared to go to court if necessary in a bid to block the new law, which makes it a state crime to be in the country illegally.
The Associated Press contributed to this report