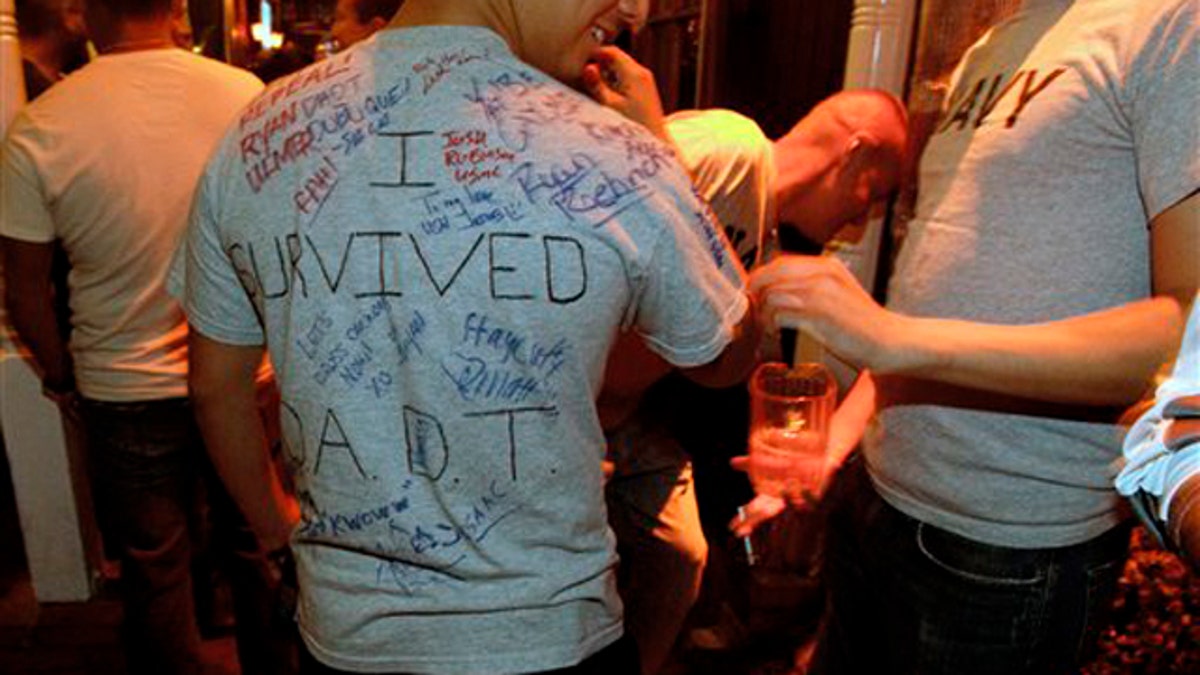 As the repeal of "don't ask, don't tell" went into effect Tuesday, advocates of ending the military's ban on openly gay servicemembers said they would look next to "correct" the record for the thousands of soldiers who were discharged under the 18-year-old ban.
About 14,000 servicemembers have been separated from the military since 1993, when President Clinton signed the policy into law. Those who were discharged because of their sexual orientation will be allowed to re-enlist, though there is no guarantee their service will take them because recruiting is up now that the economy is bad.
Aubrey Sarvis, director of the Servicemembers Legal Defense Network, said his group will at least work to change the paperwork for all those who were discharged.
"We need to remove the homosexual characterization that is on those discharge papers. That is very important," Sarvis said. "Particularly those vets who were wronged under ('don't ask, don't tell'). Their paperwork needs to be changed. That will be one small way of acknowledging the important military service these gay and lesbians troops rendered for their country. It is some measure of recognizing that service and restoring their dignity."
The chairman of the Senate Armed Services Committee said he would ask the Pentagon to help those who were expelled for being gay. Sen. Carl Levin, D-Mich., said the "first thing" lawmakers are going to do is talk to the military about "what steps we now need to take to undo some of the wrongs that have been perpetrated."
Despite the outstanding issues, supporters of the repeal cheered the enactment Tuesday.
"As of today, patriotic Americans in uniform will no longer have to lie about who they are in order to serve the country they love," President Obama said in a statement.
Navy Lt. Gary Ross and his partner, Dan Swezy, were so anxious to celebrate the repeal they flew from their home in Arizona and got married shortly after midnight in Vermont.
On Capitol Hill, gay servicemembers gave emotional testimony.
"I'm 31 years old, I'm a woman. I'm a Marine, and I'm a lesbian," said Marine Capt. Sarah Pezzat. "I'm sorry. ... Prior to today, if I said that I could be discharged."
The chairman of the Joint Chiefs of Staff expressed pride in the decision. "It's the right thing to do, it's done, we need to move on," Adm. Mike Mullen said.
Democratic National Committee Chairman Debbie Wasserman Schultz tweeted the following:
"DADT was dishonorable and un-American, and we celebrate today as it officially becomes a relic of the past."
Lt. Josh Seefried, who under the pseudonym JB Smith published the magazine OutServe profiling gay servicemembers, announced he was gay at midnight. The magazine will now be made available on select Army and Air Force bases.
Air Force Maj. Mike Almy, who served for 13 years and was kicked out after four tours in the Middle East, said he is reapplying for his job.
"I still have quite a few friends in the military who are looking forward to this day. Some of them will come out, some won't," he said.
Other groups remained opposed to the repeal. The Center for Military Readiness issued a statement saying the repeal was "not a legitimate victory for anyone."
"It is being imposed on the armed forces to deliver on President Barack Obama's political promises to LGBT (lesbian, gay, bisexual, transgender) activist groups," the statement said.
Fox News' Jennifer Griffin contributed to this report.