Advocacy Groups Give Ted Cruz 'F' Grade On Immigration Reform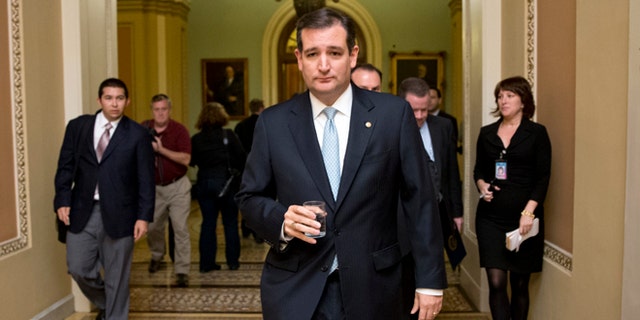 AUSTIN, Texas (AP) – A coalition of advocacy groups including the Texas chapter of the powerful National Education Association issued failing grades Friday to U.S. Sens. John Cornyn and Ted Cruz, saying they haven't defended public schools or reformed a flawed federal immigration system.
Also getting F's were fellow Republicans and U.S. Reps. John Carter and Roger Williams, as hundreds of teachers and labor activists rallied on the state Capitol steps despite frigid temperatures.
A large sign hoisted by shivering demonstrators featured photos of Cornyn, Cruz, Carter and Williams under the words "Report Card" and a large red "F'' circled, as if by a teacher. The subjects listed were education, immigration reform, health care and voting rights.
Demonstrators also chided the four for failing to promote labor rights and extend health insurance to poor families across Texas and the nation.
"Cruz, Cruz, have no doubt, together we will vote you out!" the crowd chanted, even though Cruz was only elected to his six-year term in 2012. The mantra was then repeated for Cornyn, the Senate's minority whip, who is up for re-election next year — but doesn't appear to face any major challengers.
"It's time to change our business in Texas. It's time to be about kids," said Rita Haecker, president of the Texas State Teachers Association, an affiliate of the National Education Association, the country's largest teacher union.
Most education policy is set by the state Legislature, not Congress. Facing economic doldrums in 2011, lawmakers in Austin voted to cut $5.4 billion from Texas public schools — but they restored much of that as the economy improved this year.
Other speakers implored Cornyn and Cruz to support the U.S. Dream Act bill, which would grant permanent residency to students whose parents brought them to the U.S. illegally. There also were calls to raise the minimum wage.
Further drawing demonstrator ire Friday was a law passed by the state Legislature requiring voters to show picture identification at the polls, which activists say is really an attempt to suppress voting among minorities and the poor in Texas.
"These issues are not partisan, as some make them out to be," said Ken Zarifis, president of the advocacy group Education Austin. "These transcend all labels."
In response to the rally, Cornyn said he had "been fighting tooth and nail to protect Texas families from the consequences" of the White House's signature health care law.
"We should be united in the effort to replace it with patient-centered reforms that truly will boost access and bring down costs for all Texans," Cornyn told The Associated Press in a statement Friday.
Cruz spokeswoman Catherine Frazier struck a similar tone when asked about the rally, saying "it's unfortunate these groups choose to ignore Senator Cruz's leadership in pursuing policies that will spark economic growth and opportunity for Texans and all Americans, particularly the effort to defund Obamacare."
Nelson Linder, president of the Austin chapter of the National Association for the Advancement of Colored People, said all the different activists need to unite and mobilize voters to change Texas' officeholders.
"We can't do this as individuals," Linder said, "but what they fear is each of us embracing each other's causes and changing this city, this state and this country."
Follow us on twitter.com/foxnewslatino
Like us at facebook.com/foxnewslatino