Administration reportedly loosens 40-year-old ban on oil exports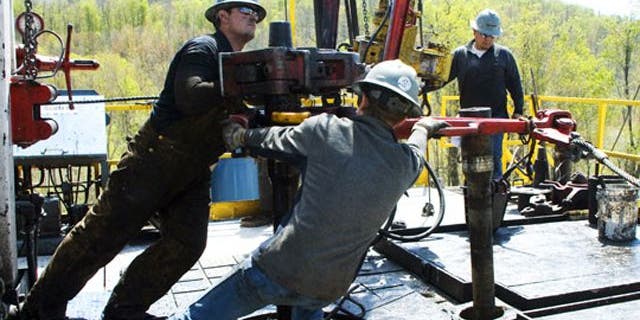 The Commerce Department reportedly has given two energy companies permission to ship a type of unrefined ultralight oil to foreign buyers, loosening a nearly 40-year-old ban on oil exports.
The Wall Street Journal reported that the shipments of condensate from Pioneer Natural Resources Co. and Enterprise Products Partners LP could begin as soon as August. The buyers could then turn the oil into gasoline, jet fuel and diesel fuel.
The Journal report said that the shipments had been approved earlier this year and the amounts exported were likely to be small. The Commerce Department issued a statement late Tuesday saying there had been "no change in policy on crude oil exports."
Under current U.S. law, companies can export refined fuels such as gasoline and diesel, but cannot ship out oil itself. The Journal reported that the Commerce Department's ruling defines some ultralight oil as fuel once a small amount of processing has been done.
The laws governing the export ban were first passed in 1975, following the OPEC oil embargo in response to Western support for Israel during the Yom Kippur War. However, the amount of oil discovered in recent years through drilling in shale deposits, or fracking, has lowered the price of ultralight oil in the U.S. to such an extent that companies have begun lobbying for the ban to be relaxed or lifted. They claim that they could get a higher price for the oil from foreign buyers than domestic.
According to the Energy Information Administration, U.S. oil output soared by 1.8 million barrels a day between 2011 and 2013, with 96% of new production in the form of light or ultralight oil. The Journal reports, citing the Brookings Institution, that as many as 700,000 barrels could be exported next year.
Click for more from the Wall Street Journal