Administration May Face Uphill Climb in Appealing to China on North Korea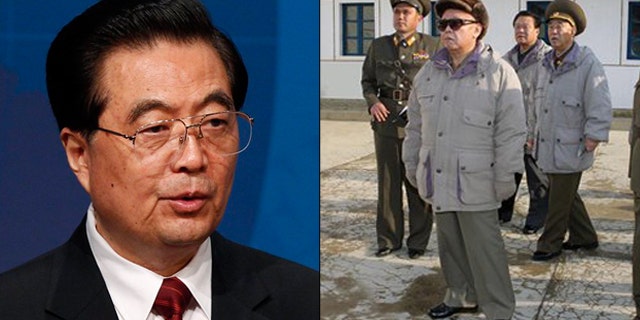 The Obama administration is banking on China to help resolve and contain the confrontation between North and South Korea but may end up disappointed, given the Communist juggernaut's record in assuaging North Korea's belligerence.
China has so far declined to put pressure on North Korea after an international investigation found that a North Korean torpedo was responsible for the sinking of a South Korean warship in March -- a strike that killed 46 sailors.
Now that a North Korean artillery attack on a tiny South Korean island has left at least four dead and many more injured, some doubt China will step to the plate and move to stifle the North's deadly behavior, which coincides with a rare leadership succession in the reclusive regime.
"Unfortunately, China has shown itself to be more a part of the problem than part of the solution," said Bruce Klingner, a former official with the CIA's Korea Branch who now works as a research fellow with the Heritage Foundation. "We're not likely to get much from China."
He said that while some inside the Chinese government view North Korea, which exercises a far more oppressive brand of Communism than China, as an albatross and impediment to dealing with the more economically prosperous South, the country would rather put up with the North's temper tantrums than get involved and risk an all-out violent conflict next door.
But Adm. Mike Mullen, chairman of the Joint Chiefs of Staff, said in an interview Wednesday that China is the one country with influence in Pyongyang. State Department spokesman P.J. Crowley said U.S. diplomats are urging China to put pressure on the North Korean regime in the wake of the attacks, as the U.N. Security Council, of which China is a veto-wielding member, is expected to meet.
If China doesn't play ball, the United States and its Asian allies are left with yet another tricky, lose-lose situation on the Korean peninsula. Some analysts say Korea is just trying to extract more aid, others say it's making noise to mark the ascension of a new ruler. The State Department made clear it does not want to reward bad behavior with engagement, leaving the United States with options ranging from tough talk to military demonstrations to better sanctions enforcement.
"The North Koreans engage in these provocative acts because they know they can get away with them," said Gordon Chang, author of "Nuclear Showdown: North Korea Takes On the World." "We know that (there are) going to be more and more incidents until the Obama administration and the Lee administration in Seoul move away from just rhetoric."
Chang said a strike on North Korea's recently unveiled uranium enrichment facility should be "on the table" as a last resort, but so should tougher financial sanctions.
Tony Schaffer, with the Center for Advanced Defense Studies, said military exercises with the South Koreans should also become more frequent, "to show we're serious."
The USS George Washington aircraft carrier and support ships have been sent to the waters west of the Korean peninsula, apparently as part of planned war exercises with the South.
"There may be some more exercises considered in light of the artillery attack," one defense official said.
Klingner said the United States should continue to pursue a two-track approach, of putting the squeeze on North Korea through sanctions while opening the door for the country to rejoin the six-party talks on its nuclear program.
He said "unconditional engagement" would not be worthwhile, but the country could still be persuaded to come back to the table. He suggested the United Nations and United States crack down on countries like Iran, Syria and Burma where the North is allegedly providing nuclear material, as well as get tougher on China for its economic engagement with North Korea.
The Obama administration has by turns taken a tough and cautious tone in addressing the latest confrontation on the peninsula.
State Department spokesman Mark Toner said Tuesday that the United States will not "buy into this cycle of rewarding that kind of behavior" from North Korea. He called for a "deliberate, slow approach."
"We're not going to respond willy-nilly," he said.
Asked what China could add to the process, he said. "They've got, obviously, a closer relationship with North Korea."
He said a "unified, coherent front" toward North Korea, presumably with China, would "make them aware of their isolation."