Activists send 500 tacos to Connecticut mayor after controversial remark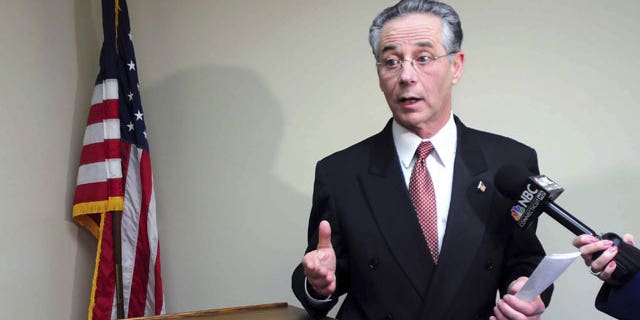 EAST HAVEN, Conn. – Activists sent 500 tacos to the mayor of East Haven, Conn., who sparked controversy for saying he "might have tacos" when asked how he would improve relations with Latinos.
The extra-large delivery of tacos was sent to Mayor Joseph Maturo's office Thursday day night as a protest against the comments by campaign group Reform Immigration for America.
Mayor Joseph Maturo made the remarks Tuesday, after four East Haven police officers were arrested and indicted for breaking civil rights laws. The Justice Department said two of the officers "intimidated, harassed and humiliated members of the Latino community and their advocates."
Following the comment, the Reform Immigration for America group promised to send the mayor a taco for every text it received "as a visual of all those across the country who are outraged by his careless remarks."
The text-the-mayor-a-taco campaign received more than 3,500 texts but the group decided to deliver just 500 tacos to the mayor and make a donation to fund a community dinner for each additional text, according to the campaign website.
"These are serious allegations against the state of civic affairs in your community -- yet when asked what you personally would be doing to address racial discrimination in East Haven, you made a mockery of the crisis by suggesting that eating tacos is enough to help the Latino community in the wake of this tragedy," the campaign group said in a letter to the mayor, delivered with the tacos.
The mayor later issued a statement saying he arranged for the tacos to be donated to a local soup kitchen, although Reform Immigration for America said it already arranged the donation and claimed the mayor was trying to take credit for its idea.
"The abundance of tacos that we received today underscores the importance of the issues currently facing the town of East Haven and highlights the need for the town to continue the process of healing and reform that I initiated immediately upon taking office," the mayor's statement added.
The arrests of the police officers came a month after the Justice Department issued a scathing report chronicling the East Haven Police Department's numerous civil rights violations of Latinos.
But when asked Tuesday by WPIX-TV how he would repair the city's relationship with the Latino community, Maturo said, "I might have tacos when I go home. I'm not quite sure yet."
Maturo issued an apology Wednesday saying he, "let the stress of the situation get the best of me and inflamed what is already a serious and unfortunate situation."