Accused Of Racial Profiling, Arizona's 'Sheriff Joe' To Be Monitored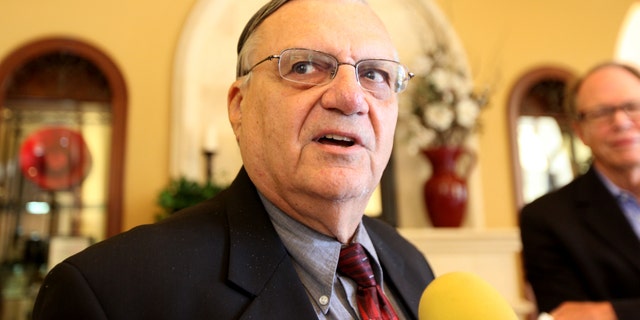 Keep an eye on the sheriff.
That is the order of a federal judge, who on Wednesday said he wants the appointment of an independent monitor and a community advisory board to ensure that Maricopa County, Ariz. Sheriff Joe Arpaio is complying with constitutional requirements after finding his office engages in racial profiling.
U.S. District Judge Murray Snow found in May that the Maricopa County Sheriff's Office and Arpaio singled out Latinos and deputies unreasonably prolonged detentions.
It was the first finding by a court that the agency covering Arizona's most populous county engages in racial profiling after a small group of Latinos sued the sheriff's office for violating their constitutional rights, saying they were being detained simply because of their race.
Snow had delayed ordering remedies in the case to allow time for both parties to reach agreements, but disputes over key issues prevented consensus.
In his ruling Wednesday, Snow ordered that a monitor be appointed to oversee the agency's re-training of deputies and ensure the office is complying with constitutional requirements. Snow also ordered the creation of a community advisory board aimed at helping restore the public's confidence, among other remedies.
"Today's order is really going to put some sunlight into the corners of the MCSO that have been such a problem in terms of people's civil rights. It's a great day," said Cecillia Wang, an American Civil Liberties Union lawyer who is representing the plaintiffs.
Arpaio's office had vehemently opposed the appointment of a monitor, arguing it would mean every one of his policy decisions would have to be cleared through the observer and would nullify his authority.
Arpaio's lawyer, Tim Casey, said he was still reviewing the 59-page order, but noted he was "pleased with its very moderate sensible tone."
"The sheriff is still in exclusive charge of the MCSO," Casey said, noting their concern all along was that the monitor would have too much authority.
"The monitor cannot tell us what to do or not to do," Casey said, referring to the monitor's role in the ruling as overseeing training and procedures, among other things. "The court will make the ultimate decision on whether or not the MCSO is in compliance with its order, and we're very pleased with that."
Snow's ruling doesn't altogether bar Arpaio, 81, from enforcing the state's immigration laws, but it does impose a long list of restrictions on the sheriff's patrols, some of which focused heavily on Latino areas in the county. They include prohibitions on using race as a factor in deciding whether to stop a vehicle with a Latino occupant and on detaining Latino passengers only on the suspicion that they're in the country illegally.
The U.S. Justice Department filed a lawsuit last year that also alleges racial profiling by Arpaio's office. Its suit, however, claims broader civil rights violations, such as allegations that Arpaio's office retaliates against its critics and punishes Latino jail inmates with limited English skills for speaking Spanish. Arpaio has denied the claims.
Based on reporting by The Associated Press.
Follow us on twitter.com/foxnewslatino
Like us at facebook.com/foxnewslatino