Abortion Haggling Looms Over Health Care Debate in Senate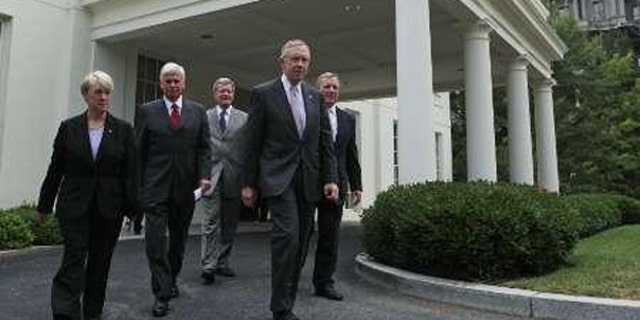 NEWYou can now listen to Fox News articles!
A key Democratic senator said Tuesday that he won't vote for an overhaul of the health care system if the bill does not clearly restrict federal funding for ending pregnancies.
The comments from Sen. Ben Nelson of Nebraska were a sign that the abortion dispute that nearly derailed the House health care bill will play a critical role in the Senate.
Nelson told Fox News that he's "very pleased that the Stupak amendment passed in the House," a reference to a proposal by Rep. Bart Stupak, D-Mich., that would toughen restrictions on federal funding for abortions.
Stupak's amendment also prohibits women who receive federal subsidies from getting insurance coverage for abortion -- a restriction that has outraged abortion rights supporters who say the amendment goes too far.
But Nelson said that if the Senate version "doesn't make it clear that it does not fund abortion with government money, you can be sure I will vote against the bill."
"This is going to be a complex set of negotiations," he said. "I'm confident that we can actually arrive at this place where neither side feels that it's being betrayed. But it's going to take some time."
The House narrowly passed its version of health care reform late Saturday with a 220-215 vote with 39 Democrats opposing it. Passage came after House Speaker Nancy Pelosi reluctantly made concessions to Stupak and other Democratic opponents of abortion.
The Senate is awaiting a price tag for its bill that Senate Majority Leader Harry Reid, D-Nev., would like to bring to a floor vote by the end of this month. Then House and Senate negotiators will have to merge their bills, a process that might take until early next year.
Reid said he expects to see a bill brought to the floor that "will ensure that no federal funds are used for abortion," but Sen. Kirsten Gillibrand, D-N.Y., arguing that proposed language in the Senate Finance Committee version of health care reform reinforces the Hyde amendment -- existing law named after the late Rep. Henry Hyde -- that fences off federal funding for abortion.
But the Stupak amendment goes too far, Gillibrand said.
"This ban puts ... the health of women and young girls at grave risk. Proposing that women instead purchase a separate abortion rider is not only discriminatory but ridiculous," she said.
Sen. Ben Cardin, D-Md., also said Tuesday he doesn't think the issues should be commingled.
"Abortion is a very controversial issue with the American people. I think many of us thought the right policy is to avoid coming down on one side or the other in the abortion issue and to handle health care reform as a separate issue in itself," Cardin said. "I would certainly prefer a bill that does not include the Stupak amendment."
For his part, President Obama said the Stupak amendment is not what he intends to have included in the final version of the bill.
"I laid out a very simple principle, which is this is a health care bill, not an abortion bill," he said. "And we're not looking to change what is the principle that has been in place for a very long time, which is federal dollars are not used to subsidize abortions," he told ABC News on Monday.
"And I want to make sure that the provision that emerges meets that test -- that we are not in some way sneaking in funding for abortions, but on the other hand that we're not restricting women's insurance choices."
On Tuesday, House Minority Leader John Boehner, R-Ohio, criticized Obama's stance.
"President Obama's perspective on Speaker Pelosi's legislation is dismaying," he said in a written statement, asserting that the president isn't troubled by a number of provisions that conservatives say will be disastrous for the country.
"But he is troubled that the bill contains a bipartisan amendment prohibiting federal funds for abortion -- an amendment reflecting the views held by most Americans and a bipartisan majority of legislators in the House," he said.
"Rather than scrapping the Stupak-Pitts amendment, the president and congressional leaders should scrap Speaker Pelosi's health care bill entirely and start over, this time working with Republicans on a step-by-step, common-sense approach our nation can afford," he said.
Fox News' Trish Turner, Eve Zibel and FoxNews.com's Stephen Clark and Capital News Service contributed to this report.