A Year After DACA, DREAMers Stop Dreaming And Take On Lives Long Waiting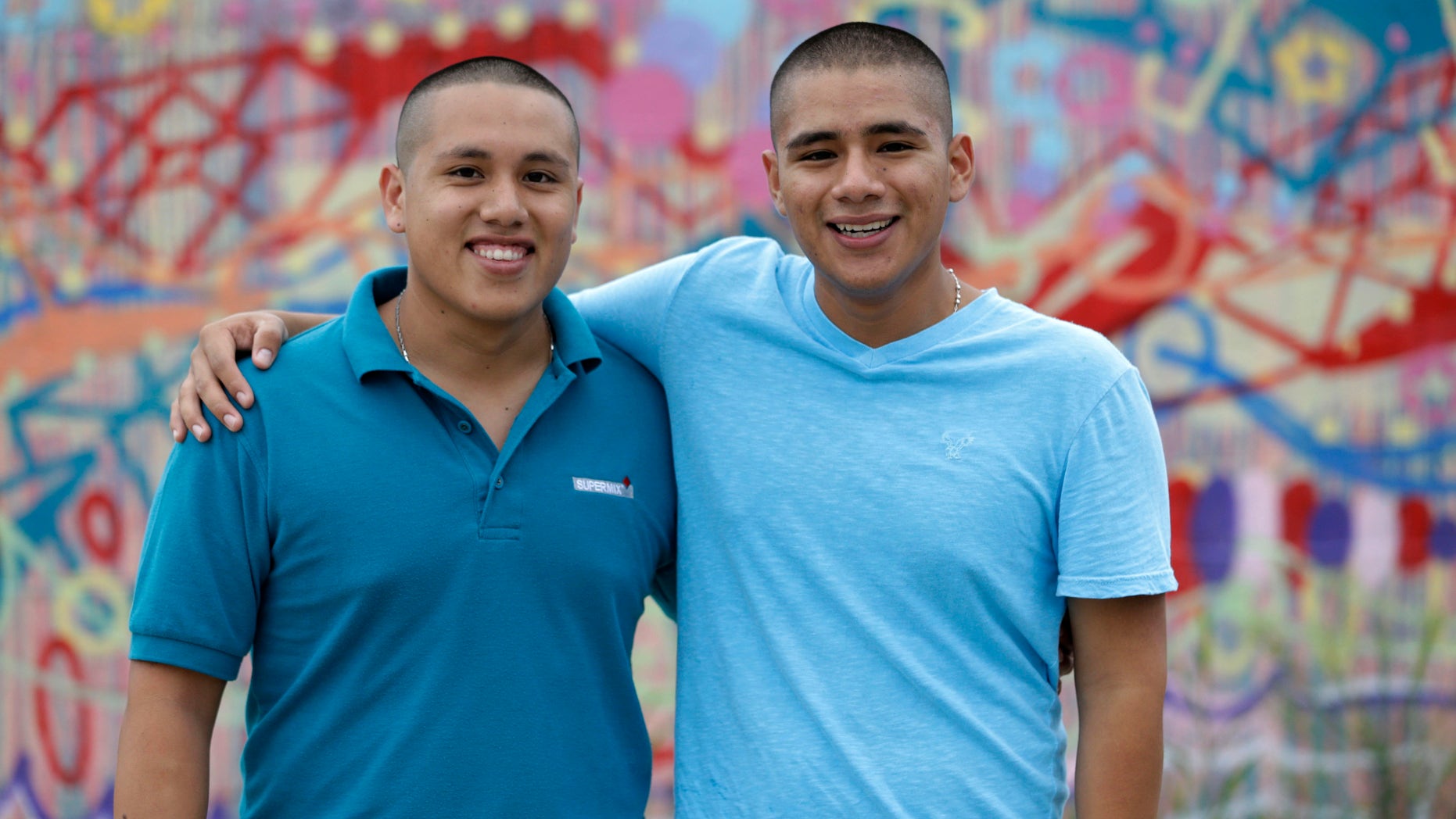 When he was 12 years old, Jorge Tume and his family came to the United States from Peru on tourist visas. Once these expired, they decided to remain in the country as undocumented immigrants.
As a kid Tume would watch his parents clean the offices at a concrete company in Miami as he sat by and did his homework. When he was done, he would lend them a hand by taking out the trash. A few years later, after realizing there were few job opportunities for him upon high school graduation, Tume took on the same type of work as his parents.
Tume's life looks decidedly different now. One year after President Barack Obama announced that young people brought to the country as children and living in the U.S. illegally would be allowed to stay and work if they met certain criteria, Tume is behind a computer filing notices for clients — at the same concrete company he once helped his parents clean.
"I know every corner of this office, this building," said Tume, 21. "I used to see other people do the job that I'm doing now. And I'm sitting here now working."
Nearly 300,000 young adults previously living illegally in the United States have been granted permission to stay and work through the program, one of the most significant shifts in immigration policy in recent decades. Some 200,000 more have submitted applications. For those immigrants, the last year has been a sort of delayed coming of age: Leaning how to drive, getting a license and landing a first job that's not off the books.
"Now I feel like I'm actually a member of the community like everyone else," said Frida Ulloa, a 24-year-old student at Florida International University, who came to the U.S. from Peru as a teenager to see her ill father and never went back.
The Deferred Action for Childhood Arrivals offers work permits for two years, eligible for renewal. To qualify, they must show that they came to America before their 16th birthday, and have been 30 or younger when the policy was announced on June 15, 2012. They must also either be in school, have graduated from high school or served in the military. And they can't have a serious criminal record or pose a threat to public safety or national security.
With a work permit and Social Security number, they can drive in most states, open a bank account and in some states, pay in-state college tuition.
"The life that I live now is easier than it was before," said Tume, who used to take a 45-minute bus ride to get to work. Now he drives and arrives within 15 minutes.
The policy change came after years of advocacy by students and lawmakers in support of the so-called DREAM Act, which would have provided a path to citizenship for thousands of young immigrants in the country illegally. Efforts to pass it in Congress have repeatedly failed.
Lawmakers are currently debating a comprehensive immigration reform that would chart a 13-year road to citizenship for the estimated 11 million immigrants in the country illegally.
The program does not lead to residency or citizenship, but it also spares these immigrants from the threat of deportation. When Obama announced it last year, critics accused him of pandering to Latino voters a few months before the presidential election.
"I think that deferred action gave us the opportunity to not be scared," Ulloa said.
After years of babysitting and other short-term, low paying jobs, Ulloa landed a full-time job with benefits related to her field of study: She's the Florida organizer for United We Dream, a youth immigrant advocacy organization.
"I think that's one of the biggest gifts of deferred action," she said. "The fact I can be eager about graduation and know I'm actually able to use my degree."
Deferred action hasn't, however, solved many of the challenges Ulloa and others still face. A handful of Republican-led states have blocked basic benefits for the program, denying recipients identification cards, driver's licenses, access to healthcare, in-state tuition for college, student financial aid and even college admission.
Karen Mantilla, 19, has finally been able to cross some of the milestones her peers passed years ago. After being approved for deferred action, she got a learner's permit and a job at a vegetarian restaurant in Bay Shore, N.Y. But unlike many of her classmates, she won't be going straight to college after high school.
Mantilla, who was born in Colombia, was brought into the U.S. illegally as a child. She cannot apply for state or federal aid and can't afford tuition. She plans to work and then attend a community college next year instead.
"From the time I was very young, my family said, 'You have to go to college. You have to make something better of yourself,'" Mantilla said. "Not being able to directly enroll in the fall semester of this year is very difficult."
The number of young adults applying for deferred action has also been much less than expected. The government had estimated 1 million would apply in the first year, but less than half that number has so far.
Kamal Essaheb, an immigration policy attorney with the National Immigration Law Center, said getting information out about the program, particularly to rural communities, is one challenge. It's also possible the total number of eligible immigrants may be lower than the initial estimates, which ranged from 800,000 to 1.7 million. Still, the biggest hurdle is the fee.
It costs $465 to file an application, and for young adults already squeezed trying to help their families and pay college tuition, that can be prohibitive, or at least delay their petition.
"Whenever I go to clinics over the last few months, I always ask applicants, 'What took you this long to apply?'" said Essaheb. "And the number one response I get is the money."
Those who apply today are facing longer processing times; the initial applicants received their notification of approval in as quickly as a month. Now it takes about six months, according to federal data.
Tume received his approval in October. A month later, he got a call from a manager at the Central Concrete SuperMix company where he and his brother still cleaned in the evenings. The boss wanted to know if Tume could see himself working in the offices, not just cleaning them.
"I said, 'Yes, I'd be happy to,'" Tume said.
Based on reporting by The Associated Press.
Follow us on twitter.com/foxnewslatino
Like us at facebook.com/foxnewslatino