A Baker's (Dirty) Dozen of Political Scandal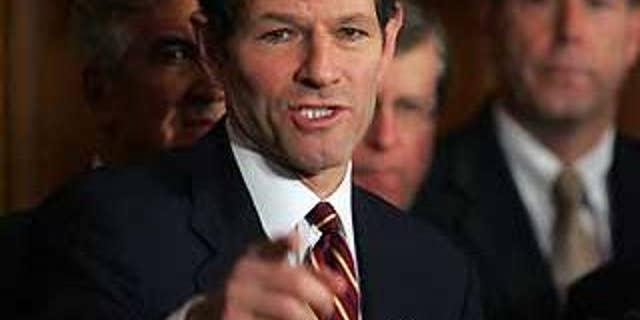 NEWYou can now listen to Fox News articles!
The citizens of Illinois trusted Gov. Rod Blagojevich to do the right thing. Now he's become just the latest in a long line of politicans to stand accused of squandering the voters' trust.
The allegations that he tried to sell Barack Obama's Senate seat may be a new low for politics in Illinois, but it is by no means the bottom of the barrel for government shame and scandal, as the actions of FOXNews.com's dirty baker's dozen disgraced lawmakers can attest.
Click here to see photos of the Dirty (baker's) Dozen of politics.
1. New York Gov. Eliot Spitzer
Spitzer resigned in March after federal prosecutors named him as Client No. 9 in their indictment of members of Emperors Club VIP, a top-shelf prostitution ring that the Democratic governor used for his fling with high-priced call girl Ashlee Dupree at the Mayflower Hotel in Washington. Though he lost his gubernatorial position, Spitzer was not criminally charged in the case.
2. Detroit Mayor Kwame Kilpatrick
The Motor City's so-called "Hip Hop" mayor, Kilpatrick, has now taken a seat behind bars. He pleaded guilty to obstruction of justice after he lied during a civil lawsuit about having an affair with his chief of staff. The Democrat also pleaded no contest to assaulting a sheriff's detective. Currently serving a four-month sentence, Kilpatrick agreed to a plea deal that requires him to serve five years of probation and to pay the city of Detroit $1 million in restitution, and keeps him from running for public office while on probation.
3. Florida Rep. Mark Foley
Foley, a Republican, was quick to jump on the technology bandwagon when he was a congressman, but his steamy text messages to male teenage pages forced his early resignation from the House of Representatives in 2006. Foley reportedly asked one page, "Do I make you a little horny?"
4. New Jersey Gov. Jim McGreevey
The nation was stunned in 2004 when McGreevey, a married man, declared he was gay and announced his resignation. The revelation came after the Democrat's homeland security adviser, Golen Cipel, accused him of sexual harassment, though McGreevey contended that he and Cipel had a consensual affair.
5. Washington, D.C., Mayor Marion Barry
In Washington, where national politics is used to taking center stage, Barry put local news on the radar in 1990 after an FBI sting caught him smoking crack cocaine. The Democrat decided to bow out of the re-election race and served six months in prison. Despite the uproar, he successfully regained the mayoralty in 1995, but he continued his battle with drugs, having tested positive for cocaine use in 2005.
6. Louisiana Gov. Edwin Edwards
The Pelican State is no stranger to corrupt officials, but even locals couldn't quite believe it when the feds nabbed the former four-term Democratic governor. A Democrat, he was convicted in 1998 of extortion, racketeering, money laundering and other charges in connection with a scheme to help the owner of the San Francisco 49ers get a casino license in the state.
7. California Rep. Randall 'Duke' Cunningham
Cunningham lost his seat in 2005 after admitting to taking $2.4 million in bribes from a defense contractor, which bought the Republican congressman a house and allowed him the use of a yacht called "Duke Stir" in Washington.
8. Oregon Sen. Bob Packwood
A diary and sex harassment allegations helped destroy Packwood, who was accused of sex harassment by 10 former staffers and lobbyists. The Republican's diary became the center of a Senate Ethics Committee investigation that forced the five-term senator to resign in tears in 1995.
9. Idaho Sen. Larry Craig
The Republican senator added "wide stance" to the American lexicon in June 2007 when he was arrested in a sex sting operation in a public men's room at the Minneapolis-St. Paul International Airport. He pleaded guilty to a lesser charge of disorderly conduct. But when the arrest was discovered months later, he said he had been innocent and that he was not gay. That wasn't enough to keep him in the Senate, though. Under pressure from his GOP colleagues and his constituents, he declined to seek a fourth term. He continues to fight to have the disorderly conduct plea reversed.
10. Illinois Rep. Dan Rostenkowski
A bellicose Democrat who ran the political machine in his ward of Chicago, Rostenkowski was brought down as congressman in 1994 by a corruption scandal involving "ghost" employees and trading postage stamps for cash at the Capitol Hill post office. After he left office in 1995, he served 15 months in prison. He was eventually pardoned by President Clinton.
11. Connecticut Gov. John Rowland
Rowland, a Republican, found his career in shambles after rumors surfaced that he used state funds to make improvements on his weekend home and that he assumed ownership of businesses before they received lucrative state contracts. Investigations led to his admission that he'd had free work done on the cottage. He resigned in 2004 under the threat of impeachment. Rowland pleaded guilty to depriving the public of honest service and served 10 months in federal prison.
12. Ohio Rep. James Traficant
With his flashy toupee and rumors that he'd made his congressional aides perform chores at his Ohio homestead, the Democrat took eccentricity to new lows in Washington. In 2002, a federal jury convicted him on bribery, racketeering and other charges. He's currently serving an eight-year prison sentence.
13. Illinois Gov. George Ryan
The Blagojevich affair seems like deja vu to the citizens of the Land of Lincoln, whose previous governor, George Ryan, was convicted on corruption charges in 2006. Just a year before the Republican had been nominated for the 2005 Nobel Peace Prize for issuing a moratorium on executions, but a scandal involving the sale of drivers licenses to unqualified truck drivers brought him down.