97 Days to Decide: House Republicans Aim for Majority With 'Young Guns'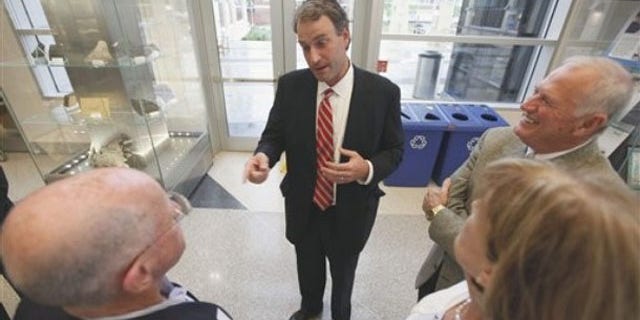 Republicans looking to take back the House say they hope a pool of fresh faces will be just what the voters ordered to cure their incumbent fatigue.
The National Republican Congressional Committee has been nurturing a program since the last election cycle to recruit and build a base for a crop of new congressional challengers. The recruits are not quite entry-level. Many are lawmakers at the state level, business leaders, veterans and lawyers.
But to mount a run for Congress, the "Young Guns" program gives those would be federal candidates a platform. And Republican leaders are counting on those candidates to help win them a majority.
"It's going to be a renaissance this year," said Joseph Heck, a former Nevada state senator challenging Democratic Rep. Dina Titus in the fall.
Heck is touted on the Young Guns website as an ER doctor and Iraq war veteran who still serves in the National Guard. He said the NRCC program has helped give him some "structure" and "guidance."
"I've run for office before, so I've had some experience in running a campaign, but this a different level," he said. "There's certainly fundraising support, which is critical to being able to get the message out."
He said one of the cornerstones of the Young Guns is that the candidates are assigned "mentors" to help with their campaigns.
The Young Guns was started before the 2008 election by Minority Whip Eric Cantor, R-Va.; Rep. Kevin McCarthy, R-Calif.; and Rep. Paul Ryan, R-Wis. A GOP official said that while no NRCC money has yet been spent on the Young Guns races this year, funding will start to be channeled toward those campaigns in the weeks ahead.
McCarthy told Fox News the NRCC is looking for "cheerful" conservatives with a commitment to fiscal responsibility. He said candidates need to "earn" their way into the program by showing that they can build a volunteer base and that they bring new ideas to the table.
Titus, who is facing off against Heck in the fall, said she knew it was going to be a tough race but voters should make the election about her record, not President Obama or House Speaker Nancy Pelosi.
Though Titus claimed $2 million has been spent against her candidacy, a new Mason-Dixon poll showed Titus leading Heck by 2 points. She described the race as "trench warfare."
Pelosi is assuring her party that Democrats will retain control of the House this fall. The Democratic Congressional Campaign Committee has its own specialty programs, including the "Red to Blue" campaign which so far counts 26 candidates as members. Those candidates get additional party support by meeting certain fundraising goals and focusing on a jobs-creation platform.
Pelosi and Obama, though, could end up as liabilities for Democratic incumbents, Republicans and election oddsmakers say. Several Young Gunners claimed their Democratic incumbent opponents are vulnerable because of support for Obama's legislative juggernauts like the health care overhaul and the stimulus package.
"The current congresswoman from South Dakota has not bucked her leadership," said Kristi Noem, a state representative challenging Rep. Stephanie Herseth Sandlin in the conservative-leaning state.
"It doesn't line up with the agenda of South Dakotans," Noem said, citing Herseth Sandlin's support for the stimulus package and other bills.
Virginia state Sen. Robert Hurt outlined similar arguments in making the case for why voters should oust incumbent Rep. Tom Perriello in November and support him. He said the federal government's economic policies have not solved high unemployment in his state and that a shift needs to be made toward more limited government.
Though the 5th Congressional District is a swing district in a swing state, Hurt said Perriello won in 2008 by appealing to independents and conservative Democrats -- constituents he claims his opponent has since betrayed.
He said the resources and "stamp of approval" from the Young Guns should prove a boon for his candidacy.
Fox News' Brian Wilson and Chad Pergram contributed to this report.