87 Days to Decide: Under Fire, Angle Revamps Campaign, Steps Up the Pace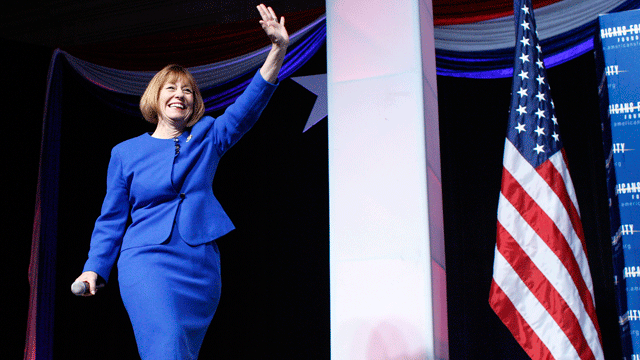 As Sharron Angle seeks to unseat Senate Majority Leader Harry Reid, she has been made to look like all kinds of things -- from conspiracy theorist to anarchist to religious zealot -- forcing the Republican Senate candidate to kick it up a notch.
Angle has hired new staff, gone on the offensive against Reid, and generally is kicking up the campaign energy as Reid maintains a slight lead over her in the polls.
After coming from behind to win the June 8 primary, the former Reno legislator was slow to expand from a mom-and-pop operation to a multimillion-dollar campaign capable of going punch-for-punch with Reid, who intends to raise $25 million for the contest.
But she surprised Democrats by raising more money than Reid between April and June, though Reid has more money in the bank, $9 million to her $1.8 million.
Reid's campaign has depicted the Tea Party favorite in TV ads as an extremist who would gut federal programs and turn her back on those in need. Angle, meanwhile, has been blaming Reid for the state's ailing economy and accuses him of being out of touch with problems at home. The state leads the nation in joblessness, foreclosures and bankruptcies.
On Tuesday, Angle hired Jarrod Agen, a veteran of Rudy Giuliani's 2008 presidential campaign,as communications director, one of several recent hires aimed at honing Angle's message and keeping pace with a barrage of negative ads from Reid and his Democratic allies.
In an e-mail to supporters Friday, Angle attacked Reid for how some of the economic stimulus package has been spent.
"Harry Reid says 'no one can do more' for Nevada. But Nevadans had no idea Harry's plan of 'more' meant spending millions on coked-up monkeys and exotic ants!" Angle's campaign wrote. "Even worse, he's doing all this while our state is ravaged by the worst foreclosure rate and highest unemployment rate in the nation."
The campaign cites a report by Republican Sens. Tom Coburn of Oklahoma and John McCain of Arizona that found the stimulus has spent $71,623 on a research project determining how cocaine affects monkeys, $1 million on a grant to study ants in the Indian Ocean islands and East Africa, $300,000 to study whether yoga can stop hot flashes and $554,000 for the U.S. Forest Service to replace windows at a visitors center that has been closed.
In an online ad that mocked the spending, Angle's campaign says there's been no word how Reid plans to pay for monkey rehab.
Reid's campaign, meanwhile, is continuing to paint Angle as a fringe conservative. The campaign noted that Angle will headline a fundraiser by the Association of American Physicians and Surgeons (AAPS), a group that the campaign says "shares a number of her extreme views, beginning with her holy distaste for the most popular senior health insurance program in American history. "
Angle has also filled out a four-page questionnaire for a conservative political action committee that shows she believes the clergy should be allowed to endorse candidates from the pulpit and opposes laws allowing gays to adopt children.
Angle's views on church-state separation have been an issue in the race.
In a June interview on Nevada's KVBC's news interview program "Face to Face with Jon Ralston," Angle was asked about minutes from a 1995 legislative hearing in which she reportedly said the doctrine of church-state separation is unconstitutional.
Asked on the program if the separation of church and state arises out of the Constitution, Angle answered "no." She said Thomas Jefferson is often misquoted and that he wanted to protect churches from being taken over by a state religion. The drafters of the Constitution "didn't mean that we couldn't bring our values to the political forum," she said.
Angle spokesman Jarrod Agen said the nation has a long history of clergy speaking out on matters of conscience and Angle "believes it is improper for the federal government to use the threat of revoking tax exempt status against churches and pastors."
Under the federal tax code, churches and other religious organizations could lose tax-exempt status if leaders make partisan comments about candidates at functions or in publications.
On adoptions, Angle believes children should have a relationship with a mother and a father, and she believes education should be managed at the local level "not by bureaucrats in Washington," Agen added.
In a statement this week, Reid spokesman Kelly Steele said the senator "is a man of faith and respects the faith of others, but he also believes it is a personal matter."
"Sharron Angle, however, has clearly stated that there is no separation between church and state, even though it is spelled out in the Constitution," Steele said.
Since winning the primary, Angle has granted most of her interviews to conservative media outlets. She says her public schedule is being driven by the need to raise money and she gets the best return for her time on conservative programs, which drive up donations.
"The whole point of an interview is to ... earn something with it and I'm not going to earn anything from people who are there to badger me and use my words to batter me with," she told Christian Broadcasting Network last month.
The Associated Press contributed to this report.