86 Days to Decide: Activists Say Tea Party Imposters Infiltrating Elections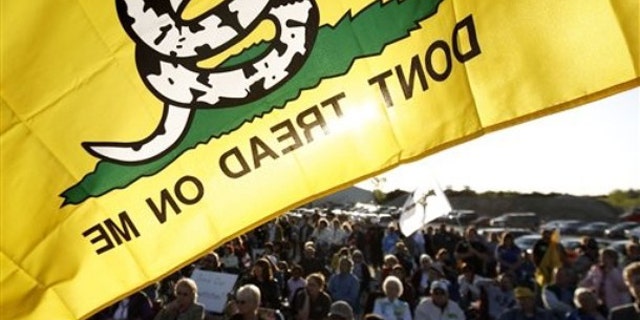 In New Jersey, a "Tea Party" candidate surfaces but local activists haven't heard of him. In Michigan, a Democratic operative appears closely tied to a slate of candidates running under the Tea Party banner. In Florida, conservative activists are locked in court over the right to use the Tea Party name.
The list of peculiar Tea Party happenings goes on and on.
As the midterm election nears, allegations are surfacing across the country that Democrats are exploiting conservatives' faith in the Tea Party name by putting up bogus candidates in November -- the claim is that those "Tea Party" candidates will split the GOP vote and clear the way for Democratic victories.
The theories may prove to be more than just conspiracy talk. Some of the allegations are coming directly from local Tea Party activists who are trying to flag the media and election officials as soon as they smell something fishy on the ballot. And they say they've got proof.
"It's obvious it's a Democratic play," said Jason Gillman, a Tea Party activist from Traverse City, Mich.
Gillman, who also authors the blog "Michigan Taxes Too Much" and is running for county commissioner, caused a stir in Michigan politics in late July after he released documents he obtained from state elections officials about the so-called Michigan Tea Party. The documents, he said, showed that of the 23 candidates under the Tea Party name, at least nine of them had affidavits notarized by a local operative for the Oakland County Democratic Party. He said that was the "smoking gun" to prove Democratic involvement -- on top of concerns he and other Tea Partiers had that the candidates on the ticket did not have Tea Party backgrounds.
"Nobody had any idea who these people were," Gillman told FoxNews.com. "We could at least say, without question, it is the Democratic Party putting it on."
The plot thickened after the Oakland County Democratic Party chairman, Mike McGuinness, told The Detroit News that operative Jason Bauer may have crossed the line by notarizing the affidavits. He was quoted saying the activity was not "sanctioned" by the local party, but "we have to assess internally what we do next."
Representatives with the Oakland County and Michigan Democratic parties did not return calls seeking comment.
The Detroit News reported that the Michigan Democratic Party has disavowed any link to the state Tea Party. Gillman said state Republicans and Tea Party activists are currently trying to invalidate at least some of the candidates running under the Tea Party name.
It's unclear how far such legal challenges can get. With little in the way of national, unified structure to the Tea Party, it's difficult to determine who's a legitimate Tea Party candidate and who's not -- or who would have the authority to make that decision.
In Nevada, a judge in April ruled that Senate candidate Scott Ashjian could run under the Tea Party name despite claims that he was an imposter. Earlier this year, Republican candidate Danny Tarkanian told FoxNews.com that "nobody" in the local Tea Party movement knew who he was and that Senate Majority Leader Harry Reid's supporters may have entered Ashjian into the race to help Reid. Reid's campaign vehemently denied that charge.
Tarkanian is no longer in the race after Republican primary voters picked Sharron Angle, who enjoyed heavy Tea Party support, as their candidate in the fall. But Ashjian is still listed on the November ballot as a "Tea Party" candidate.
In Florida, activists hope a court battle might help clear up the confusion over who's Tea Party and who's not.
Tea Party activists since the beginning of the year have been trying to get a judge to declare that candidates running under the "Florida Tea Party" have nothing to do with other Tea Party activists in the state. They've accused local lawyer Fred O'Neal and former radio host Doug Guetzloe of trying to "hijack" the movement by creating the Tea Party group. They claim the defendants are trying to leverage the Tea Party group to make money but also cite alleged ties between the founders and Democratic Rep. Alan Grayson.
Michael Caputo, a political consultant advising the plaintiffs, said the case probably will not be settled before the November election. But he said he hopes the judgment will help other Tea Party groups -- in Michigan, Nevada and elsewhere -- defend the integrity of their organizations.
O'Neal and Guetzloe have denied the charges. Guetzloe told FoxNews.com earlier this year that the lawsuit was "bogus" and that he was only interested in helping give candidates a platform on which to run -- he claimed he was no longer involved with the group.
Grayson's office also told FoxNews.com the congressman has "no direct ties to the Tea Party." According to his office, Grayson bought ad time on Guetzloe's show to reach a targeted conservative audience, but that the transactions date back to 2006 and 2008.
The accusations and denials don't stop there.
In the New Jersey congressional race between incumbent Democratic Rep. John Adler and Republican challenger Jon Runyan, a third-party Tea Party candidate has some conservatives scratching their heads.
Peter DeStefano claims on his Facebook campaign page that he got in the race "because there is no true conservative in this election."
But Runyan's campaign says he's an Adler plant. According to the campaign, an "operative" with ties to Adler signed DeStefano's nominating petition.
Local Tea Party groups apparently hadn't heard of him, either. "No one knows where Peter DeStefano came from or his affiliation or his qualifications," William Haney, an activist with the Burlington County Tea Party, told FoxNews.com.
DeStefano, though, stood by his candidacy. In another Facebook posting, he called the claims "crazy conspiracy theories" and said he's "not beholden to either of my opponents or the two major parties."
Adler's campaign could not be reached for comment.
Next door in Pennsylvania, the race to replace Democratic Rep. Joe Sestak -- who is running for U.S. Senate -- is the site of similar drama. The Philadelphia papers reported last week that third-party candidate Jim Schneller was being called an imposter within days of filing.
According to the Philadelphia Daily News, Schneller's nominating papers were littered with the names of prominent local Democrats. Republican Pat Meehan's campaign accused Democratic state Rep. Bryan Lentz's supporters of setting the whole thing up.
A local Democratic official, though, said the party was not supporting Schneller, according to the paper.