85 Days to Decide: Obama's Golden Touch Tested in Colorado Primary Race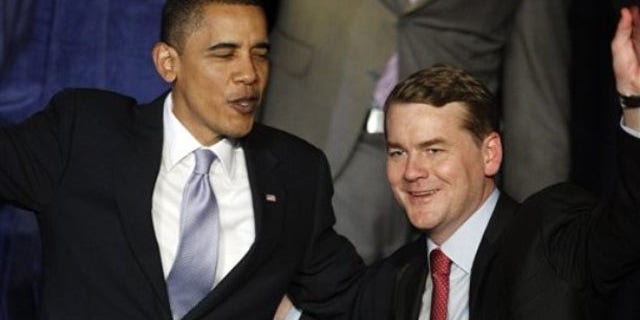 President Obama could be in danger of suffering another embarrassing political loss Tuesday, as the candidate he backed for U.S. Senate in Colorado is locked in a tight race against former state House speaker Andrew Romanoff.
Obama has campaigned aggressively for Sen. Michael Bennet, a political unknown appointed to the U.S. Senate in 2009 by Colorado Gov. Bill Ritter after the White House tapped then-Sen. Ken Salazar to serve as interior secretary. The president traveled to Denver earlier this year to campaign for Bennet, whom he has called "the person that I want alongside me," and starred in a television advertisement touting the former businessman's record.
In an attempt to make things easier for Bennet, the White House even asked Romanoff if he'd be interested in a federal job in lieu of running against the former investment manager in the primary, administration officials have acknowledged.
But the latest poll shows Bennet slightly trailing Romanoff, raising questions about Obama's effectiveness in a state he won by almost nine points in the 2008 presidential election. Adding to the drama, former President Bill Clinton on Monday urged Colorado voters in a telephone call to cast their votes for Romanoff – not Bennet – in Tuesday's primary election.
Obama's record in helping Democrats get elected isn't exactly sterling -- Democrats lost the gubernatorial races in New Jersey and Virginia despite his help. Plus White House backing was not able to keep Pennsylvania Sen. Arlen Specter in his seat in the Democratic primary race against Rep. Joe Sestak.
According to a Denver Post/SurveyUSA poll conducted July 27 to 29, Romanoff leads Bennet by 3 percentage points – 48 to 45 percent – a dramatic shift from an earlier 17-point lead Bennet enjoyed over his opponent. Eight percent of those surveyed for the poll, which included likely and actual Democratic primary voters, indicated they were undecided. The poll had a margin of error of plus or minus 4.3 percentage points.
"The political community will certainly take note if Romanoff beats Bennet," said Larry Sabato, director of the University of Virginia's Center for Politics. "Usually Obama can get his way in a Democratic primary -- and Colorado is one of his breakthrough states."
Still, Sabato said, a Democratic vote against Bennet is less a reflection of Obama's popularity in the state and more a repudiation of the governor who appointed Bennet.
"I think people are just shrugging their shoulders at Obama's endorsement. They're not voting against Bennet because Obama endorsed him," he said, noting that many Democrats are angry with Ritter for having appointed a little known former superintendent of schools who never won a political election.
Sabato also cited a recent New York Times report that called into question Bennet's financing deals while serving as superintendent of Denver Public Schools – a report his campaign said was "b------t."
The report claimed that Bennet was one of two people to recommend that the school system take the risky financial move of attempting to "...raise $750 million in an exotic transaction," lead by JPMorgan Chase, in which, "...the debt carried a lower rate but it could also fluctuate if economic conditions changed."
Obama's support for Bennet has been steadfast. "Michael has been as good of a senator as I expected him to be," he said in a town hall conducted via satellite on Aug. 3. "I know there have been a lot of negative ads running against Michael in the last few weeks, which is sort of politics as usual…If you're already supporting Michael, we need you to help in this final week."
The administration drew criticism from Republicans and critics, claiming the White House tried to clear the field by offering Romanoff a job in exchange for abandoning a run against Bennet. The administration acknowledged in early June that White House Deputy Chief of Staff Jim Messina contacted Romanoff in the fall of 2009 to test his interest in a federal job in lieu of running against Bennet.
The admission came after the White House disclosed that it solicited former President Bill Clinton to see if he could lure Sestak out of the Democratic primary race against Specter. Both Romanoff and Sestak, who won his primary race last month, declined. The White House denies that any explicit job offer was made.
In a last-minute attempt to galvanize voters, Bennet dashed across the state in the closing hours of his primary campaign to talk to workers about their jobs. The embattled Democratic senator met with postal carriers, waiters, mechanics, jailers, nurses and factory workers in a 24-hour sprint for votes Friday and Saturday.
Wearing jeans and a plaid shirt and urging voters to call him by his first name, the senator stopped by myriad workplaces to talk himself up as a businessman new to politics, not an incumbent.
Romanoff, meanwhile, has launched ads seeking to tie Bennet to Wall Street banks and calling his financing deal as school superintendent a "big casino bet gone wrong."
"Michael Bennet cut an exotic deal with Wall Street," the ad said. "Bennet's risky deal cost our schools $25 million and counting."
The Associated Press contributed to this report