40 Days to Decide: Gillibrand's Lead Eroding in New York Senate Polls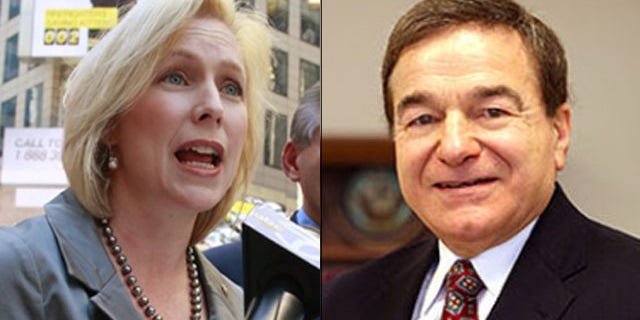 The race for Hillary Clinton's old Senate seat just got interesting.
Two new polls show Republican challenger Joseph DioGuardi closing in on incumbent Sen. Kirsten Gillibrand, who along with fellow New York Sen. Chuck Schumer was considered a shoo-in for the seat in November.
Gillibrand was tapped to replace Clinton after she left to become secretary of state and has been in the seat for nearly two years.
But DioGuardi, a former congressman, pulled within 6 points of Gillibrand in a survey released Thursday and within the margin of error in another. As with other Republican challengers, DioGuardi is accusing the incumbent of backing a big-spending agenda that adds to the debt without spurring job growth.
The Quinnipiac University poll showed Gillibrand leading 48-42 percent. The numbers behind the match-up showed potentially troubling signs for the incumbent -- the candidates were pulling close to 90 percent from their respective parties but split down the middle among independent voters.
A separate Survey USA poll showed Gillibrand leading by a hair, 45-44 percent, polling strong in the New York City metropolitan region but weak elsewhere -- even though she is from upstate New York.
Those two polls don't necessarily signal a trend. A Siena College poll released Thursday showed Gillibrand crushing DioGuardi by a nearly 2-to-1 margin. She led 57-31 percent.
However, Schumer was polling consistently well across all three polls over lesser-known GOP opponent Jay Townsend.
The Quinnipiac poll of 751 likely voters was conducted Sept. 16-20 and had a margin of error of 3.6 percentage points.
The Siena poll of 801 registered voters was conducted for five days after the Sept. 14 primaries and had a margin of error of 3.5 percentage points.
The Survey USA poll of 572 likely voters was taken Sept. 20-21. It had a margin of error of 4.2 percentage points.