4 impeached West Virginia justices to face trials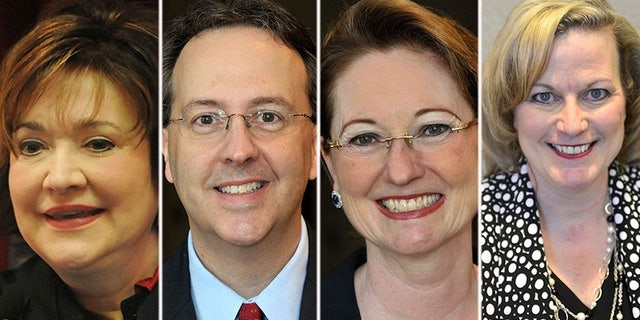 Historic trials will be held in the West Virginia Senate starting next month for four impeached Supreme Court justices after last-ditch efforts to remove charges against some of them were rejected.
The state Senate voted 19-15 Tuesday to reject a resolution that would have dropped charges, called articles of impeachment, against Robin Davis, who retired shortly after the House of Delegates impeached her last month.
The vote came after Senate President Mitch Carmichael ruled a separate resolution to censure justices Beth Walker and Margaret Workman instead of subjecting them to impeachment trials was out of order. The resolution would have allowed them to keep their seats on the court.
Trial dates were set for Oct. 1 for Walker, Oct. 15 for Workman, Oct. 29 for Davis and Nov. 15 for suspended Justice Allen Loughry.
The 34-member Senate is serving as a jury and some members of the House of Delegates are serving as prosecutors. A conviction means a justice would be disqualified from holding public office.
Democratic lawmakers, who hold minorities in the House and Senate, have characterized the impeachments as an unprecedented power grab by the GOP.
The impeachments stemmed from questions involving renovations to the justices' offices. Individual office spending by the justices for renovations included $503,000 by Davis, $367,000 by Loughry, $131,000 by Walker and $113,000 by Workman.
Those questions evolved into accusations of corruption, incompetence and neglect of duty.
The proposed censure agreement made with House managers had been announced earlier Tuesday.
Ohio County Republican Sen. Ryan Ferns objected to a resolution to approve the agreement, saying it was premature to make a decision without hearing any evidence. After a brief conference, Carmichael agreed.
Under the proposal, Walker and Workman would have taken responsibility for the costs of renovating their offices and continued to implement reforms to improve the court's administration. The agreement said Walker and Workman "have publicly acknowledged the need for changed policies and practices to rebuild public trust" in the court.
Workman's attorney, Ben Bailey, told the Senate the agreement was in the best interests of all parties.
But Ferns said it was made outside of the view of the public and the media and "would not take a step towards restoring that faith" in the court.
Loughry, who was suspended in June, was the only justice at the hearing Tuesday. A 25-count federal indictment against him alleges, in part, that he repeatedly lied about using his office for personal gain. His federal trial is set for Oct. 2.
A fifth justice, Menis Ketchum, resigned in July and pleaded guilty last month to a felony count of fraud related to his personal use of a state vehicle and gas fuel card. He faces up to 20 years in prison.
The departures of Ketchum and Davis from the court ahead of a deadline for justices to step down or be removed meant their replacements would be decided by voters, not gubernatorial appointments. A special election will be held in November to fill their unexpired terms. If the Senate convicts any other justices, Gov. Jim Justice would name their replacements.
The last time West Virginia's Legislature engaged in anything remotely like this was 1989, when state Treasurer A. James Manchin was impeached by the House after the state lost $279 million invested in the bond market. He resigned before the Senate took up the impeachment measure.