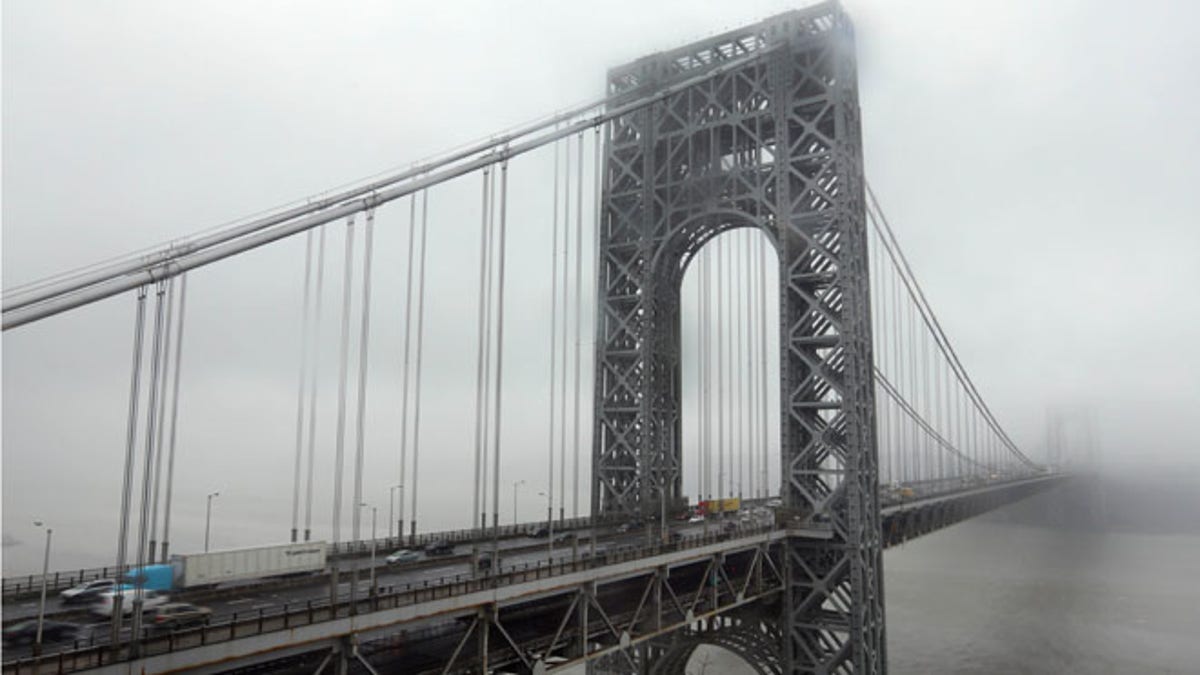 The newly formed New Jersey Assembly Select Committee On Investigations says it is issuing 20 subpoenas as part of the growing probe of the George Washington bridge scandal.
"We are going to follow the facts, wherever they may lead us," said the committee chairman,Democratic Assemblyman John Wisniewski. He says subpoenas are going out to 17 individuals and three organizations, and he declined to make the names of the targets public until they are served. Governor Chris Christie is not among those who will be subpoenaed.
"We need more answers," said Wisniewski. "We know that it was not a proper exercise of governmental authority.
"We know it was wrong, we need to get to the bottom of it. It's not just about who closed the lanes, but about people who believe that they shouldn't trust government to begin with, are now being given a very concrete reason why they shouldn't. We need to assure them that we are going to fix it so that they can trust government.
"What we are looking at is the why," Wisniewski said, "We don't know why it was sent, or who gave the person the authorization...There had to be other conversations before."
While the panel would not identify any targets, two of New Jersey Governor Chris Christie's top aides were expected to be among those subpoenaed to testify: Bridget Anne Kelly, Christie's former Deputy Chief of Staff, and his long-time campaign manager and former choice to head the state Republican party, Bill Stepien.
The slew of subpoenas come as the Democratically-controlled Assembly and Senate empanelled two separate special bipartisan committees to investigate the alleged abuse of the public trust.
"The e-mails that have been revealed are disturbing and extremely troublesome," saidRepublican Minority Leader Jon Bramnick.
"We support, on the Republican side of this aisle, further investigations, inquiry, and questions," he said.
But some Republicans attacked the investigation.
"The bipartisanship is falling apart," charged Republican Assemblyman Gregory McGuckin, who is not a member of the committee. He said that Democrats delayed giving the Republicans subpoenaed documents for 12 days. But Wisniewski said the Republican members of the committee all agreed on issuing the subpoenas.
At an Assembly Transportation Committee hearing last week, Christie appointee to the New York and New Jersey Port Authority David Wildstein repeatedly took the Fifth when he appeared under subpoena to testify and was held in contempt. Some legislators have called for WIidstein to be criminally prosecuted for his refusing to testify about the plot.
It was Kelly's e-mail to Wildstein saying "Time for traffic problems in Fort Lee," that tied theChristie administration to the alleged abuse of government power that tied up traffic on the nation's busiest bridge for four days, all in a reputed effort to exact political payback against the Democratic Mayor of Fort Lee for not endorsing the Governor's re-election last year.
Christie fired Kelly and apologized in a wide-ranging news conference last Thursday. He denies knowing about or being involved in the alleged political payback plot. Legislators say no evidence of a direct link to Christie has surfaced.
Christie remained largely mum Thursday. He appeared at a Superstorm Sandy related event but did not directly address the scandal.
Speaking at a fire house in Manahawkin, on the Jersey shore, the Governor did not take reporters' questions, but did briefly allude to the scandal by vowing "nothing will distract me."
"There are all types of challenges, that come every day, out of nowhere, to test you. But I want to assure the people of New Jersey of one thing. I was born here. I was raised here. I am raising my family here. This is where I intend to spend the rest of my life and whatever test they put in front of me, I will meet those tests because I am doing it on your behalf," he said.
The Christie administration has hired its own outside counsel to help review what went wrong.
Randy Mastro, a former U.S. Attorney, Chief of Staff and Deputy Mayor under New York City Mayor Rudolph Giuliani, has been tapped by Christie to lead the effort. Giuliani is a close Christie ally.
The "administration is fully cooperating with the U.S. Attorney inquiry and other appropriate inquiries and requests for information," the Governor's office said in a statement.
The subpoenas come as the state legislature has also tapped the former federal prosecutor who nailed former Illinois Governor Rod Blagojevich for trying to sell President Obama's vacant U.S. Senate seat, as a Special Counsel to probe the bridge scandal. Blagojevich is now serving a 14 year prison term for corruption.
In announcing the appointment of former Assistant U.S. Attorney Reid Schar to the post, Democratic Assembly Speaker Vincent Prieto said "a potential misuse of taxpayer resources for political purposes is a serious matter that requires an astute legal eye with experience in this realm to help guide the process."
Meanwhile, West Virginia Democratic U.S. Senator Jay Rockefeller says he has received "zero evidence that the purpose of these closures was to conduct a legitimate traffic study.
"The Port Authority's professional and engineering staff raised serious concerns about the lane closure plan. They explained that the closures would cause significant congestion and delays, and would increase the risk of sideswipe crashes. It is unconscionable that anyone would block commercial traffic and risk the safety of thousands on our interstate highway system in this way."
The legislative investigations may extend beyond the Garden State and to neighboring New York State.
"We should be looking at this as well, at getting to the bottom of this, who made the decisions, why they were done, so that this could never happen again," says New York Democratic State Senator Adriano Espaillat, who is calling for hearings on the scandal in Albany besides those being held in Trenton.
Espaillat's district includes the upper Manhattan side of the George Washington bridge, and he told Fox News that he has been calling for a widespread investigation since November, when he sent a letter asking for hearings. He wrote that the actions of New Jersey officials represented "a dangerous politicization of a leading transit agency," and says while "New Jersey's hearings have occurred in a politically charged context; a straightforward inquiry from our legislative chamber would be a less heated vehicle for uncovering the truth."
"It's important that residents of both states, on both sides of the river, feel that decisions will not be made on your party affiliation to punish anybody because they did not support a particular candidate," Espaillat told Fox News.
"It's horrible...this decision could have put peoples' lives in danger," he says. "We should all be appalled by it."
Kathleen Foster contributed to this report.
Follow Eric Shawn on Twitter: EricShawnonFox