Trump should confront Qatar on its support for Hamas in upcoming White House meeting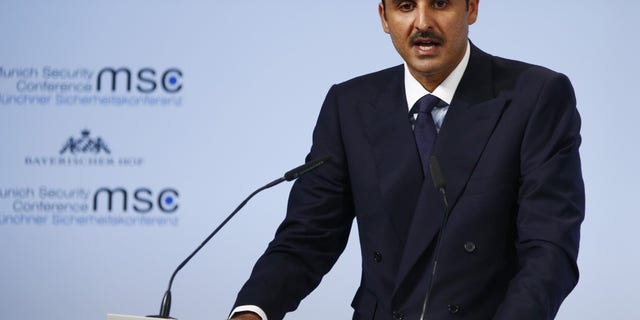 As Qatar's leader – Emir Tamim bin Hamad Al Thani – prepares for a White House meeting with President Trump on Tuesday, Qatar's lobbyists are warning Congress not to pass a sanctions bill that targets the Palestinian terrorist group Hamas and its supporters, including Qatar.
Yet despite their lobbying campaign against the bill, the Qataris continue to insist they do not support Hamas, which rules the Gaza Strip with an iron fist.
The bill in Congress that the Qataris oppose, titled the Palestinian International Terrorism Support Prevention Act, won unanimous approval in the House Foreign Affairs Committee in November. Qatar is working hard to prevent a vote in the full House because Qatari officials know the bill could have major consequences for the emirate if it became law.
The evidence of massive financial and other support by Qatar for Hamas is overwhelming and beyond dispute. In 2012, during former Emir Hamad bin Khalifa Al Thani's historic visit to the Gaza Strip, Qatar pledged $400 million to the terrorist group.
Two years later, Qatar attempted to funnel hundreds of millions of dollars to the Jordan-based Arab Bank to cover Hamas employees' salaries – a transaction ultimately blocked by the U.S.
Last year the emir announced Qatar would pay an additional $100 million to the Hamas government that rules Gaza. He later pledged $9 million more in urgent aid this year.
Qatar has also hosted Hamas' Politburo for years. Khaled Meshaal, the former leader of Hamas, has called Qatar's capital of Doha home since 2012.
On top of all this, Qatari Emir Tamim called Ismail Haniyeh, the leader of Hamas' Political Bureau, only days after the U.S. Treasury Department placed Haniyeh on its terrorist blacklist early this year. The call to Haniyeh was doubly surprising, since the Qataris are in the midst of a charm offensive designed to repair their tarnished reputation in Washington.
In January, then-Secretary of State Rex Tillerson and Secretary of Defense Jim Mattis hosted their Qatari counterparts in Washington for the first-ever U.S.-Qatari strategic dialogue. As the dialogue drew to a close, Qatar – isolated for the past 10 months by a blockade by its Arab neighbors – seemed triumphant and reassured of its position in Washington.
Tillerson – since fired by President Trump – described Qatar as a "strong partner and a longtime friend" and the two governments signed a number of agreements.
The mood on Capitol Hill, however, is different. Late last year the House Foreign Affairs Committee unanimously approved legislation that would require the Trump administration to act against governments, organizations and people if it determined they were supporting Hamas. This is the measure the Qataris are now lobbying furiously to kill.
Under the bill, governments that support Hamas could be denied defense support by the U.S. and be barred from buying weapons from America. Such governments could also be denied U.S. loans of more than $10 million and their U.S. property could be seized.
The legislation has not come up for a vote in the full House. It enjoys backing from both the Republican chairman and the top Democrat on the House Foreign Affairs Committee. Its text identifies Qatar as a potential target, citing the 2014 remarks of a senior U.S. Treasury Department official, in which he stated that the emirate "has for many years openly financed Hamas."
Qatar's lobbyists warn that efforts to pass the bill could "jeopardize" the emirate's $6.2 billion contract to buy 36 F-15 fighter jets.
Qatar's rhetorical support for Hamas is likewise robust. When Tamim acceded the throne, hopes were high that the new, younger emir would break from his father's detrimental regional policies. But in his first interview as the emir of Qatar, Tamim signaled the emirate's continuing support for Hamas under his rule.
"Hamas are more realistic now," the new emir said, contending that its members "believe in peace and want peace." The emir made this claim while Qatar was hosting Saleh al-Arouri – the terrorist behind the June 2014 kidnapping and murder of three Israeli teenagers.
Just days after the blockade of Qatar began in June, Qatari Foreign Minister Mohammed bin Abdulrahman Al Thani continued to insist that while the U.S. may see Hamas as a terrorist organization, "to the rest of the Arab nations it is a legitimate resistance movement." The minister dismissed allegations that Qatar supported Hamas, arguing instead that "we support the Palestinian people."
The emirate apparently expelled certain Hamas figures, including al-Arouri, as the blockade wore on. Qatari officials purportedly apologized for expelling them and cited "external pressures" as the reason. Al-Arouri was kicked out of Doha last August.
But the apology is explicit proof that any moderation of Qatar's support for Hamas over the past eight months has not come about because the emirate wanted to take that step. Small concessions the emirate has made were prompted by the blockade's external leverage rather than to any genuine change of heart in Doha about its destabilizing regional policies.
Concessions Qatar has made include its recent moves on combatting terrorism financing. But Qatar's bid to block sanctions on Hamas supporters casts doubt on Doha's commitment to enforcing an agreement it signed with the U.S. in July to toughen its stance on illicit financing. The contents of that agreement, however, have not been made public.
Qatar did agree to further curbs on terror financing during Treasury Secretary Steven Mnuchin's visit to the emirate last October, stipulating an increased level of information sharing and a heightened focus on suspicious charities and money service businesses in Qatar. Tillerson's remarks at the opening session of the strategic dialogue praised Qatar for its "significant progress to improve efforts to combat terrorism."
But Qatar's recent public support for Hamas suggests it has yet to materially give up its lenient perspective. Further engagement with the U.S. will be of limited value unless Doha cleans up its act, a message the emir should keep in mind when he visits Washington in just a few days. President Trump should make clear to the emir that support for Hamas must not continue.
In addition, the Trump administration should not be too hasty to convene the next iteration of the annual U.S.-Qatar strategic dialogue before the emirate proves it is on our side in the fight against terrorism.