Trump, Hillary and Brexit: Five numbers to watch in politics this week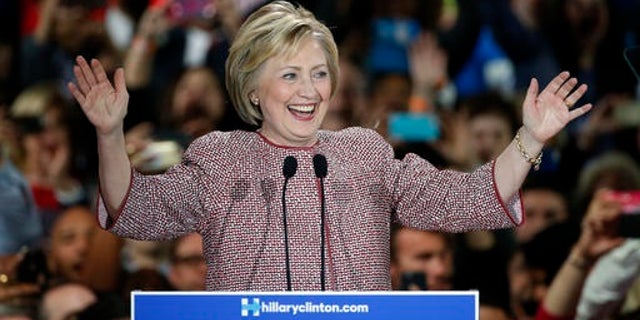 It's a busy week in politics on both sides of the Atlantic. Voters in Great Britain will finally go to the polls and determine whether to stay in the European Union. And in the United States, the aftermath of the Orlando massacre continues to reverberate in both the Senate and on the campaign trail. Below are five numbers that will have an impact on politics in the week ahead.
45 PERCENT: Voters in Great Britain who favor remaining in the European Union
Jo Cox, a member of the British Parliament who opposed leaving the EU, was gunned down last Thursday by an attacker who was said to have shouted "Britain first."
Cox's murder temporarily brought the fiery debate over whether Britain should leave the EU to a halt. But with the contentious referendum scheduled for Thursday, both sides have resumed campaigning.
Two polls taken in the aftermath of Cox's killing show that those who favor remaining in the EU have a very slight advantage. A Survation poll for the Mail on Sunday found 45 percent favor remaining "In," while 42 percent want "Out," up from the last Survation poll taken before the murder. A YouGov poll for the Sunday Times showed a 44-43 percent lead for those who favor remaining "In," a 7-point turnaround from a YouGov poll prior to the murder.
The polls suggest that Cox's murder has shifted momentum slightly toward those who oppose leaving the EU. But they remain very tight, and where Brits stand on the issue and the future of the EU as we know it won't be known until the polls close on Thursday.
1 PERCENT: Chance that Sen. Diane Feinstein's bill to deny firearms to terrorists will pass, according to Govtrack.us
On Monday evening the Senate is expected to take up the California Democrat's bill to ban anyone on terrorist watch lists from buying a gun. This is just one of four measures, two Democratic and two Republican, that the Senate is expected to vote on.
Despite increasing public support for action in the wake of the Orlando massacre, none of the measures is expected to get the 60 votes needed to pass.
10,000: Number of times Marco Rubio said he is not running for re-election
One month ago, Sen. Marco Rubio tweeted: "I have only said like 10,000 times I will be a private citizen in January." Yet just a month later, reports are circulating that the Florida Republican may be set to announce his intention to run for re-election as early as this week.
Rubio is said to have spent the weekend with his family, mulling over his political, private, familial and financial prospects, as well as how he will explain his "reversal" to his constituents. There are plenty in the GOP who hope Rubio changes his mind and jumps into the race, particularly since polls show that Republican senators face tough challenges in states like Arizona, Illinois, New Hampshire, Ohio, Pennsylvania, and Wisconsin.
A Rubio run would all but ensure the GOP keeps that seat, and potentially the Senate as a whole.
$30 MILLION: Approximate amount the Clinton campaign has heading into the general election
According to most accounts, Hillary Clinton already has approximately $30 million available in general election campaign coffers. The question now is whether Donald Trump's campaign has raised enough – or given himself enough out of his own pocket – to challenge Clinton into the fall. Trump spent the weekend saying he will donate whatever it takes to win and trying to assure reporters and supporters that his fundraising efforts are going very well. This as the Clinton campaign bought close to eight figures' worth of ads in eight key states – a buy that Trump hasn't come close to matching.
Monday's FEC filing is critical because it will provide insight into whether Trump can match or exceed Clinton's funding, how generous his supporters have been and whether he is indeed willing to self-fund his campaign to the extent necessary to compete with the Democrats.
3.5 million: Number of Jobs Moody's says would be lost under a Trump presidency
During a foreign policy speech more than two weeks ago, Clinton lambasted Trump, calling him "unfit" to hold the office of the president, among other things. On Tuesday, in Columbus, Ohio, she is prepared to do much of the same when she takes on Trump's fitness to lead the world's biggest economy.
As part of her remarks, she may reference a Moody's report released this week which, among other things, suggests that a Trump presidency would result in the loss of 3.5 million jobs and an increase in the unemployment rate to 7 percent.
Trump's business acumen has long been his calling card, but Clinton nevertheless will say again that he is unfit, inexperienced and temperamentally unsuited to make important economic policy decisions.
As Jake Sullivan, the Clinton campaign's policy chief noted, "It really comes down to being able to show that every time Trump had an opportunity to get something for himself at the expense of someone else, he took it, in spades."