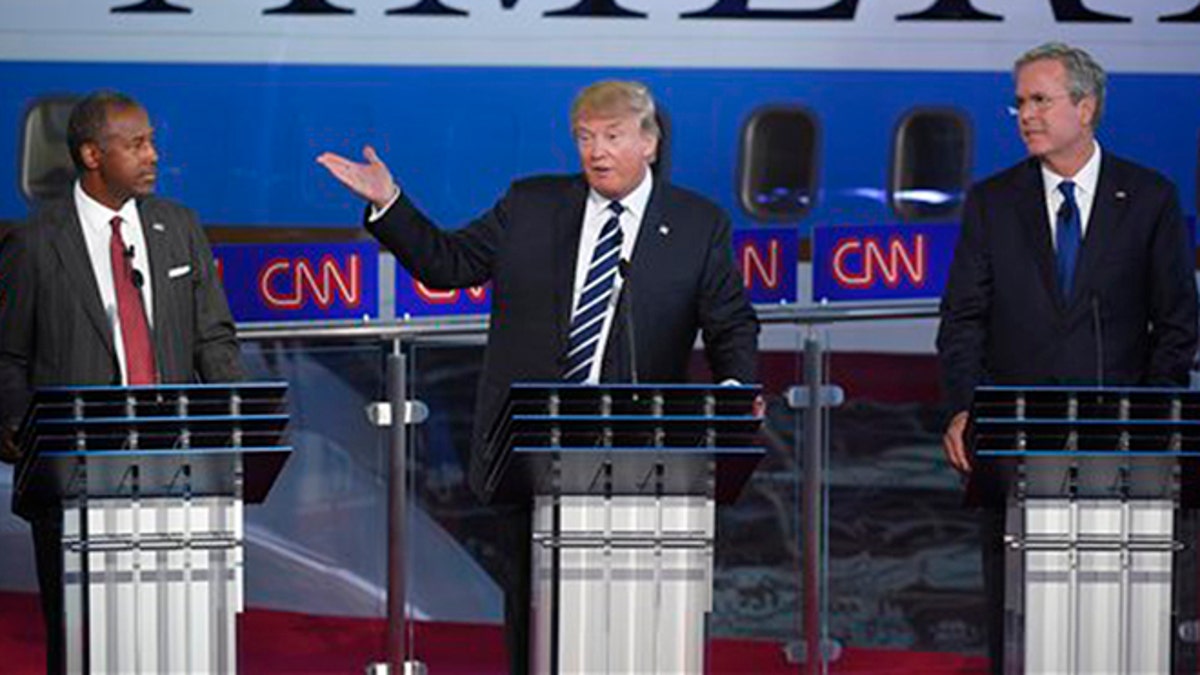 The first GOP was marked by fireworks, but those fireworks mostly fizzled by Round Two. CNN did its best to pit the candidates against one another – and especially against Trump – but even The Donald set aside a lot of his signature bombast. He even high-fived and back-slapped his neighbors, who appreciated it – at least some of the time.
The more than three-hour battle, following the undercard contest, became what CNN analyst David Axelrod called the "iron constitution" debate. Sen. Marco Rubio looked especially strong on foreign policy, saying we don't put our military in the position to do "pinprick attacks," he would put them in a position to "win."
The GOP returned to Ronald Reagan Presidential Library in quest of a 21st Century standard bearer who can end Democratic dominance of the White House and give the party a clean sweep of Washington.
Former CEO Carly Fiorina continued her rise, attacking both Trump and Democratic candidate Hillary Clinton. She even mocked Clinton's resume, noting that she had also flown around the world a great deal, but also understands that, "flying is an activity, not an accomplishment."
Fiorina struck early and moved ahead of the pack. Rubio found his stride later in the debate with a display of foreign policy knowledge – leading many on Twitter to comment: "Fiorina/Rubio or Rubio/Fiorina?" RedState Editor Erick Erickson Tweeted a huge compliment to Rubio: "Rubio. Wow. Solid answers and that last one was amazing."
Liberal Nate Silver, editor-in-chief of 538.com, agreed. "Fiorina won the first half of the debate, Rubio won the second half, and Bush won the third half."
By any reasonable measure the first two were the winners and D.C. establishment types watched as the Bush family continued its fade -- ironically at the Reagan Library. Chris Christie probably staved off his own departure from the top of the pack with a measured passion and an everyman approach.
While Trump was still Trump, he has mellowed from the first debate and took much of the air out of the room by doing so. None of the candidates failed, but that might not be enough. Former Gov. Jeb Bush failed to move the needle while Wisconsin Gov. Scott Walker and Ohio Gov. John Kasich were lost in the noise. Former Arkansas Gov. Mike Huckabee's gentle approach won social conservative hearts, but he failed to break through.
That didn't stop the debate from dwelling mostly on Trump. In a world filled with terrorism, refugee problems, immigration problems, Planned Parenthood funding and more, questions about Trump dominated. Thirty-two of the 73 questions referenced Trump in some way. Often candidates were either answering questions about what Trump had said instead of their own policy views. More than halfway through the debate, the tally was running 50-50 in the tally of Trump vs. non-Trump questions.
Debate moderator Jake Tapper even asked Trump about Trump on several occasions: "President Obama's incoming top general says: 'Russia represents the greatest threat to national security.' Mr. Trump you say you can do business with President Vladimir Putin, you say you will get along 'very well.'"
The same went for other candidates. Tapper asked former Gov. Mike Huckabee about hiking the taxes for hedge fund managers: "Do you agree with what Donald Trump and Gov. Bush have proposed, raising their tax rates?"
The moderators, including CNN's Dana Bash and Salem radio talker Hugh Hewitt, tried to pit the candidates against one another, but failed to generate the drama of Round One. The most-exciting dust-ups occurred between Trump and Bush and Trump and Carly Fiorina.
Both former neurosurgeon Ben Carson and Texas Sen. Ted Cruz went out of their way to avoid conflict with The Donald. Everyone else in the main debate criticized Trump at least once – except Trump himself.
At one point, New Jersey Gov. Chris Christie complained about what he called a "childish back-and-forth" between Fiorina and Trump. It was part of the kinder, gentler Christie that few had seen before. Ben Carson showed why he is scoring high on likability. At the end of his introductory statement, he welcomed Carly Fiorina to the stage. It was a class move.
A few highlights from the Candidates v. Trump:
Bush on Trump: "He's wrong on a lot of things."
Trump on Fiorina: "She can't run any of my companies. That I can tell you."
Paul: "I hate to say it, but Donald Trump is right here."
And the biggest oops moment for Trump came when he said, "I will take care of women. I respect women. I will take care of women." That is probably already part of an upcoming Fiorina commercial.
Trump dominated the time again, but not so much as last debate. According to NPR (Hey, our tax dollars do work sometimes) the tallies were:
Trump: 18:47
Bush: 15:48
Fiorina: 13:30
Carson: 12:56
Christie: 12:36
Rubio: 11:21
Cruz: 10:45
Paul: 10:28
Kasich: 9:44
Huckabee: 9:20
Walker: 8:29
Pundits and politicians all predicted the second GOP debate would be an all-out assault on campaign leader and businessman Donald Trump. In fact, it was billed as "Time To Whack The Trump Piñata" and leaders of both left and right hoped for that outcome. They had to be disappointed with the lack of a knockout.
The questions were posed by Tapper, Hewitt (Salem partnered with CNN) and CNN's chief political correspondent Dana Bash. It was the same team for both debates and given the massive length of the double-header, it was an endurance test.
Tapper started both debates talking about what his network always talks about – Trump. The same network that devoted 78 percent of its news coverage to Trump, started out talking Trump in the undercard, as well. There, Jindal took a dig at Trump in his introduction and Tapper threw him the first question, asking him about how he had called Trump, "unstable, narcissistic egomaniac."
CNN's moderator, anchor and chief Washington correspondent Tapper is well-regarded by left and right. He told Jimmy Kimmel that his goal was to "pit the candidates against each other." He said he wanted more moments like the exchange where Chris Christie and Rand Paul went at it in the first debate. He didn't succeed with the verve of the first debate.
He was tough, but avoided a Candy Crowley moment from 2012. When GOP nominee Mitt Romney said Obama hadn't called the Benghazi attack "terror" for 14 days, Crowley pounced and claimed he was wrong. She later admitted he had been right, but the damage to the campaign and her credibility were done.
The Undercard Debate
CNN couldn't help itself by starting the night off with serious spin. It led into the first debate with an interview with liberal California Democratic Gov. Jerry Brown and pushed him to criticize GOP candidates from Carson to Trump. Brown eagerly obliged, knocking "Republican blather" on climate change, income inequality and more.
Fiorina used her compelling performance in what pundits called the "kids table debate" in Cleveland in August to push into the top tier. With Rick Perry also out of the race, this first group only included four candidates.
Going After The Donald
Only Rick Santorum avoided criticizing Trump in the first debate. Jindal did so several times, but Gov. George Pataki and Graham also joined in. Graham took the biggest shot. "Our leading candidate gets his foreign policy from watching television. And what I heard last night is [that it's] the Cartoon Network. Oh, I'm big, I'm strong, we're going to hit them in the head. That's not foreign policy," he declared.
Bashing The Media
Pataki was the only one in the first debate to attack the media and did so with a direct slam of CNN. "This is an important election with an enormous number of challenges facing the American people and the first four questions are about Donald Trump."
In the main debate, Kasich complained after Tapper began with a series of Trump questions. "If I were sitting at home and watch thing back and forth, I would be inclined to turn it off," he said.
Going Home Again
It was a toss-up between Sen. Lindsey Graham and Gov. Bobby Jindal for the first debate. Graham, who seemed to have recovered the energy missing in the previous debate, scored the first genuine laugh line of the night joking to Rick Santorum that for the sake of Social Security, we needed population growth. "Strom Thurmond had four kids after he was 67. If you're not willing to do that, we better come up with a new legal immigration system." Not to be outdone, Santorum reminded the crowd, "I have seven kids, I've done my part." Graham also vowed that "the first thing I'm going to do as president, we're going to drink more."
Liberal SiriusXM Insight host Abby Huntsman gave the win to Graham. "If the winner of the kiddie table gets a slot at the adult table, Graham won that seat tonight." Republican strategist Kevin Madden also credited Graham's focus on foreign policy as driving the debate. But based on the post-debate scrum, Jindal's solid social conservative positions earned him solid points with both media and voters.
Most telling, both Graham and Jindal stayed in the spin room long enough to bask in their debate success, rather than race to the photo op.
The Setting
It was certainly CNN's debate. USA Today's Washington Bureau Chief Susan Page Tweeted out a photo of the event background. It showed 65 different CNN logos as part of the wallpaper. "I keep forgetting: Which network is sponsoring tonight's #GOPdebate? #branding," she snarked.
The GOP returned to Ronald Reagan Presidential Library in quest of a 21st Century standard bearer who can end Democratic dominance of the White House and give the party a clean sweep of Washington.
The main debate stage held the 11 main candidates who, according to CNN, "who made the top 10 in an average of polls conducted after the Fox News/Facebook debate held on August 6." The first of the evening's debates held the bottom four qualifying candidates: 13) Rick Santorum, 14) Bobby Jindal, 15) George Pataki, and 16) Lindsey Graham. Former Texas Gov. Rick Perry, No. 12, left the race. Former Va. Gov. Jim Gilmore did not qualify for the debates.