The real truth about the NFL draft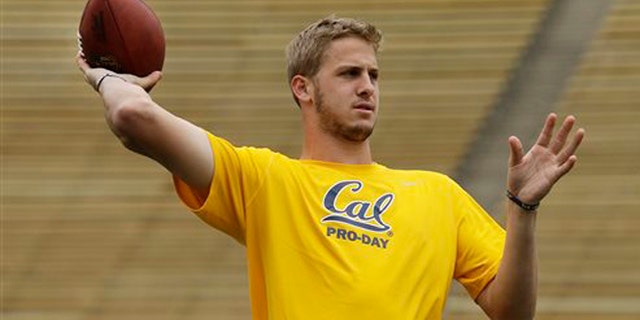 NEWYou can now listen to Fox News articles!
Long before the rest of us weren't sure what to think of Tom Brady -- whether or not, for example, he is a cheater -- the people whose job it was to know what to think of him didn't know what to think of him.

Confused?

So was the NFL when Brady, a certain future Hall of Famer, was considered just another quarterback prospect in the 2000 pro draft.

The New England Patriots "stole" Brady in the sixth round that year. Later, the Patriots would add spying (improperly videotaping an opponent's defensive signals) and cheating (deflating the footballs used in a playoff game two seasons ago during the Patriots' march to a Super Bowl title) to their repertoire.

Six quarterbacks were taken ahead of Brady in the 2000 draft, including a guy from Hofstra named Giovanni Carmazzi. A third-round pick by the San Francisco 49ers, he never played a down in the NFL.


Brady was the 199th player picked, regarded as a longshot because of his limited playing time at Michigan, his lack of athleticism and a poor performance in front of scouts. What he became -- inarguably one of the greatest quarterbacks in NFL history -- is a testament to his work ethic, intelligence, courage, toughness and competitiveness.

It is ironic that in this week of the overhyped NFL draft, a time when Brady is usually held up as one of the most successful lower-round draft picks in league history, his reputation should take a major hit.

Are we to think less of Brady as a person as a result of this latest legal ruling in Deflategate?

The answer, quite simply, is yes. The evidence against Brady, accused of having balls deflated beyond the legal limit in order to grip them better in a playoff game two seasons ago, was "compelling, if not overwhelming," said one of the judges during last month's hearing of the case before the 2nd Circuit of the U.S. Court of Appeals.

The 2nd Circuit overturned a lower court ruling Monday and reinstated the four-game suspension ordered last year by NFL Commissioner Roger Goodell.

Brady and NFL Players Association can appeal to the full body of the 2nd Circuit, and, if turned away, could go to the Supreme Court.
That "Deflategate" and "Supreme Court" can be used in the same sentence says a lot about how ridiculous this whole affair has become, and you can blame the Patriots and/or Brady for that. When first accused of doctoring the balls, Brady's proper response should have been, "OK, you're right, but it's not that big a deal. I'm sorry. It won't happen again."

Then he should have accepted what would probably have been a lenient penalty.

Instead, he responded to the league's request for evidence by destroying his cellphone.
That does not make for a pretty picture. The idea of Brady as a cheater, liar and obstructor of justice goes against what we had come to believe about Brady, that he was not only handsome and dashing, but inspiring to underdogs everywhere.

As Brady's career winds down, and his legacy is debated, it's now time for another draft class to be scrutinized, and the two top picks are likely to be quarterbacks.

You might have heard of Jared Goff of California. You might not have heard of Carson Wentz of North Dakota State. They're probably going to go 1-2 in Thursday's first round of the draft. The Los Angeles Rams, with the first pick, and the Philadelphia Eagles, with the second, can only hope they know what they're doing.

The truth is, you never really know for sure what you're going to get.

And even when you find out what you've got, and he wins you Super Bowls and he has the best smile in the league and fans love him . . .

Something troubling happens, and you're not sure what you had all along, aside from all the victories.