The Anti-Trump: France's Macron lectures Europe (hint: migrants good, borders bad)
Higher taxes. An open-arms policy toward migrants from the Middle East and Africa. More centralized control over everyday life. Tougher restrictions on national sovereignty. Sound appealing?
These are the highlights of French President Emmanuel Macron's vision for Europe. He must not have heard about the results of Sunday's elections in Germany, where the right-wing, anti-immigrant Alternative for Germany became the country's third largest political party, or Britain's vote last year to leave the European Union altogether.
Speaking at the famed Sorbonne university in Paris, Macron, who's been in office only five months, was effectively trying to grab the title of Mr. Europe. If President Trump represents stronger national defense, tighter border control, lower taxes and made-in-America manufacturing, Macron is setting himself up as the polar opposite: we're all in this together, so let's give up our national heritages in favor of one European identity.
Macron's message sounds like a best-hits sound-mix by Al Gore, Barack Obama and George Soros.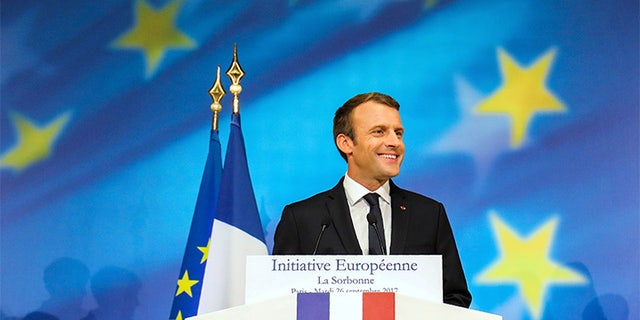 NEWYou can now listen to Fox News articles!
Macron's message sounds like a best-hits sound-mix by Al Gore, Barack Obama and George Soros. His top points: the arrival in Europe of millions of refugees from the Middle East and Africa is not a crisis, but an opportunity. Climate change must not be challenged, and can only be confronted with new taxes on carbon-based fuels. Another tax on financial transactions would be used to help economic development – in Africa.
When he spoke about the spate of terrorist attacks in Europe that have accompanied the surge of mostly-Muslim refugees, Macron suggested the best response is to tighten cooperation among European police, eventually abolishing national law enforcement in favor of a pan-European force. He made no mention of cutting the number of migrants, and in fact said, "This situation is going to be with us for a long time." That's encouraging.
Germany's pro-immigration chancellor Angela Merkel retained her position in Sunday's election, but was grievously weakened by the strong showing of the right wing AfD, as the Alternatives are called. Perhaps Macron sees a chance to usurp her role as the champion of a unified Europe. If so, he had better hope that Austria, which has national elections next month, and Catalonia, the region of Spain that is poised to vote for independence this weekend, can be persuaded by his charm.
Because his policies aren't going to cut it.