Sam Sorbo: The greatest Christmas gift I can think of? Not what you might expect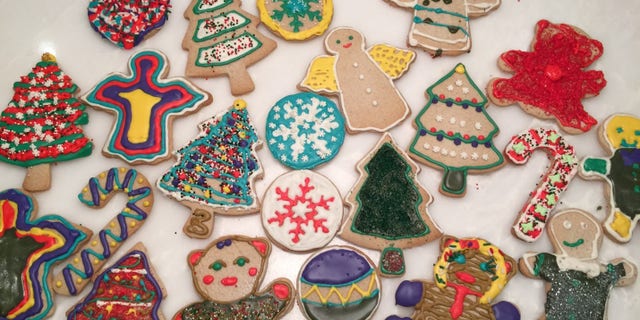 The most valuable thing you can give your kids is your time – and, of course, it's the thing you never seem to have enough of!
"Mommy, are we going to bake cookies this year?" my young daughter asked me innocently?
Wow, that would be a great idea. I love to bake, though I don't seem to do it as much as I'd like… something about getting older and carbs!
"That's a great idea!" I thought briefly about upcoming responsibilities, but quickly determined that this would need to be sandwiched in.
Christmas seems to always come at the busiest time of the year. When my daughter asked about doing this together, she couldn't possibly realize everything I had to accomplish in little time. But, if you can't find time to bake cookies at Christmas, when will you ever, right?
I craftily chose the most inspiring of recipes – sugar cookies to ice and stained-glass cookies. These two kinds invited all sorts of interpretations by little hands eager for some self-expression.
There is a delicious magic to baking. How is it that you mix together ingredients, both dry and wet, and when you roll the dough and place it in the oven, it emerges as something completely different than what you started with? Something delectable, to boot! Truthfully, that is partly what attracts me to baking, and when I can, I love to start the morning with a baking project. It's easy, yummy, and gives me a lovely sense of accomplishment. Plus, my family appreciates it, also.
There is a delicious magic to baking.
This one wonderful Christmas, seven years ago, I had all our necessary ingredients prepared on the counter, ready to go. Eager little hands reached out to measure, pour and mix. We all know that baking is scientific, mathematical and literary. The children needed to read, calculate, measure and combine, in the proper sequence. There is a powerful order, God's order, that is involved in this art.
They loved it. Sugar cookies require rolling pins and precision. They can't be too thin or too thick. Everyone had their chance to try rolling, cutting and moving their creations onto the baking sheets. For the stained-glass cookies they each got to pound the baggies with the hard candy in them, making the candy chips to fill the cookie cut-outs. Having never made these before, I was learning alongside my children. When Braeden, my oldest, wanted to try several different colors as a single pane of 'glass,' I was game to see what might happen. The baking process can inspire scientific experimentation.
We watched the cookies bake. We marveled as the candy melted into place, like glass. When the cookies cooled, we wondered at their beauty and basked in the glow of our triumph.
Then we moved on to the icing! Each child mixed up their own color of icing to share. They marveled at the drops of food coloring as they changed the white creamy paste to their desired color. They investigated blending different colors to make new shades. I prepared, with help, several icing bags with nozzles. We all got to work on our cookies.
The results were amazing! So many different colors and kinds of decorations! There were sprinkles, non-pareils, nuts and candies, and some of them even went directly onto the cookies. There was one particularly funky shade of green/brown, but it was the exact color my son said he wanted. I snapped a photo of all the cookies together, to safeguard the memory, before too many were eaten.
"Aw… my cookie broke! I guess I just have to eat it, now!"
Spending time with my children, exploring new experiences and sharing in creative endeavors, is my source of joy and the greatest gift I can think of. Christmas inspires these moments to cherish, a time to create memories that last. And new Christmases always bring these wonderful memories back.
This year, I asked my kids, "Want to bake and decorate some cookies this weekend?"
"Ooh, yes!" they responded. I'm predicting another opportunity for some fond memories.
Wishing all a creative, inspirational Christmas.