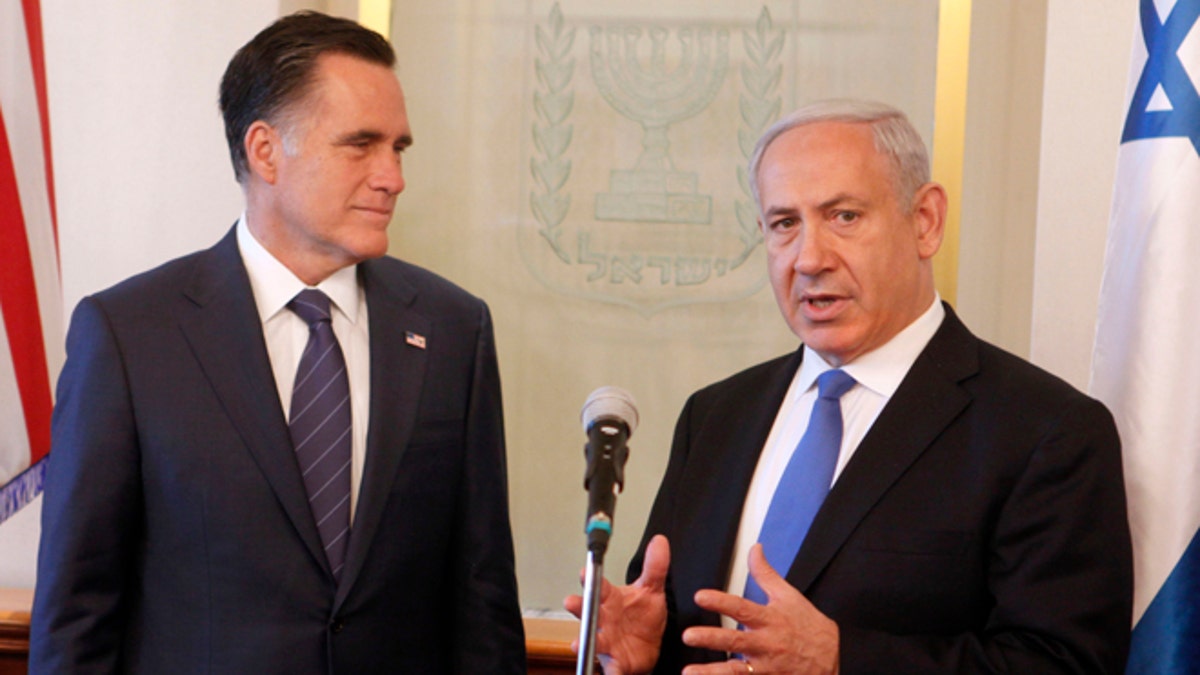 Imagine if The New York Times and other media outlets had sent their foreign affairs reporters on Gov. Mitt Romney's trip to England, Israel and Poland. Instead of sending political reporters who report on politics, the foreign affairs reporters might have given us serious reporting on the international issues raised when the Republican nominee for president traveled abroad.
While Romney was in Israel, for example, he proposed a U.S. policy fundamentally different from the one President Obama has given us. Most of the political reporters on the trip missed the significance of the announcement. The Obama administration has been unable to call Jerusalem the capital of Israel because the Palestinians want to claim it as their capital in a future state. Romney, however, clearly stated, "A nation has the capacity to choose its own capital city, and Jerusalem is Israel's capital. Our embassy would be in the capital."
The implications for Romney's proposal have serious financial and international consequences. Unfortunately, the political reporters either couldn't comprehend the announcement's importance or chose not to explore how the new official policy would affect the U.S., if implemented. Most every political reporter on the trip wrote a story on how they were not allowed entry into the fundraiser Romney was holding in a Jerusalem hotel. Like a high school nerd not being invited to the rich kids' party, Washington Post reporter Philip Rucker wrote a whole piece titled, "Romney bans media from Jerusalem fundraiser, violating pre-established protocol."
[pullquote]
Rucker later had to write a followup piece titled, "Romney opens Jerusalem fundraiser to press, reversing earlier decision." His coverage of Romney's trip was silly. A review of Rucker's writings on the Washington Post website did not show one stand-alone story on Romney's Jerusalem announcement, but several stories highlighting what he called trip "gaffes."
Most of the political reporters covering Romney's foreign travel also failed to critique or contrast the Obama administration's policies toward the countries Romney was traveling in. The Romney declaration on Jerusalem stood in stark contrast to current U.S. policy and the recent fumblings by Obama administration officials on the same subject.
In March 2012, Hillary Clinton's spokeswoman, Victoria Nuland, insisted that Israel didn't have a capital that she could name. Then just last week, White House spokesman Jay Carney struggled to publicly identify the capital of Israel. Uncomfortably, Carney ended up giving a series of repetitive sheepish statements: "You know our policy" and "Our policy hasn't changed." He couldn't say that Jerusalem is the capital of Israel, but instead clung to future status negotiations talking points. Even Bill Clinton called Jerusalem Israel's capital.
But Israel wasn't unique for the political reporters struggling to grasp the significance of the trip. While visiting Poland, Romney met with and received the endorsement of former Polish President Lech Walesa. Walesa was the leader of Solidarity, the anti-Soviet trade union that also became a Polish social movement. Walesa had struggled for years to help bring down Poland's Communist government and eventually presided over its transition to a new democracy as the president of his country from 1990-1995. Walesa surely knows what it's like to struggle as an opposition movement while hoping for outside support from benevolent democracies like the United States – much like the Syrian opposition is experiencing now. Walesa is quick to credit former U.S. presidents for their steady support in confronting communism in Eastern and Central Europe; Syrian and Iranian opposition forces cannot say the same of President Obama.
Walesa's endorsement of Romney was a direct assault at Obama's failure to stand with human rights activists around the world. With 7,500 people killed in Syria during President Obama's term, you would think reporters traveling in Poland would be interested in Walesa's expertise and how it relates to current U.S. policy – especially while traveling overseas. But political reporters like Ashley Parker of The New York Times consecutively ignored those weighty issues. Instead, Parker wrote stories on campaign donors' views, fundraisers and what she perceived to be political slipups. Parker, who seemed unable to grasp the serious foreign issues of the trip, is alleged to be the reporter caught screaming on the video of Romney in Warsaw's Pilsudski Square.
Had news outlets sent their State Department or United Nations reporters on Mitt Romney's trip abroad, the coverage would have been smarter and more informed than the petty political reporting the American public received from the ones who went on the trip. The next time a news outlet complains about the state of our political rhetoric or the uninformed U.S. voter , we should promptly point them to the video of Ashley Parker's raucous in a Polish cemetery or Philip Rucker's diatribes on party invitations.
Richard A. Grenell has served as the primary communications adviser for public officials at the local, state, federal and international levels, as well as for a Fortune 500 ranked health care company (DaVita, Inc.) with roughly $6 billion in revenues. Currently, Grenell is a partner with Capitol Media Partners.