Opinion: Without equal representation and access to opportunity, where is the American Dream?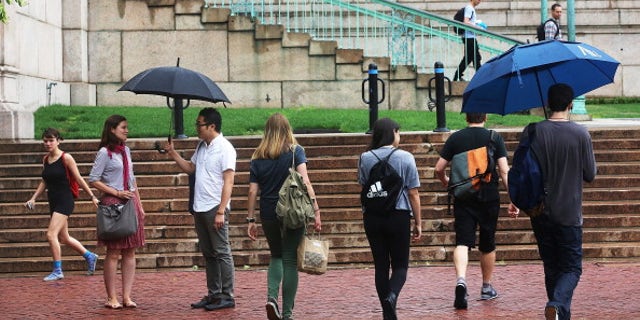 NEWYou can now listen to Fox News articles!
As a Latino American that was born in Boston and grew up in the Dominican Republic, I have learned the true value of education and access to opportunity. Yet, as a finance and economics student at the University of Massachusetts at Boston, I often witness the underrepresentation of Latinos in my classes and in the industry.
Notably, this gap is increasingly visible in some of business' most elite institutions. In fact, only 12 percent of the Spring 2015 graduating class from Cornell University's Johnson Graduate School of Management – one of the top business schools in the country – will be made up of underrepresented minorities. While this number shows some encouraging improvement in minority representation, it is still quite low. This statistic is just one indicator out of many that shows the tangible achievement gap that impacts Latinos.
"It is now on us to make sure that the American Dream can be achieved by all Americans. Equal representation and access to opportunity are fundamental to that dream."
However, our generation can help bridge this gap by helping to make quality education and career opportunities more readily available and accessible to underserved communities in the United States and students who do not have access to expensive career coaches or college career centers.
Access to opportunity is often afforded only to those most privileged.
Today, I write to share the news about an exciting new tool called CHCI NextOpp, from the Congressional Hispanic Caucus Institute (CHCI), a non-profit organization in Washington, D.C. that has a long history of awarding internships and fellowships to exceptional Hispanic scholars. I am proud to say that I am a 2012 CHCI Intern Alum, and the opportunity I got to see the inner workings of our nation's capital has been vital to my professional development. But now, CHCI has gone one step further in expanding access to resources that help even the playing field for Latinos looking for educational and career opportunities.
Over the last six years, through a partnership with State Farm, CHCI has been providing national directories of scholarships, internships and fellowships for Latino students. With this new, interactive tool, CHCI and State Farm have broadened the reach of the CHCI NextOpp so that students can search for opportunities online and get connected with the right scholarship, internship, or fellowship with just one click.
My experience at CHCI was invaluable. It not only provided critical skills and knowledge, but also reaffirmed my commitment to public service. That is why I volunteered for the Boston Earned Income Tax Credit Coalition, helping low and moderate income families prepare their taxes and help organize fundraisers, clothing and food drives for the homeless and families in need. I've also had the opportunity to participate in the third Harvard Latino Leadership Institute, a week-long leadership program that gathers promising students with a record of serving the Latino community from around the country.
After my CHCI internship, I joined the alumni association in Boston, where I learned about CHCI NextOpp. Through the database, I was able to find UCLA's Anderson School of Management Riordan Program. I decided to apply for the 2014 summer program and was accepted. The program gave me the opportunity to learn about important business networking skills, how to prepare for a career in the finance sector and make great connections and friendships. Without CHCI NextOpp, I would have missed out on this great opportunity.
While Latinos continue to gain ground in politics and business, it is tools like CHCI NextOpp that can truly help unlock students' potential by providing access to opportunities for professional and educational development. Platforms like CHCI NextOpp can also help create a more diverse workforce in America – a priority for many companies. In fact, according to a Forbes survey from 2011, 85 percent of surveyed companies (all with at least $500 million in annual revenue) agreed that diversity is crucial to creating a workplace culture conducive to innovation.
Since 1978, CHCI has been a trailblazer in creating a pipeline for the Latino leaders of tomorrow, enhancing our community's representation at all levels of government, the private sector and beyond. With NextOpp, CHCI and State Farm are now able to reach a wider audience of students, helping thousands of Latinos achieve their educational and career dreams and successfully guide them on the path to success.
As my generation increasingly continues to become a key part of the American workforce, it is now on us to make sure that the American Dream can be achieved by all Americans. Equal representation and access to opportunity are fundamental to that dream, and CHCI is working hard day in and day out to help us get there. And with NextOpp, it can all start with a click.