Opinion: Supreme Court should rule for working women in UPS case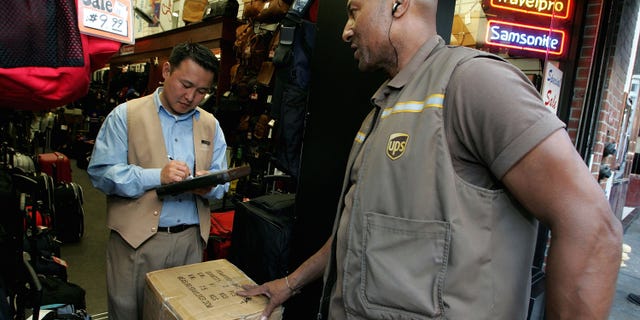 NEWYou can now listen to Fox News articles!
What if you had to choose between your family and your job? Peggy Young was working as a UPS driver, delivering packages, when she became pregnant in 2006. On her doctor's instructions, she gave her employers a note saying that she could not lift more than 20 lbs. for the first 20 weeks of her pregnancy. She asked to be temporarily placed in a "light work" position that did not require heavy lifting. UPS refused, forcing Young to take an unpaid leave. She sued, and last week the Supreme Court heard arguments in Young vs. UPS.
Here's hoping that the high court recognizes that pregnant women cannot be treated as second-class citizens. Existing law and basic fairness dictate that the Supreme Court should rule in Young's favor.
It is unfair to make pregnant women choose between their families and their job.  The Supreme Court should stand with working women and rule for Peggy Young.
UPS maintains that they are not discriminating against Young, noting that they offer accommodations to workers injured on the job, workers with disabilities, and those who lose their licenses because of a failed drug test or accident. UPS will actually make special arrangements for a driver with a DUI, just not for a pregnant woman. But under the 1978 Pregnancy Discrimination Act, employers are required to treat pregnant women the same way they would other employees "similar in their ability or inability to work." So Young should be offered the same kind of temporary accommodation that UPS provides to other employees.
When Young was placed on unpaid leave, she lost her income and her medical insurance at the time when she needed it most. That's why the outcome of this case is so critical. Consider that about half of U.S. workers are women, and that 75 percent will become pregnant during their working lives. Or that Latinas make up 41 percent of the Hispanic work force, according to the Department of Labor. Discrimination against pregnant women also hurts their families and children, and that is simply bad policy.
It is important to note that this case doesn't necessarily apply to all pregnant women. Many women can (and do) work through their entire pregnancies. Young is bringing her suit on behalf of women like herself who may need temporary relief from certain physical duties to safeguard their pregnancy.
Young's case has won support from legal scholars, women's organizations, and labor unions. In fact, both pro-life and pro-choice groups are in rare agreement that she should win her case. Twenty-three right-to-life organizations submitted a "friend of the court" brief in support of Young, as did progressive groups like the American Civil Liberties Union and the Women's Law Project. "Economic pressure is a significant factor in many women's decision to choose abortion over childbirth," the conservative groups wrote. "Protecting the ability to work can increase true freedom for women, promote the common good, and protect the most vulnerable among us." This is especially true for Latinas, who the Bureau of Labor Statistics reports are disproportionately represented among minimum wage workers – the group hit hardest by pregnancy discrimination claims.
The fact that we are still having a debate about protecting the wellbeing of pregnant women reflects poorly on us as a nation. The International Labor Organization has found that the laws of 84 countries, including Iran and Afghanistan, already provide pregnancy accommodation to women. In countries like Chile, South Africa, and Vietnam, a pregnant woman who transfers to lighter duties is guaranteed her same pay and benefits.
True, providing temporary work accommodation to pregnant women may be disruptive to UPS's business practices, or might run up costs. These arguments are undercut by the announcement that, effective January 1, UPS will offer pregnant women "light work" assignments, if needed. That makes it hard to argue that Young's position is unreasonable. Maybe UPS recognizes that they are on the wrong side of this issue; nine states have recently passed laws requiring companies to make accommodations for pregnant workers. In July, the federal Equal Employment Opportunity Commission updated its guidelines to ensure that women receive temporary accommodations during pregnancy. Yet UPS believes that providing pregnant women with temporary work accommodation should be a matter of corporate discretion, not law.
It is unfair to make pregnant women choose between their families and their job. The Supreme Court should stand with working women and rule for Peggy Young.