Memories of Muhammad Ali that I will never forget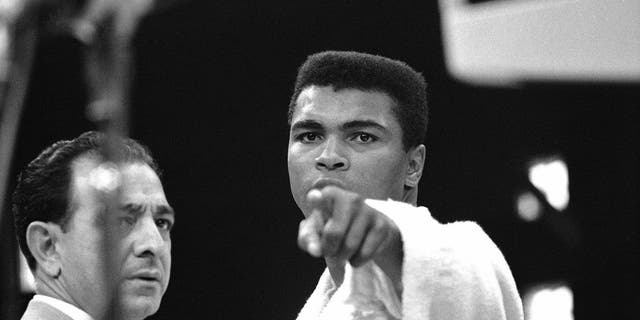 NEWYou can now listen to Fox News articles!
In March, 1973, I went down to the LaBaron Hotel to watch Muhammad Ali train for his first fight with Ken Norton, whom I had sparred with myself at the Hoover Street Gym in 1971 in Los Angeles.
I had brought with me several watercolor paintings and drawings of Ali that I had done over the years, none of which was in a frame.
I sat in the front row right below the ring in which Ali began to spar and shadow box.
At the end of the training session Ali came down from the ring and looked at my artwork. He immediately autographed each one without my even asking and proceeded to introduce me to everyone in the audience as the "greatest artist in the world."
I, of course, suspected he had only done that because my paintings and drawings were of him. However, he then invited me up to his hotel room and I was delighted to follow him there.
By now you must know that I was a great fan of Ali and read every newspaper article on him that I could get my hands on. I had watched every one of his fights from his first with Sonny Liston.
Something I hadn't anticipated then happened. We entered the elevator and immediately Ali became very quiet. And while he was very accommodating to my every question, his bombastic behavior ended as soon as we were away from the public.
We talked about his loss of his prime years for refusing to enter into the military, for which he held no animosity toward anyone.
We talked about his strong desire to get Joe Frazier back into the ring and that he would not waste rounds by playing as he had done in their first fight.
I submitted to Ali that his best fight was the one against Cleveland "Big Cat" Williams in Houston's Astrodome. I told Ali that no one would ever have beaten him that night. His reflexes were far superior to anyone who had come before him and certainly to anyone on the current scene.
When I mentioned to him how upset it made me to only be able to imagine what his true prime would have become had he not lost the best nearly four years of that prime, his response was a little surprising to me.
Muhammad said that he held no grudge against those who had stripped him of his heavyweight title and barred him from earning a living. He said to me "They are only doing what they think is right."
Prior to that moment I had respected Ali for his tremendous talent in the ring. However, upon hearing his comments about those who convicted him without a court hearing, I began to respect the man inside the boxer. I began to see just how great a man Ali was outside the ring; what a great man he was inside.
After Ali lost to Norton by two points, a split decision, having fought eleven rounds with the broken jaw he acquired by being hit while his mouth was open – talking to Norton, of course – I wanted to say goodbye to the Champ. Before leaving he asked me to paint a picture for him, which was a great honor beyond words.
Just as I was leaving I spoke with Angelo Dundee, Ali's longtime trainer, who invited me to the rematch, which he assured me would take place soon.
Then next time I saw Ali was in September of that year when he had rented the fourth floor of the newly built Marriott Hotel just outside of the Los Angeles airport. I had come to deliver his painting, along with a drawing I had done for Angelo.
Again, when at his room – and Angelo's – Ali was as quiet as a mouse. However, as soon as we went down the elevator things quickly changed.
The elevator doors opened to a huge crowd of waiting fans and the charm, wit, and vocally confident Ali emerged.
"All of you come see me whup Ken Norton. It will be no contest. I am 210 pounds and ready to dance all night."
When I asked Angelo why Ali felt he still needed to boast at this point, Ali turned to me and said, "The Forum is sold out."
The Master Showman again at his trade.
Beyond learning just how deep Ali's convictions were during those meetings, I was mostly amazed and touched by how kind and generous Ali was to me. He sincerely liked my artwork of him and genuinely wanted me to paint a picture for him that day in San Diego. He could have hired the best artist in the world to paint whatever he wanted, but he chose me.
In January, 1975, I signed up to spar with former Heavyweight Champion, George Foreman at the Main Street Gym in downtown Los Angeles. At the time George was not the jolly guy he is today. Two months earlier Ali had knocked him out in their title fight in Africa.
However, I found Foreman to also be a class act. He could have made outrageous claims and excuses for his loss to Ali. However, he showed his class by admitting Ali had simply roped a dope. And to this day George continues to praise Ali for what he represents not only as a champion, but for the man he has been.
The world will never forget Ali the Champ, Ali the Greatest. I will never forget Ali the inspiration, Ali the man.
Thanks for everything, Champ. God Bless You.
John Mancino lives in California.