I covered President George H.W. Bush as a White House reporter – he was gracious to everyone
For nearly four years, I covered the George H.W. Bush administration as a White House correspondent for the Chicago Tribune. Watching as the former president's flag-draped coffin was flown back to Washington for a final time Monday, I reflected again on what a kind, decent and generous man he was – and with an irreverent sense of humor to boot.
So many have written, and rightfully so, about President Bush's political challenges and accomplishments. I tend to remember the personal things, his day-to-day interactions with reporters that let the man shine through.
Like the time he had about 12 or 15 of us – who had flown to Kennebunkport, Maine with him – over to his family home for impromptu drinks and a chat. As I remember it, he went to the local liquor store and bought the wine himself.
As the president and first lady Barbara Bush led us around inside, I confess I spent a good portion of my time trying to memorize the numbers on all the phones (not one of which stayed with me when I left). The house was like the man – not ostentatious in any way, practical, with a big room for the grandchildren on the top floor and no glitz anywhere.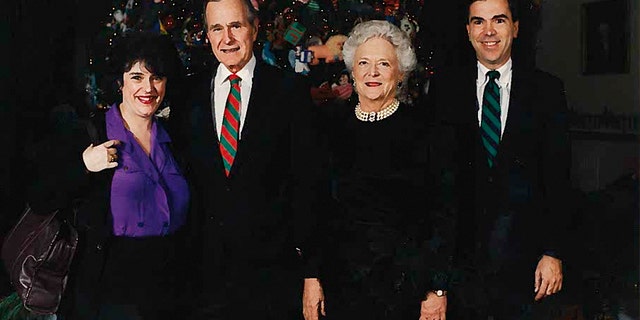 President Bush was a gracious host and we all talked, but not about anything earthshaking. I would be astonished if a day like that ever happened again.
Bush enjoyed every minute he spent in Kennebunkport. He loved to eat at an extremely informal lobster joint named Mabel's, could often be spotted zooming around in his beloved cigarette boat, and played golf so quickly we nicknamed it "aerobic golf."
If he hated the press in any way, I don't think we sensed it. No doubt he liked some reporters more than others, and would prefer not to have some things reported, but he was gracious to everyone, usually calling on us by our first names. Today's presidential anathema toward the media would have been unthinkable then.
In Washington, it was the same thing. At the annual Christmas party for the press, the Bushes would stand in front of a brightly decorated tree and link their arms with you and your guest (only one allowed) while a very professional photographer snapped a shot.
Journalists often took their spouse or a parent as a guest. I usually took my brother – and that photo instantly became a family treasure. If you were there with a parent, I feel certain the president had an extra minute for some chitchat with mom or dad.
Even Millie, the Bushes' beloved English springer spaniel, was part of that kinder, gentler time. I clearly remember being allowed out on the South Lawn to play with her puppies – and everyone had a rollicking good time.
President Bush was both a man and a symbol – of what civility was and what it brought to the table – with reporters and everyone else.