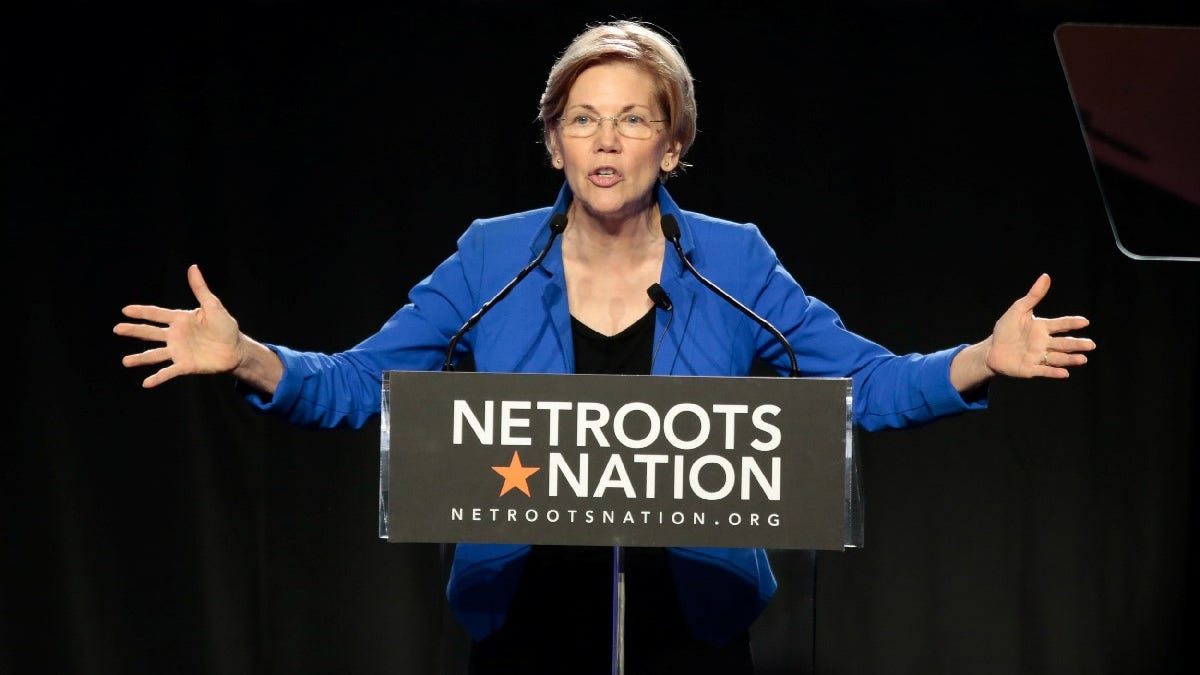 Light your Elizabeth Warren prayer candles, because the country will need your prayers as we travel together along the road to the 2020 presidential election and her inevitable candidacy.
It's hard to believe it has been only six months since Senate Majority Leader Mitch McConnell's infamous "Nevertheless, she persisted" remark that he used to remove a lengthy-speech-giving Senator Warren from the Senate floor. It's even harder to believe we'll be hearing this from every campus snowflake, pink hatted progressive, and the Senator herself for the next 28 months. I hope you bought more than one prayer candle.
Quite simply, Senator Warren isn't interested in a big tent party. I hope she takes advantage and starts selling litmus tests in her campaign store.
Beyond the sound bites and made-for-Twitter-outrage, what exactly is the Senator Elizabeth Warren brand?
In a recent article for Politico discussing the "Elizabeth Warren merchandising empire" -- empire! -- the co-founder of the Progressive Change Campaign Committee called her "the Apple of Politics."
Wow. THAT'S a brand. But what does it stand for? A recent speech Warren delivered to Netroots Nation, a progressive conference, is particularly illuminating.
Is it an inclusive brand? "[The] Democratic Party isn't going back to the days of welfare reform and the crime bill." Did she forget she endorsed and actively campaigned for a second Clinton administration?
"We're not going back to the days of being lukewarm on choice." Looks like the DCCC Chairman and religious Democrats are people without a party in Warren's world.
Quite simply, Senator Warren isn't interested in a big tent party. I hope she takes advantage and starts selling litmus tests in her campaign store.
Is it a principled brand? "We're almost two decades into the 21st century and we still don't have equal pay for equal work." The Senator failed to acknowledge Equal Pay Day this year after the Washington Free Beacon reported that in her office women earned just 71 cents for each dollar earned by men in 2016.
"We're not going back to the days when universal health care was something Democrats talked about on the campaign trail but were too chicken to fight for after they got elected." I wonder if she means when she was asked in 2012 if she supported single-payer and responded "no," citing the political toxicity.
Does the Senator accept returns for misleading products? Can I file a complaint with the Consumer Financial Protection Bureau?
Is it a unique brand? "The Republican agenda will make the powerful more powerful – and leave everyone else further behind. The Republican leadership is willing to threaten our health, our economy, and our basic safety." Republicans hate the poor, very original!
"And we're going to turn the minimum wage into a living wage. Fight for $15!" You could have heard the same thing from the parrot at the local union hall.
The answer to all of these questions is "no." Senator Warren is pushing the same bankrupt ideology peddled by the fire-breathing and pearl-clutching liberals who preceded her—she clearly is an expert in bankruptcy.
So, fellow Americans, send your prayers up because the Senator Warren brand isn't going away anytime soon.
As Massachusetts state GOP Chairwoman Kirsten Hughes said, "Perhaps Warren should focus less on selling silly slogans and more on delivering results for Massachusetts — otherwise, it would make more sense for her to sell 'inaction figures.'"
You can find those and other Warren merchandise in the failed political ideologies aisle, wedged in with the Che Guevara t-shirts and Bernie beer goggles.