Apprenticeships pave the way to the American dream
The restaurant industry is the second-largest private-sector employer in the country and America's training ground. One in three Americans got their first job experience in a restaurant and half of all adult Americans have worked in the restaurant industry at some time in their lives. With numbers like that, it should come as no surprise that 80 percent of restaurant owners say their first job in the restaurant industry was an entry-level position and 90 percent of restaurant managers started in entry-level positions. We are an industry that thrives on on-the-job training, upward mobility, and promotion from within. But we can't do it alone.
Thursday, President Trump announced an Executive Order that will expand opportunities for Americans to get on-the-job training through apprenticeship programs across industries, including the hospitality sector. In his announcement in the Roosevelt Room, the President touted the need to "create new apprenticeships" so people can "earn while they learn" – a sentiment the restaurant industry fully supports. Critics may say that apprenticeships aren't an effective way to close the skills gap – but in restaurants, we know they work, because we're already doing it.
These programs will help close the skills gap and reform ineffective education and job training.
These programs will help close the skills gap and reform ineffective education and job training. The Executive Order will streamline the administrative processes of the current program by shifting the certification from the Department of Labor to industry, which is well equipped to set standards since they know what their companies and workforces need. In addition, it will expand access to apprenticeship programs to high schools and other entities, and most importantly, will double funding for apprenticeship programs, providing even more opportunities for all Americans to find a fulfilling career.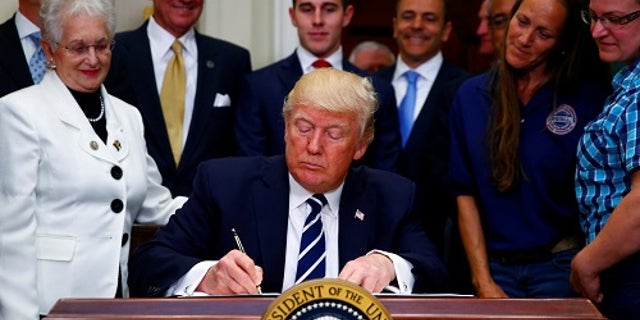 Imagine as part of working towards your college degree you were able to get a blend of classroom instructional time and practical work experience. This would ensure you have learned practical career skills while pursuing your education so you graduate with a blend of traditional learning and hands-on experience, making you a desirable candidate to all potential employers. Or, imagine one of your class periods in high school was devoted to training that prepares you for a management job in the restaurant industry. Some days you would be in a classroom learning about the business and receiving management training. Other days you would be in the restaurant, receiving on-the-job training from a current restaurant manager, allowing you to hone your skills well before graduation day.
Apprenticeships aren't just great for the apprentices who are learning these important skills – they are good for the businesses who offer apprenticeship programs as well. Studies show that companies involved in apprenticeship programs improve workforce recruitment, see reduced turnover and increase employee productivity.
The restaurant industry is already using apprenticeships to grow and train our workforce. Last year, the National Restaurant Association Educational Foundation was awarded a contract by the U.S. Department of Labor to create the first ever federally registered hospitality sector apprenticeship program. Together with the American Hotel and Lodging Association (AHLA), the NRAEF launched the Hospitality Sector Registered Apprenticeship project. Through this project, we will identify at least 450 apprentices in the restaurant, foodservice and hospitality industry, and put them on a defined pathway to management-level positions through on-the-job paid training and standardized instruction.
We need more programs like this in more industries to have the positive impact we need to grow our domestic workforce and ensure our children and grandchildren are truly prepared for the job market. The president's Executive Order does exactly that, and the restaurant industry looks forward to working with the administration and others in Washington on this important issue in the future.