Anita McBride: Barbara Bush led a joyous life filled with love and laughs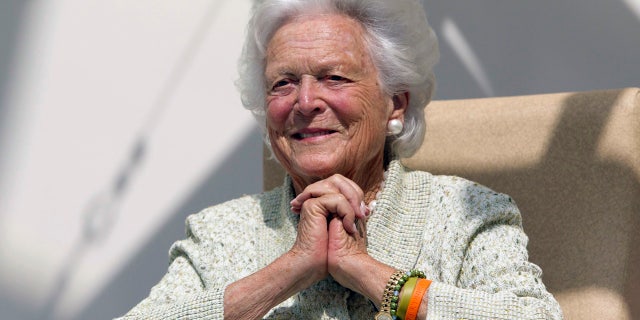 When Barbara Bush shared a draft of her memoir with her editor, she was told she was only allowed to use the words wonderful once a page, and precious once a chapter. The term close friends was also added to the list for limited use. How was it possible that someone could have so many close friends?
Barbara Bush led a joyous life filled with the love of a precious family, the treasure of wonderful, close friends, a deep faith, and innumerable adventures and travels that took her all over our country and around the world. Her life is also defined by her example of committing to "causes larger than yourself." Among the many causes she chose was literacy because she "believed that if more people could read, write and comprehend we would be that much closer to solving so many problems plaguing our society."
She believed life's choices must bring one joy. To her, her most important decision was to marry George H.W. Bush. She loved that he made her laugh – even through the tears. Their love affair has lasted 73 years – the longest presidential marriage in U.S. history. As a wife, mother, grandmother, great grandmother – she was devoted to her family and as her son George W. Bush said, "she taught us how to live, love, and laugh.
Over the last several days, former colleagues from the White House years have been reminiscing about the lessons we all learned from Barbara Bush, too. One referred to her as a "mother to all of us"; another was reminded when, after days of him being on the 1988 campaign trail wrangling the press by having to kneel on pavement, Mrs. Bush looked at him at the end of that trip with a wry smile said it was "time to get your suit cleaned" while on a three-day break from travels.
Her former East Wing projects director tells the story that in her first days as first lady, Barbara Bush told her staff "that each day we should do something to help others." Barbara Bush didn't want to waste the great opportunity before her. Every event she did highlighted a need, helped encourage volunteerism, or focused on literacy. As longtime friend and White House aide Andy Card said, "she motivated all of us to be better people."
When my son was about to graduate high school two years ago and looking at colleges she offered him this invaluable advice over lunch: "shoot high, don't use drugs, and don't lie." The latter, she said, ruined Richard Nixon's reputation and hurt the presidency.
Her interest in motivating us extended to our families. She was particularly interested in our love life, celebrated our marriages and the arrival of children. When I began seriously dating President Bush's former personal aide they were interested to see us together. They loved him and I wanted to make a good impression. The opportunity came in the form of an invitation to the State Dinner for the President of Brazil. Talk about no pressure. When we got engaged she wanted to see the ring. After we got married she invited us to a movie in the White House Theater. I don't remember the movie but I will never forget that evening.
Reading the many notes she wrote to my husband and me over the years and looking through the photos we have with her and President Bush has provided solace and many laughs. Several of those photos are ones she took with her own little camera that she carried everywhere, later printing them out, adding a caption and sending them as keepsakes for the kids' scrapbooks. When my son was about to graduate high school two years ago and looking at colleges she offered him this invaluable advice over lunch: "shoot high, don't use drugs, and don't lie." The latter, she said, ruined Richard Nixon's reputation and hurt the presidency.
One event all of us on the White House staff – especially the young women – remember is when Mrs. Bush was invited to deliver the 1990 commencement address at Wellesley College. Students protested her selection because they felt Mrs. Bush had gained recognition through the achievements of her husband and not through her own merit. That Wellesley flap took on a life of its own. The networks carried the speech live and I watched it in my White House office. The build up added so much pressure but Mrs. Bush was confident with her speech and the lessons she wanted to share with the students. She started by responding to the backlash with her characteristic humor and wit. "I know your first choice for today was Alice Walker, known for The Color Purple, instead you got me, known for the color of my hair." Laughter was exactly what was needed to cut through all that tension.
Two months before the Wellesley commencement, the White House announced that Soviet General Secretary Mikhail Gorbachev and his wife Raisa would be making a visit to Washington. The date presented a conflict with the graduation. In a deft diplomatic move, Mrs. Bush quietly invited Mrs. Gorbachev to accompany her and suggested that she, too, address the graduates. After nearly two months Mrs. Gorbachev finally responded. When it was announced, the press speculated that Mrs. Gorbachev had been invited so that Mrs. Bush "could hide behind her skirts." The reality was Mrs. Bush believed that this was an opportunity for Mrs. Gorbachev, a Soviet university professor, to give her first speech in the U.S. at an American college campus and tell the graduates about women in her country.
Barbara Bush fully appreciated that Wellesley had impressed upon these young women the importance of dedication and hard work to their career. She reminded them, though, they are human beings first and the most important investments they will make are the human connections. She went on to tell them that at the end of their life, one thing they will never regret was "time not spent with a spouse, a friend, a child, a parent."
Barbara Bush has deeply enriched the lives of her precious family, her many wonderful close friends, and the life of our country with wise counsel, a comforting word, humor, her characteristic candor and, yes, her tears and hugs. One of the treasured notes I have from her is a thank you for inviting her to participate in several of American University's Legacies of America's First Ladies conferences. She was so humble about her own contributions and especially loved sharing the stage with her daughter-in-law Laura Bush. They hold a unique place in history having lived through each other's experience as First Lady of the United States. I am so grateful to have have had a front row seat having worked for both of them and their husbands.
Our country has lost one of its great citizens and we will miss her. The sadness we feel is enlivened by the words statesman Adlai Stevenson used during his eulogy at the United Nations in honor of another great first lady – Eleanor Roosevelt – "she would rather light candles than curse the darkness and her glow had warmed the world. " Rest in peace, Mrs. Bush.