11 great gift ideas from free to not too much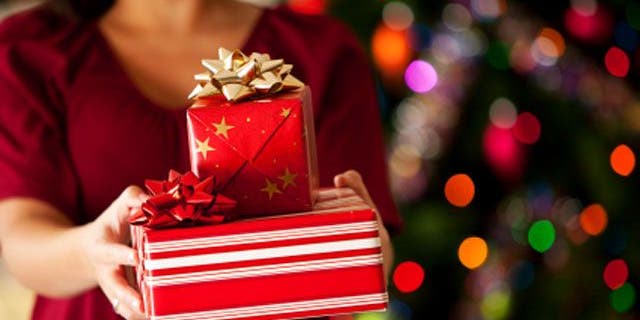 There is a little sunshine peeking out from the economic gloom of the past year: The U.S. personal savings rate has gone up while our personal consumer debt has gone down. While that can hardly be considered a bad thing, it is the result of a deepening recession, a weakening economy and persistent unemployment.
On that happy note, let's talk about Christmas. It's going to be a lot harder to part with cash and even more difficult—if not impossible—to rely on credit. To that I say, rejoice! Getting creative with what you have could easily make this your best Christmas ever.
So, how much money do you have to spend? Be honest, and write it down. Divide by the number of people on your list. There, you have a budget. Now you need a plan. There are so many ways to cut the cost of gift-giving, without sacrificing the joy.
Gifts that are (almost) free
Even if you'll be cash-poor this holiday season, that does not mean you cannot give gifts to friends, family and co-workers without going into debt. What it means is that you need to get creative. Here are some ideas to get your creative juices flowing:

1. Give what you do. A gift from the heart is a gift of time and talent. What do you do well? Cook, clean, babysit, garden, sew, drive, shop? Whatever it is, create a unique gift certificate and make what you do the gift that you give. A weekend of babysitting, a day of housecleaning, six hours of errand running—you get the idea. Follow up within just a few days to set the exact time your certificate will be redeemed. Your recipient may be too embarrassed to remind you to make good on the gift.
2. A treasure. Years ago my mother-in-law wrapped up the beautiful crystal water pitcher she received as a wedding gift. She knew how much I loved it, so she gave it to me for Christmas. For many years she enjoyed the pleasure of me owning it. That was a special gift that cost her nothing, but means the world to me. The only rule here is that you only give a treasure to someone who has expressed a true fondness for it. Otherwise, you'll both be disappointed.
3. Play dough. Here's a gift you can make from stuff you have already for all the young kids on your list. Combine 2 cups all-purpose flour, 1 cup salt, 2 tablespoons Cream of Tartar and 2 packages unsweetened flavored drink mix like Kool-Aid, in an appropriate container that has a lid. Seal, decorate and attach this tag:
Microwave Play Dough: Pour contents into a large microwavable bowl. Add 2 cups water and 2 tablespoons baby oil, mix well and microwave on high for 4 minutes, stopping every 30 seconds to stir. Stir until a ball forms, leaving in microwave to complete the 4 minutes. Cool. Play. Store in an air-tight container in the refrigerator. Caution: It smells good enough to eat, but please don't!
4. Organize a swap. This is particularly fabulous if you and your circle of friends have small children. Everyone gathers up toys that are in excellent condition that their kids have outgrown or grown tired of. Clean and sanitize them well. Now, without the kids present, get together and trade. The kids will be none the wiser and thrilled with all their new toys. Imagine all the ways you can adapt a swap like this.
5. Favorites that don't cost a lot
Anyone can make Christmas gifts that require only some assembly, no particular artistic skill or talent. Here are some of my biggest hits over the years that cost about $5 per gift, or less.
6. Home roasted coffee beans. It's so simple, yet hardly anyone thinks to roast their own coffee beans. Simply purchase green beans online or locally, then follow the instructions to roast them in the oven, in a popcorn popper or on an outdoor stovetop. Beans vary in price, but start at about $5 per pound. Home roasted gourmet coffee makes a fabulous gift, packaged in any kind of container and labeled as your signature blend. Resources for beans and instructions can be found online at SweetMarias.com.
7. Blooming bulbs. Forcing flower bulbs to bloom in winter couldn't be easier, and they make a wonderful gift. Paperwhite narcissus are about the easiest to grow. You'll need a glass jar vase or bowl without drainage holes, rocks, marbles or sea glass. What a perfect gift for co-workers, teachers and service providers. Depending on your choice of container, a complete gift should cost no more than $5. Find instructions with detailed pictures when you type "paperwhite" in the search bar at ContainerGardening.about.com. Find bulbs at your local nursery, garden center or online at Amazon.com in Home & Garden.
8. Signature lotion. Your own signature body and hand lotion will definitely put you on the map. Pour the following items into a large bowl: one tube any Bath & Body Works Body Cream (get it on sale for about $6), one jar Vitamin E Cream, one tube Creamy Vaseline, one large bottle baby lotion, one large bottle of any hand lotion like Jergens. Whip together until blended. Divide among your choice of small containers or jars. LeAnn Sullivan, Idaho, buys all of these ingredients for about $17.50, which makes six generous gifts—at a cost of about $2.90 each.
9. Journal in a jar. Or a box or another container of your choice. The idea is to give everything a person needs to write the story of their life including appropriate questions such as: Why was your name chosen for you? What was happening in the world when you were born? What was your favorite hiding place as a child? Include a blank notebook or journal, a nice pen and markers or crayons if this is for a child. Click here for hundreds of questions you can print out to include with your gift, for all ages from 5 to 105.
10. Recipe book. Create a recipe booklet containing a collection of your favorite holiday recipes and then include a small assortment of samples. What a nice way to pass on your culinary traditions to your friends and family.
11. Family Calendar. Create a calendar that includes your family's important dates like birthdays and anniversaries. Include family pictures, then make a copy for each person or family. Websites like BigHugeLabs.com have tools and templates you can use to create all kinds of wonderful things.
Memories to Last a Lifetime
What would you do this holiday season if you had absolutely no money to spend and no available credit, either?
That's the question I've been asking recently and the responses have been all over the map from all-out panic to excitement at the thought of taking on such a challenge.
I'm not suggesting this should be the case for anyone. I'm simply posing the question in the same way I might ask what you would do if you noticed your kitchen on fire or your child choking on a chicken bone. Knowing to call 911 is good, but so is having a fully-charged fire extinguisher handy and a working knowledge of the Heimlich maneuver.
So, let me ask you, could you do it? Could you find ways to celebrate Christmas that would fill your heart with joy and create warm and lasting memories, even if you had no money and no credit?
You know, when you come right down to it, isn't that what we really want for Christmas? Isn't that why we work so hard and often spend so much—to find joy and make memories that will last for a lifetime?
Based on the many positive responses to my question, I have no doubt that we can discover what our hearts long for most, without overspending and without going into debt. What's required is a willingness to think creatively and courage to put a freeze on the credit cards.
Traditions we have. Christmas rituals are like anchors in our lives. Doing the same things together, year after year, assures us that even in a changing world, some things never change.
I love the story of one of our DPL families, a story that I tell often when I address audiences on how to debt-proof their holidays.
Every year since the kids were little, this family has made the same trek every night the week before Christmas. They drive around after dark, searching for beautiful light displays in their area.
On Christmas Eve, the family votes to determine their favorite light display and award the winner with their family's "Annual Best in Lights Award." In their final act, they deliver homemade cookies to the lucky winners, who I'm sure are as surprised as they are delighted to learn that such an award exists. It's become a tradition—a family ritual that goes on year after year.
Things we make. Whether it's something from your kitchen, your craft room, woodworking shop or computer, there's just nothing like a homemade gift. A tree ornament, plate of cookies, box of fudge, note cards—these are just some of the kinds of homemade gifts with universal appeal.
What we do best. A "gift from the heart" is the gift of time and talent. What do you do well??Cook, clean, babysit, garden, sew, drive, shop? Whatever that is, create a unique gift certificate for a weekend of babysitting, a day of housecleaning, six hours of errand running—you get the idea. Hint: Follow up within just a few days to set the exact time your certificate will be redeemed. Your recipient may be too embarrassed to remind you to make good on the gift.
Our passions. Do you want your gift to say how much you care? Then find a way to show you care about what matters most to that person. Is he passionate about medical research? Become a bone marrow donor. Is she an environmentalist? Donate to an organization that reforests and plant a tree in her name. Do something this person will find meaningful and do it in their honor. Then, wrap it up as your gift to them.
Our hearts. Worried that your gifts—homemade or otherwise—are too cheap or not just exactly right? All of your doubts will vanish when you write a short note that you attach to each of your gifts. Tell your recipient what he or she means to you and the value they bring to your life.
The best gift is one that delivers a message of love and joy that remains with the recipient long after the gift has been consumed, used or put away.
The best times are the ones that linger on in our memories—the things that neither money nor credit can buy.