Private investigator 'can't tell' if Buster Murdaugh is being sincere after remarks on Stephen Smith's death
Authorities initially said Smith died following a hit-and-run accident
A private investigator is calling out Buster Murdaugh's statement denouncing rumors of his involvement in the death of his former classmate Stephen Smith.
In 2015, authorities said 19-year-old Smith died following a hit-and-run accident near the Murdaugh residence. The cold case was reopened amid the investigation into the murders of Buster's mother and brother by his father Alex Murdaugh. Buster Murdaugh made a statement calling out rumors he was involved in Smith's death.
"I've tried my best to ignore the vicious rumors about my involvement in Stephen Smith's tragic death that continue to be published in the media as I grieve over the brutal murders of my mother and brother," he said, "These baseless rumors of my involvement with Stephen and his death are false. I unequivocally deny any involvement in his death. My heart goes out to the Smith family."
Private investigator Steven Peterson told "The Story" he "can't tell" if Buster is being sincere or honest.
ALEX MURDAUGH SNAPCHAT VIDEO 'SEALED HIS FATE,' SOUTH CAROLINA AG SAYS
"I wish his heart went out to the Smith family a couple of years ago when I first got involved and tried to interview Buster and I was told by the law firm that they were not submitting to any interviews," Peterson told Fox News.
"They weren't talking to anybody. So, we could have eliminated all that, at least in 2021, but leading up to that, you figure Stephen was found dead in 2015 and no one ever interviewed Buster. So, I don't understand that either."
Peterson explained that a week after the murders of Maggie and Paul Murdaugh were discovered, the state law enforcement division (SLED) announced they would reopen the Smith investigation based on "information gleaned from the scene."
"Nobody's been able to talk about what that new information was, what that evidence might be," he said. "So, working with SLED, initially, we started looking at various theories. At the time, Stephen had been dead already five years. So, it was already a cold case."
"We began investigating various theories on what happened to Stephen, what could have happened, who might have been involved and we basically came down with two potential scenarios of what happened to Stephen. Scenario A involves possibly the involvement of the Murdaughs and Theory B didn't involve the Murdaughs at all unless they were possibly involved on the latter end, maybe in a cover-up, but we never quite got that far."
CLICK HERE TO GET THE FOX NEWS APP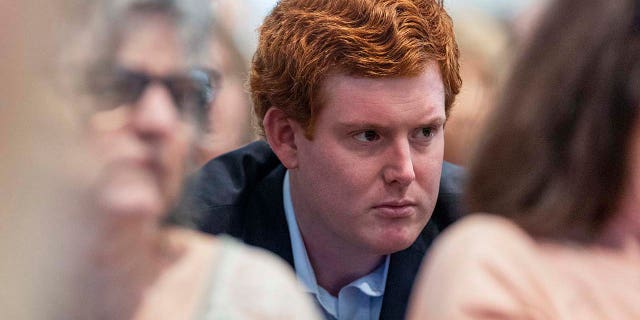 Smith family attorney Eric Bland said Buster has "nothing to do" with the investigation into his death, according to a previous Fox News report.
"Buster is a victim," Bland said at a Monday press conference. "He lost a mother, a brother, and now his father is in jail. Buster, as we know, has nothing to do with this and whatever is mentioned in the records, that's what investigators are going to look at, but we have no knowledge at all about Buster or the Murdaughs having anything to do with this right now. We're starting with a fresh set of eyes."
Fox News' Audrey Conklin contributed to this report.