Matt Lauer, NBC's 'toxic culture' loom over MSNBC's Democratic debate
Four prominent 2020 Democratic hopefuls have called on Comcast to "prevent future harassment and abuse at NBC and MSNBC" ahead of MSNBC's Democratic debate on Wednesday — but critics don't think any changes are likely at the disgraced Peacock Network.
Cory Booker, Kamala Harris, Bernie Sanders and Elizabeth Warren signed a letter on Tuesday urging the Democratic National Committee to hold NBC accountable for its "toxic culture" after a series of sexual harassment scandals related to Harvey Weinstein and Matt Lauer. But the harshly worded letter didn't suggest any real consequences if NBC continues to ignore calls for an outside investigation.
NBC MUST CLEAN UP 'TOXIC CULTURE,' 2020 DEMOCRATIC CANDIDATES DEMAND AHEAD OF MSNBC PRESIDENTIAL DEBATE
Linda Vester, an ex-NBC correspondent and former Fox News anchor who has emerged as a #MeToo advocate after accusing NBC News legend Tom Brokaw of sexual misconduct (a claim he denies), thinks the candidates could do more if they truly wanted to make an impact.
"The best way these Democratic candidates can stand up for women voters is to tell NBC they will withdraw from tonight's debate unless the company announces an independent, external investigation of the many allegations of sexual misconduct," Vester told Fox News.
None of the four candidates who signed the letter responded when asked by Fox News if they were prepared to skip the debate should the requested action not be taken. NBC News did not respond when asked for comment.
"The next best option is to bring up the subject during the debate itself, and insist to the moderators that they want to see a proper investigation of NBC," Vester said.
NBC NEWS REPORTEDLY RENEWS NOAH OPPENHEIM'S CONTRACT, DRAWING OUTRAGE: 'STATUS QUO HAS BEEN BLESSED'
After the Weinstein and Lauer bombshells were reported in 2017, NBC News chairman Andy Lack and his top deputy, Noah Oppenheim, refused to hire an outside investigator to determine who knew about Lauer's alleged sexual misconduct and whether NBC executives looked the other way. NBC relied on in-house general counsel Kim Harris despite widespread calls for an outside law firm to conduct the review. She declared that management was completely oblivious.
Ronan Farrow's book "Catch and Kill" details why he thinks NBC refused to expose Weinstein — including allegations that the disgraced movie mogul leveraged the knowledge of Lauer's own misconduct. UltraViolet, a leading national women's organization that has led protests outside NBC's New York City headquarters as a result of Farrow's reporting, also helped organize the letter signed by Booker, Harris, Sanders and Warren.
A rep for UltraViolet told Fox News that all candidates attending MSNBC's debate were invited to sign the letter, but only Booker, Harris, Warren and Sanders agreed. The other candidates have not responded to Fox News' request for comment as to why they did not join the other candidates.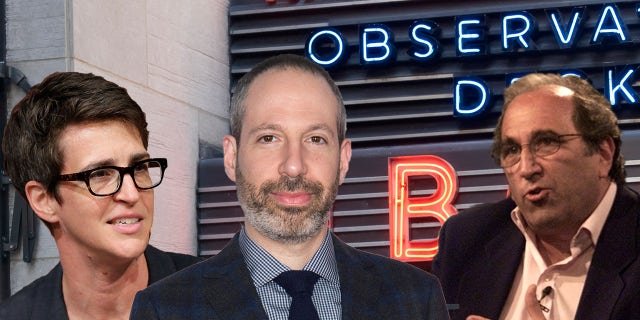 "We, the undersigned candidates, are very concerned about the message it would send to sexual assault survivors if our next debate is sponsored by MSNBC without clear commitments from Comcast, the parent company of NBC and MSNBC, to conduct an independent investigation into the toxic culture that enabled abusers and silenced survivors," the letter begins.
NBC KILLED MY SEX ASSAULT STORY AFTER FARROW'S WEINSTEIN PIECE, AUTHOR CLAIMS
"There is clearly something wrong with a work environment reluctant to hold management accountable," the letter said. "That's what allowed the behavior of powerful abusers inside the company to go unchecked. The troubling reports about management's role to cover up abuse demonstrate that Comcast should have and needs to do more to shift the work culture and pursue significant structural changes in order to prevent future harassment and abuse at NBC and MSNBC. Until that happens, employees are at risk."
Author and activist Sil Lai Abrams, who has said NBC shut down rape and sexual assault allegations she made against hip hop mogul Russell Simmons and "Extra" co-host A.J. Calloway, told Fox News that the letter is "a step in the right direction" but will probably fall on deaf ears.
"Unfortunately, NBC Universal has shown that they are uninterested in an independent investigation. My guess is that they already know the answers to the question of how the network has such a long and sustained culture of misogyny. To clean it up would require it to remove Andy Lack and Noah Oppenheim," Abrams said.
MADDOW CELEBRATES NYT REPORTERS WHO EXPOSED WEINSTEIN SCANDAL, IGNORES HOW NBC SPIKED SAME STORY
"In my opinion, choosing to host the debate with an all-women group of moderators is another way for the network to deflect attention away from the rampant misogyny and lack of journalistic integrity by senior executives within the organization," she added, referring to Rachel Maddow, Kristen Welker, Ashley Parker and Andrea Mitchell.
"They are virtue signaling a progressive stance on women, when everyone knows the network is just another toxic all-boys club," Abrams said. "They're doing a disservice not only to current and past employees, but also to the survivors of sexual violence they silenced at Lack and Oppenheim's behest."
CLICK HERE TO GET THE FOX NEWS APP
Maddow has admitted on air that the lack of action has caused "consternation" both inside and outside of the network and that accusations NBC News leadership "may have been complicit in some way" in shielding sexual predators are "very, very hard to stomach."
But an NBC insider familiar with Maddow's relationship to MSNBC president Phil Griffin told Fox News it's "highly unlikely" she would ruffle corporate feathers on the debate stage.
A second NBC insider told Fox News that the high-paid Maddow wouldn't risk her eigh-figure salary by standing up to "the widely known sexism, harassment and general moral failings by NBC News executives" during the debate.
"It may take more courage than she has to speak out during the debate," the insider told Fox News.