Lia Thomas exposed 'male genitalia' in women's locker room after meet, Riley Gaines says: Dropped 'his pants'
Gaines is calling on the NCAA to establish separate locker rooms for trangender athletes participating in female sports
Women's sports advocate Riley Gaines is calling on the NCAA to establish separate locker rooms for transgender athletes competing in female sports after she and her teammates were forced to undress in front of University of Pennsylvania swimmer Lia Thomas after a meet last year.
In an interview on "America Reports" Wednesday, the 12-time All-American and five-time SEC champion urged the National Collegiate Athletic Association to make separate locker rooms for transgender athletes, recounting her own discomfort when she was exposed to Thomas' "male genitalia" in a women's locker room after a meet.
"We were not forewarned beforehand that we would be sharing a locker room with Lia. We did not give our consent, they did not ask for our consent, but in that locker room we turned around, and there's a 6'4" biological man dropping his pants and watching us undress, and we were exposed to male genitalia," Gaines said.
Thomas had reportedly started the process of hormone replacement therapy at the time but hadn't undergone surgery.
OPINION: I AM A 12X NCAA ALL-AMERICAN SWIMMER. FEMALE ATHLETES SHOULD COMPETE ON THE BASIS OF SEX, NOT GENDER
"That to me was worse than the competition piece," Gaines said. "Not even probably a year, two years ago, this would have been considered some form of sexual assault, voyeurism. But now not even are they just allowing it to happen, it's almost as if these large organizations are encouraging it to happen.
Gaines, who attended President Biden's State of the Union on Tuesday as a guest of Rep. Lisa McClain, R-Mich., has been at forefront of ensuring female athletes have an equal opportunity to perform in women's sports after she was given no choice but to compete against Thomas, a biological male, in a national swimming competition where the two tied for fifth place. The match sparked ongoing debate over transgender females' eligibility, with critics citing unfair physical advantages like height, muscle mass and heart and lung size.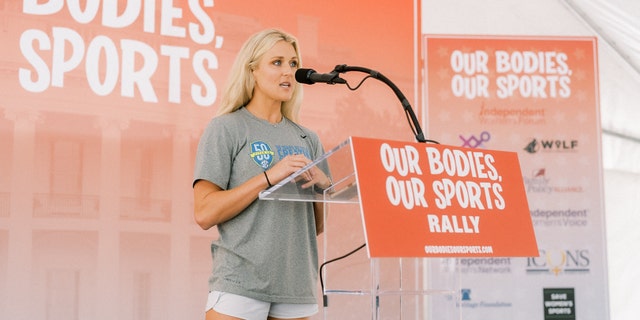 As a spokeswoman for the Independent Women's Forum, Gaines said the NCAA not only fails to protect the integrity of women's sports, but it has become a champion of transgender female athletes in recent years.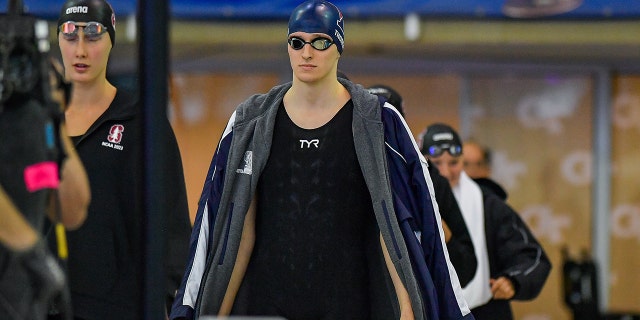 TRANS ACTIVIST WHO INTERVIEWED BIDEN HAS A 'FETISH,' DEMEANS WOMEN ONLINE: RILEY GAINES
"Of course, after NCAA championships, the NCAA then nominated Thomas for NCAA Woman of the Year, so we [they] are celebrating this movement. This is not something that happened by chance on a one-off basis," she said. "They are encouraging [biological] men to compete in women's sports."
Gaines also faulted the White House for promoting "gender ideology propaganda," accusing the administration of pushing for more female-identifying men to compete in women's sports across the country.
"Honestly, you have all these people all the time tell me how courageous it is to speak to this and how brave I am, but truthfully does it make someone brave to just acknowledge women deserve equal opportunities?" she asked Fox News host John Roberts. "That's how far we have come as a society and within our culture."
After graduating from the University of Kentucky, Gaines planned on pursuing a career in dentistry. But as the White House and others encourage the participation of transgender athletes in women's sports, the 22-year-old said she has put her dental school ambitions on hold to advocate for female athletes who are afraid to speak out.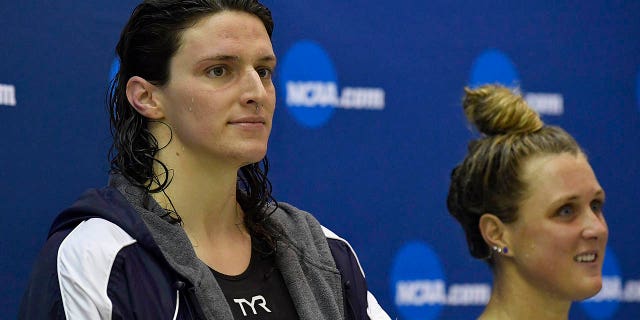 GET THE FOX NEWS APP BY CLICKING HERE
"People are terrified, especially speaking from my experience of talking to other NCAA swimmers specifically. Lia Thomas's teammates even. They are told their school has made their stance for them. They are told if they feel uncomfortable seeing male genitalia in the locker room, they should seek counseling resources. They're told they will never get into grad school if they speak out," Gaines said.
"All of these terrible, awful things that are not true. They are told, of course, that they will be called a bigot and hateful and transphobic, but it doesn't make you any of those things to acknowledge that there are two sexes, you cannot change your sex and women deserve opportunities."
Fox News' Kristen Altus contributed to this report.