Press secretary Karine Jean-Pierre said she misheard a question during Monday's White House press briefing that resulted in viral criticism from all sides after she appeared to downplay a rise in antisemitism and quickly pivoted to condemning anti-Muslim attacks.
"I appreciate the chance to address this. Yes, I did mishear the question. As I have footstomped many times from the podium and on the air, antisemitism is an abomination that this President has fought against his entire life; and I feel strongly about that work," Jean-Pierre told Fox News Digital via email.
"That's why, in the briefing room, I have blasted the repulsive increase in antisemitic rhetoric, conspiracy theories, and hate crimes in our nation, calling out that, tragically, this is a rising threat," Jean-Pierre continued. "And it's a threat the President is taking concrete action every day to fight."
The ordeal began when Jean-Pierre was asked about President Biden's "level of concern" about antisemitism, which has bubbled up across America since Hamas terrorists invaded Israel on Oct. 7.
ADL LEADER SAYS 'SQUAD' HAVE 'MARGINALIZED THEMSELVES,' LOST INFLUENCE WITH RADICAL POSITIONS ON ISRAEL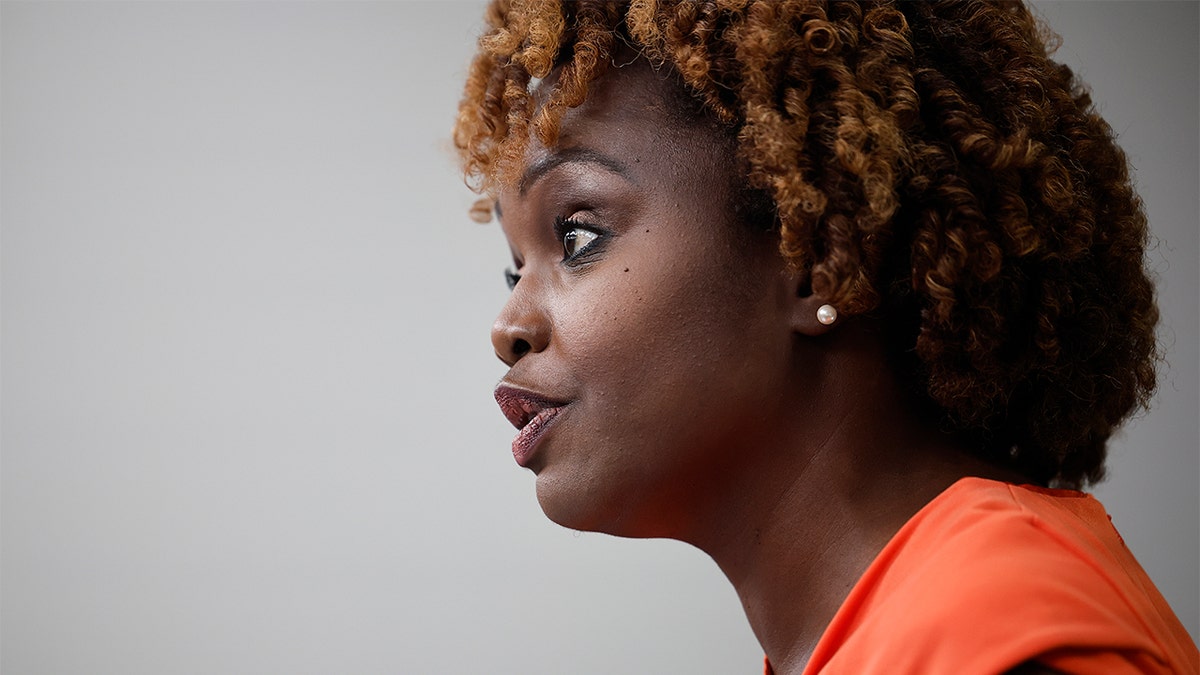 "We have not seen any credible threats, I know there's always questions about credible threats, and so I just want to make sure that's out there. But look, Muslim and those perceived to be Muslim have endured a disproportionate number of hate-fueled attacks, and certainly President Biden understands that many of our Muslim, Arab, Arab-American and Palestinian-American loved ones and neighbors are worried about the hate being directed at their communities and that is something you heard the president speak to in his address just last Thursday," Jean-Pierre responded.
Anti-Defamation League CEO Jonathan Greenblatt posted on X that he had "no clue" what Jean-Pierre was trying to say.
"Of course, all hate crimes are bad, but the question was about antisemitism. @ADL has tracked a massive increase in antisemitic incidents in the past 2 weeks - on top of the historic levels of anti-Jewish hate we've already been seeing," Greenblatt wrote.
"From college campuses to social media, workplaces to public spaces, there's an antisemitism crisis in America. More people will get hurt if this doesn't stop," Greenblatt continued. "This is not a matter of politics but of good vs. evil. I'm glad @POTUS gets it - but there should be no confusion here."
Greenblatt's ADL has kept a running list of antisemitic incidents worldwide, listing everything from Holocaust memorials being defaced to death threats against a Jewish family. The group reported over 100 antisemitic incidents in the United States since the October 7 terrorist attack in Israel by Hamas.
In addition, there have been multiple caught-on-camera incidents of people tearing down posters meant to raise awareness for the kidnapped Israeli civilians who were taken by Hamas terrorists.
TLAIB FACES CALLS TO BE BARRED FROM ISRAEL BRIEFINGS AFTER 'MISINFORMATION' ABOUT GAZA HOSPITAL EXPLOSION
Greenblatt wasn't the only person stunned by Jean-Pierre's answer on Monday.
Fox News Radio host Guy Benson wrote, "No credible threats? It's *everywhere* right now," while journalist Yashar Ali called Jean-Pierre's answer "odd."
"It's not an issue that she talked about Muslims and Arabs, rather that she seemingly dismissed antisemitism threats," Ali wrote. He also shared a clip from earlier this year of Jean-Pierre discussing the White House's plan to combat antisemitism.
Fox News' Joe Concha quoted a clip of Jean-Pierre's answer and simply wrote, "What the actual hell?"
Many others pointed out that there have been "gas the Jews" chants, while others responded with personal stories of recent antisemitism. Author Christina Hoff Sommers asked "Might she have misheard?"
FOX'S YINGST: WHAT HAMAS TERRORIST TOLD ISRAELI INTERROGATORS, WHAT HE DID TO VICTIMS 'TOO GRAPHIC' FOR TV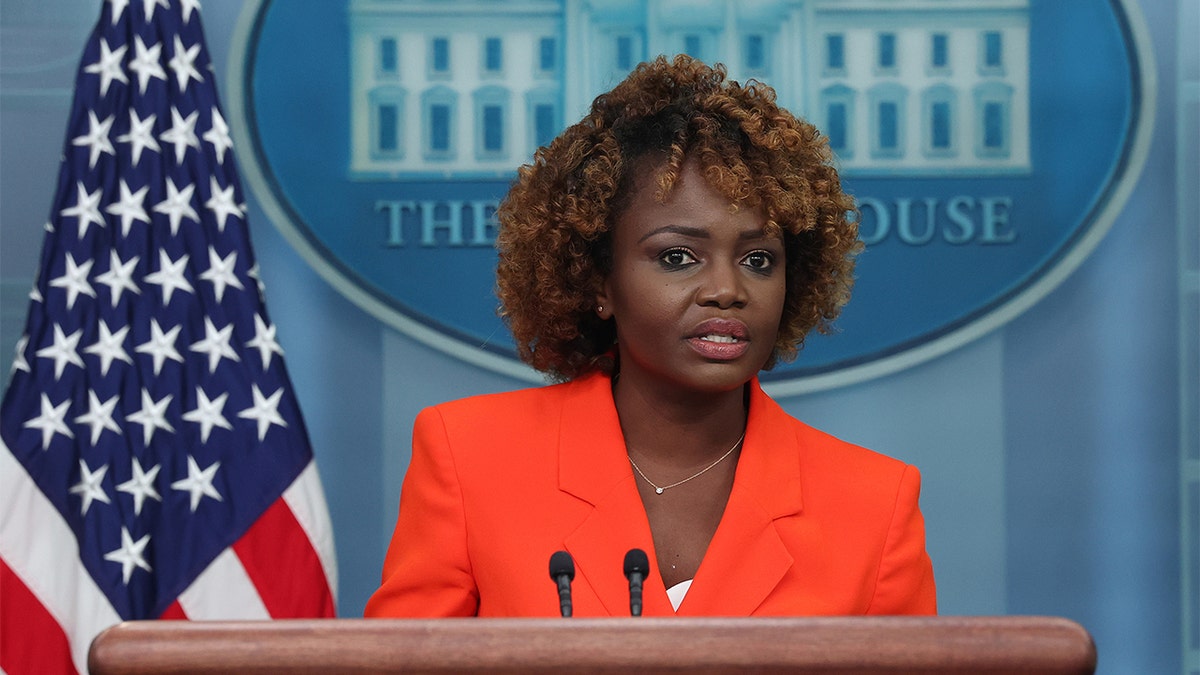 Rep. Jared Moskowitz, D-Fla., blasted the "weak" answer from Jean-Pierre.
"What a weak answer," Moskowitz wrote. "And why are you looking in the book? What's the approved answer? The simple answer is yes, you are concerned about the rise of antisemitism. Of course we are also worried about hatred against Muslim Americans. Must do better."
During another exchange on Monday, Jean-Pierre insisted the White House would "always" denounce antisemitism but said Americans have a right to peacefully protest. The press secretary also responded to the criticism herself on social media, responding to Ali's video of her widely panned answer.
"To be clear: the President and our team are very concerned about a rise in antisemitism, especially after the horrific Hamas terrorist attack in Israel," Jean-Pierre wrote.
In her email to Fox News Digital, the press secretary added: "Because of President Biden's leadership, the Department of Homeland Security is cracking down on threats that could harm Jewish, Muslim, and Arab American communities, the administration has deployed a national strategy to combat antisemitism, and we're decrying the increase in hate crimes related to antisemitism and Islamophobia. As President Biden says, winning the battle for the soul of this nation depends on giving hate no safe harbor. I'm proud to make sure it never has one in the briefing room."
Hate crimes data released on October 16 by the FBI shows that reported hate crime incidents in 2022 rose to 11,634, the highest number ever recorded since the FBI started tracking such data in 1991. The country's reported single-bias anti-Jewish hate crime incidents sharply rose by more than 37%, reaching 1,122 incidents, the highest number recorded in almost three decades and the second-highest number on record.
Fox News' Nikolas Lanum contributed to this report.
CLICK HERE TO GET THE FOX NEWS APP
For more Culture, Media, Education, Opinion, and channel coverage, visit foxnews.com/media.