A London Pride parade was interrupted by the climate change activism group Just Stop Oil after protesters halted a truck by sitting in the middle of the road.
On Saturday, videos emerged online showing nine members of the group marching onto the street and sitting in front of a Coca-Cola truck carrying multiple people. According to a statement from their website, the protest emerged after London Pride refused to give into demands regarding the parade's sponsors.
"This afternoon's action comes after LGBTQ+ representatives from Just Stop Oil met with London Pride to discuss their demands, after it was revealed Just Stop Oil would consider disrupting the event. London Pride have so far failed to make a commitment to take necessary steps to protect the LGBTQ+ community from the unfolding climate collapse, and have failed to address their relationship with destructive industries co-opting Pride to 'pinkwash' their reputations," the statement read.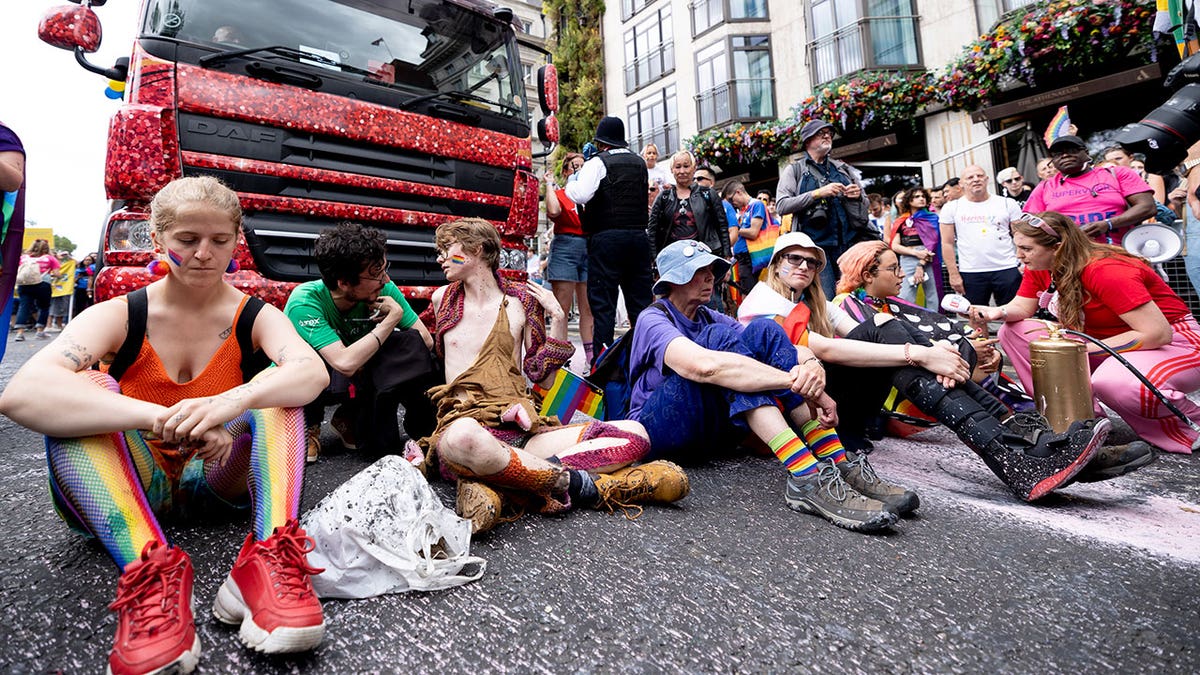 CRICKET PLAYER CARRIES JUST STOP OIL PROTESTER OFF PITCH BEFORE MATCH
Five of these protesters were later arrested while two other activists were released on bail pending further investigation.
Just Stop Oil spokesperson James Skeet later criticized the Pride march as a whole for refusing to take the climate crisis seriously by accepting donations from "high polluting" corporations.
"Pride was born from protest. It speaks to how far we've come as a community, that high polluting industries and the banks that fund them, now see Pride as a useful vehicle for sanitising their reputations, waving rainbow flags in one hand whilst accelerating social collapse with the other. It is queer people, and particularly queer people of colour in the global south, who are suffering first in this accelerating social breakdown. What would those who instigated the gay liberation movement, during the Stonewall riots in 1969, make of the corporatised spectacle Pride has now become?" Skeet said.
The Just Stop Oil organization has taken part in many controversial protests to raise awareness on climate change. Most notably, they were one of multiple groups who targeted and defaced priceless works of art such as Vincent van Gogh's "Sunflowers."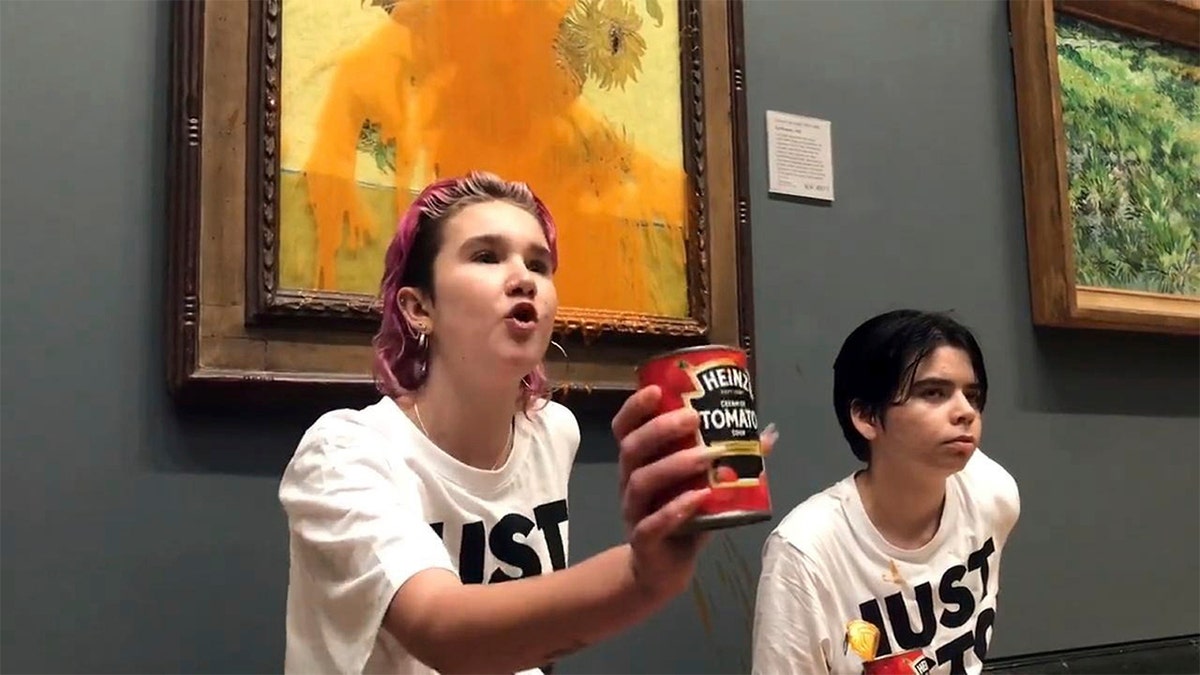 The group has since seen major backlash from London citizens, leading to hostile and even violent confrontations. In May, when the group continued its pattern of blocking traffic, a commuter shoved a protester to the ground. Though the commuter was arrested at the time, the protesters were not, prompting further criticism from the onlookers.
ANGRY COMMUTERS UNLEASH ON CLIMATE PROTESTERS BLOCKING TRAFFIC AS COPS WATCH
Prior to the London Pride protest, London Mayor Sadiq Khan expressed support for the organization, though he called for safe and legal protests.
"I agree with protesting in a way that is lawful, safe, and peaceful," he said. "I think that Extinction Rebellion and Just Stop Oil are really important pressure groups trying to put power on those who have power and influence. I fully support the right to protest. It's really important to recognise the joy of a democracy is protest."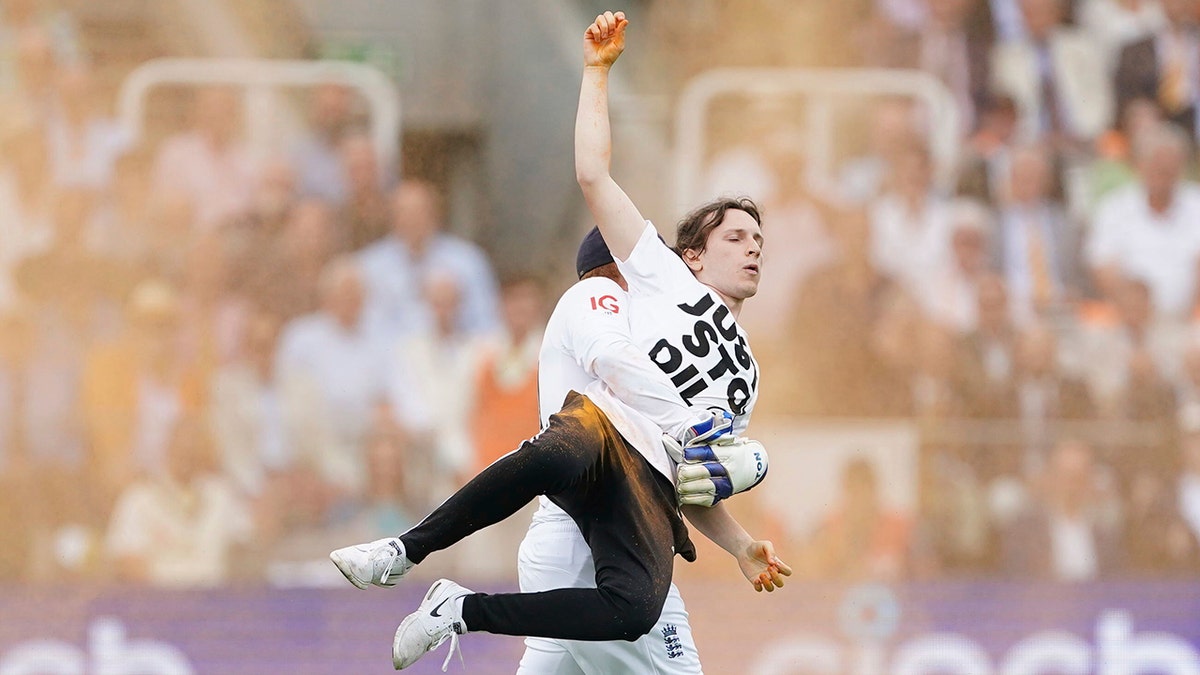 CLICK HERE TO GET THE FOX NEWS APP
Fox News Digital reached out to London Pride for a comment.