Dr. Fauci could be at center of 'one of the biggest cover-ups in American history,' says Rep. Malliotakis
House hearing aims to find answers on COVID origins, Wuhan lab
Ahead of a House hearing on the origins of COVID-19, the Biden administration's Department of Energy and the FBI have endorsed the COVID lab-leak theory in recent weeks. On "Fox & Friends" Wednesday, Rep. Nicole Malliotakis, R-N.Y., argued that the "mounting evidence" that Dr. Anthony Fauci was involved in "one of the biggest cover-ups in American history."
FBI DIRECTOR SAYS COVID PANDEMIC 'MOST LIKELY' ORIGINATED FROM CHINESE LAB
REP. NICOLE MALLIOTAKIS: That's the goal of this. For two years, the Democrats have stonewalled. They prohibited any hearing in this subcommittee to go after the origins of this virus. And if we don't know the origins, how we can prevent it from happening in the future? And it seems here that Dr. Fauci was involved in one of the biggest cover-ups in American history when he told us that it was not the lab leak, but instead, it was natural origins. And now we're finding out more and more that there is an email trail, there were conversations had with scientists, he actually pushed for a paper to be released that debunked the lab leak. But yet, now we're finding out from the various agencies in this administration that indeed what Republicans were saying all along and what we were accused of being conspiracy theorists for, that this lab leak did occur, is happening more and more. There's mounting evidence that there was a cover-up. And you know what?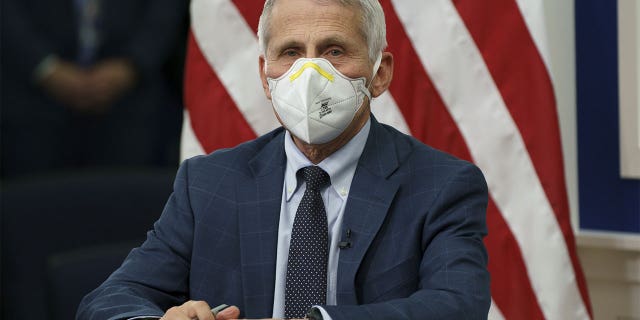 As of last Monday, this administration, the White House itself has been denying that gain of function research was taking place. It still defends gain of function research, and it's denying that the lab leak occurred. So there are a lot of questions here. We want answers because as you mentioned, 1.1 million Americans died, that is nearly as many as the number of Americans that were killed in every war since the American Revolution combined. And so we will get the answers that the Democrats failed to do over the last two years.
CREDIBILITY CRISIS: MEDIA 'FACT-CHECKERS' WERE EAGER TO DEBUNK COVID LAB LEAK THEORY, HAD TO ISSUE CORRECTIONS
The House Select Subcommittee on the Coronavirus Pandemic's first hearing Wednesday on the origins of COVID-19 will focus on Dr. Anthony Fauci's role in attempting to "disprove" the lab leak theory as well as ways to prevent a future pandemic from occurring.
The COVID origins hearing will showcase the former Centers for Disease Control and Prevention director and health and science experts. It is one of eight hearings that the Oversight Committee is conducting this week aimed at holding the Biden administration accountable.
The hearing comes after the subcommittee said over the weekend it uncovered new email evidence suggesting Fauci prompted the drafting of the "proximal origin" publication meant to "disprove" the COVID-19 lab leak theory.
CLICK HERE TO GET THE FOX NEWS APP
Fox News' Kelly Laco contributed to this report.