Chris Christie torches 'partisan' Manhattan DA over potential Trump charges: How does this make NY safer?
Christie calls out Alvin Bragg, says Trump will take advantage of 'circus' if indictment comes down
Former New Jersey Gov. Chris Christie weighed in on Manhattan District Attorney Alvin Bragg's potential indictment of Donald Trump, predicting the 45th president will leverage the "chaos and turmoil" surrounding the potential charges to his political benefit.
Christie joined "The Brian Kilmeade Show" to discuss the possibility of a Trump arrest and why he believes Bragg's resources could be utilized in other capacities as crime in New York City soars.
"The circus is back in town, Brian," Christie told Kilmeade Wednesday. "Donald Trump has always thrived on chaos and turmoil, and he likes to be the guy who creates the chaos and the turmoil, and so he's going to get out in front of this like he has and continue to create noise on his level."
MANHATTAN DA'S OFFICE 'ASKED FOR A MEETING' WITH LAW ENFORCEMENT AHEAD OF POSSIBLE TRUMP INDICTMENT
"I don't think this is the crime of the century, and it's certainly not a case that is going to improve, as I said, the everyday lives of the citizens of Manhattan," he continued. "On the other hand… I don't think it's ever great as a political candidate to be under criminal indictment, so I think… the truth probably lies somewhere in the middle."
The former president could face criminal charges, specifically campaign finance law violations, in connection with an alleged hush money scandal involving porn star Stormy Daniels back in 2016.
The grand jury in the case canceled its Wednesday session, further delaying a potential indictment if he is charged. A source told Fox News the grand jury is on "standby" for Thursday, but it is unclear what motivated the delay.
Bragg has faced fierce criticism over the possibility of Trump's arrest, with various legal experts arguing he is navigating unchartered legal waters and challenges associated with statute of limitations - all while violence soars in the Big Apple under his watch.
PROGRESSIVE DA ALVIN BRAGG'S CASE AGAINST TRUMP HINGES ON WITNESSES WITH 'CREDIBILITY PROBLEMS': ANDY MCCARTHY
"Only an unreasonable prosecutor would bring this charge against the former president," Kayleigh McEnany said during "Outnumbered" Wednesday.
"The New York Times surveyed legal analysts and found, according to their research, that the New York DA's office in Manhattan has never brought a charge on a federal campaign violation before."
"This would be unprecedented, and you've got to think it would only happen because of the last name of the person that they're going after," he continued.
"Outnumbered" co-host Emily Compagno echoed McEnany's sentiment, noting the "political nature" of the "flimsy" charges - should they come to fruition.
"If this does not result in an indictment, it absolutely illustrates exactly what you just said, which is the flimsy nature of this presentation by the prosecution, how utterly preposterous it would be, and that would underscore, again, the waste of tax dollars and the political nature that this was," she continued, noting that 98% of grand juries return indictments.
TRUMP TARGETED: A LOOK AT PROBES INVOLVING THE FORMER PRESIDENT; FROM STORMY DANIELS TO RUSSIA TO MAR-A-LAGO
In 2022, during Bragg's first year as Manhattan's top prosecutor, he downgraded more than half of felony cases to misdemeanors. He campaigned on criminal justice reform and sent a "Day One" memo to staff upon taking office to downgrade certain felonies, such as armed robberies of commercial businesses. The move came at a time when crimes were up 27.6% in New York City, Fox News Digital previously reported.
Bragg declined to prosecute 35% more felony cases than in 2019.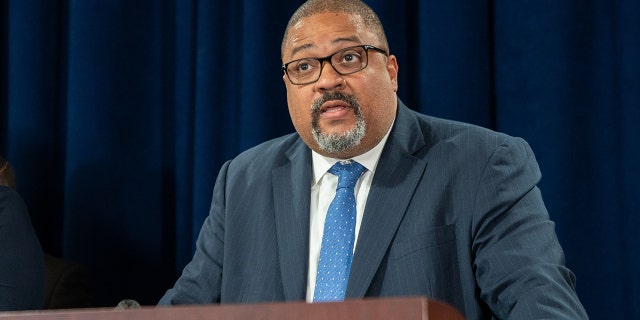 "Alvin Bragg is an elected partisan Democrat, and unfortunately, in today's world, even elected, partisan, prosecutors act in a partisan way when they shouldn't," Christie said.
"I don't know the underlying evidence he's going to show, but all I know in the end is Manhattan, and are the people of Manhattan going to be made safer because Donald Trump is charged with a crime of having paid off a porn star… seven years ago?"
Christie noted Bragg is "miserably failing" at combating crime, and suggested he will "regret" indicting Trump if he does choose to move forward with criminal charges.
CLICK HERE TO GET THE FOX NEWS APP
"Prosecutors have the responsibility, and I had it for seven years, to make judgments. Prosecutorial discretion. You don't prosecute every crime," Christie said. "You have limited resources. The ones that can have the greatest impact and effect on your community are the ones that you should be prosecuting, in my view.
"I don't know how this one does."
Trump is currently also under investigation for potential mishandling of classified material found at his Mar-a-Lago estate, and potential efforts to alter the results of the 2020 presidential election in Georgia.
Despite the probes, the former president reiterated his commitment to stay in the 2024 race for the White House.
Fox News' Emma Colton contributed to this report.